Wetlands are fragile but Vital Ecosystems, Need for Conservation: Experts at IKGPTU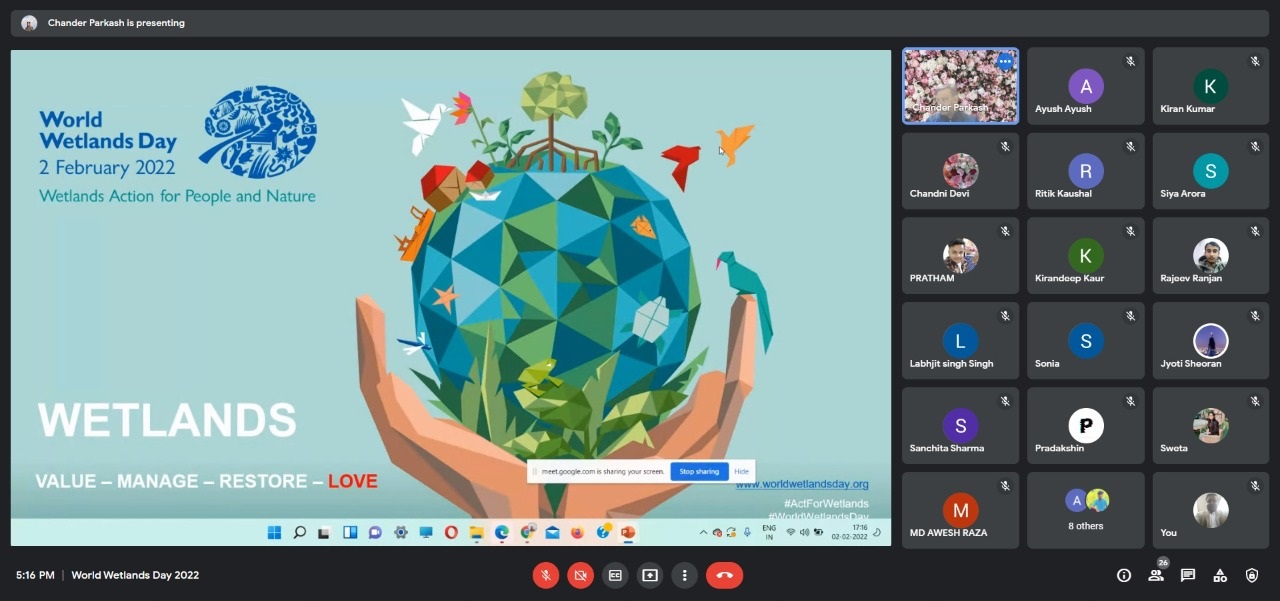 IKGPTU observed World Wetlands Day 2022 in association with Shiksha Sanskriti Uthan Nyas
Jalandhar/Kapurthala: The NSS wing of I.K. Gujral Punjab Technical University (IKG PTU) in association with Shiksha Sanskriti Uthan Nyas (SSUN), New Delhi observed World Wetlands Day 2022. The theme for this year's World wetlands Day was "Wetlands Action for People & Nature" highlighting the importance of the actions required to conserve and sustainable use of wetlands for humans and planetary health. The NSS wing organized webinar to generate the awareness about importance as well as functions & values of wetlands. Total 358 participants including students, teachers, researchers and members of civil society representing 13 teaching & research institutions along with NGOs participated in this webinar.
Dean Student Welfare Prof (Dr.) Neelkanth Grover welcomed the participants. Dr. Chander Parkash, a wetland scientist from Department of the Chemical Sciences IKGPTU, delivered a presentation on the theme and apprised the students and volunteers about the status of wetlands in the Punjab and at the National level. He gave information that this year two wetlands Khajidia wetland in Great Rann of Kutch and Bakhira wildlife sanctuary in Uttar Pradesh got the status of Ramsar sites (Wetlands of international Importance).
During the webinar other experts with Dr Chander Prakash said that wetlands play many roles in our lives. Many of us are those, whose livelihoods are dependent upon wetlands and there are socio-economic, cultural, environmental and health based aspects of our lives that are attached to the wetlands. Therefore, in order to understand the importance of the wetlands, we need to consider all these aspects in wholesome, then only we can play an important role in the conservation of wetlands. He further told that the overriding message behind this year's campaign is to Value, Manage, Restore, and of course — Love — Wetlands, because if we are to inspire action, we also must ignite greater empathy for these rapidly disappearing ecosystems.
He said Ramsar Bureau at Gland, Switzerland has reported that nearly 90% of the world's wetlands have been degraded since the 1700s, and we are losing wetlands three times faster than forests. Yet, wetlands are critically important ecosystems that contribute to biodiversity, climate mitigation and adaptation, freshwater availability, world economies and more. It is urgent that we raise national and global awareness about wetlands in order to reverse their rapid loss and encourage actions to conserve and restore them. World Wetlands Day is the ideal time to increase people's understanding of these critically important ecosystems.
At the end of the talk, a Q&A session was organized where many participants asked questions based on role of students, govt. and policy makers as well as teaching institutions to conserve the wetlands.