Centralized Online Counselling
I.K. Gujral Punjab Technical University is conducting Centralized Online Counselling for Session 2021-22 for UA AICTE/AICTE/PCI/COA approved courses.
The admission shall be made in the affiliated colleges/campuses of the Universities as mentioned below:-
I. K. GUJRAL PUNJAB TECHNICAL UNIVERSITY, JALANDHAR
MAHARAJA RANJIT SINGH PUNJAB TECHNICAL UNIVERSITY, BATHINDA : Website Link
PUNJAB AGRICULTURAL UNIVERSITY, LUDHIANA (For B.Tech. Agri. Engg.) 1st year course on the basis on JEE Main only) : Website Link
*Note: PAU (Punjab Agricultural University) is going to conduct Third counselling at their own level for admission to B.Tech (Agricultural Engineering) running at College of Agril. Engg. and Technology, on the basis of JEE Mains 2021 score. The last date to apply is October 18, 2021. The link for the same is as under:-
https://www.pau.edu/index.php?_act=manageAllBanner&DO=viewDataBanner&intBannerID=4461
*Note: To participate in Centralized Online Counselling, the candidate has to pay applicable Counselling Fee of Rs. 2,000/- (Non-Refundable) for each course i.e. B.Tech. 1st Year (JEE Main Basis) and B.Tech. (10+2 Basis). It is also informed that the preference shall be given to JEE Main students for allotment of Seats and vacant seat (after exhausting JEE Main Seats in 2 Rounds) shall be filled on 10+2 Basis Merit.
Counselling Schedule for Session 2021-22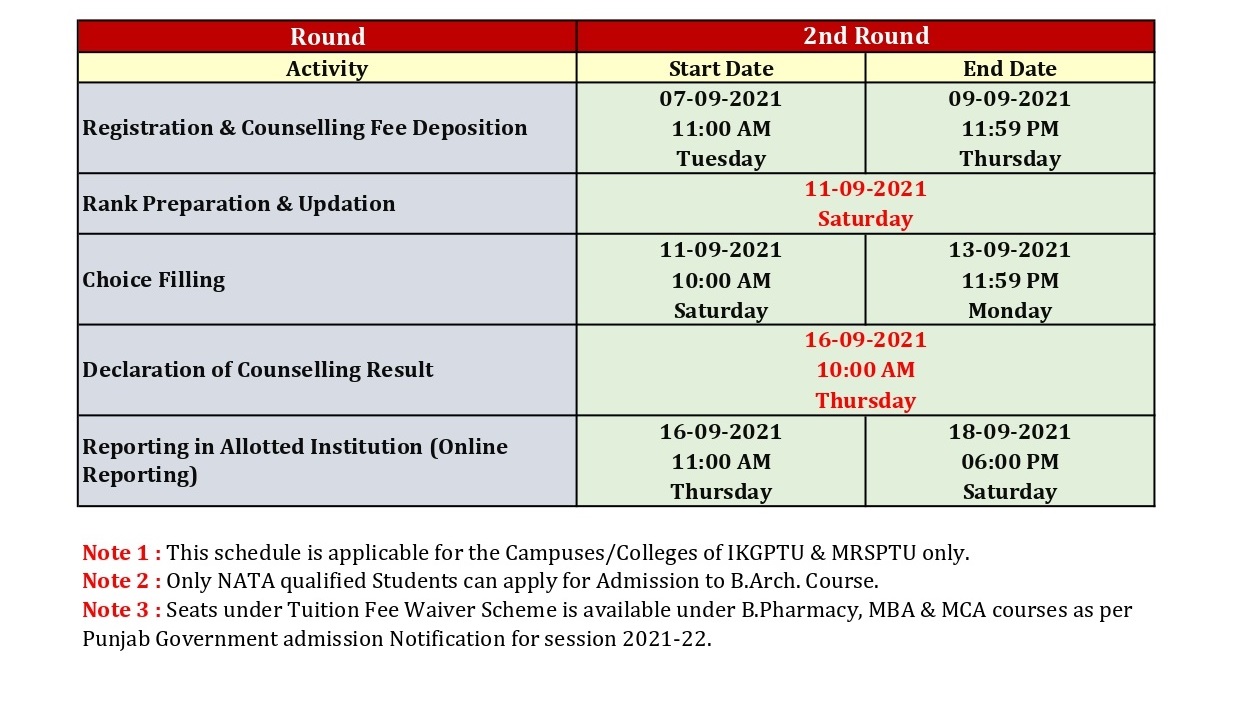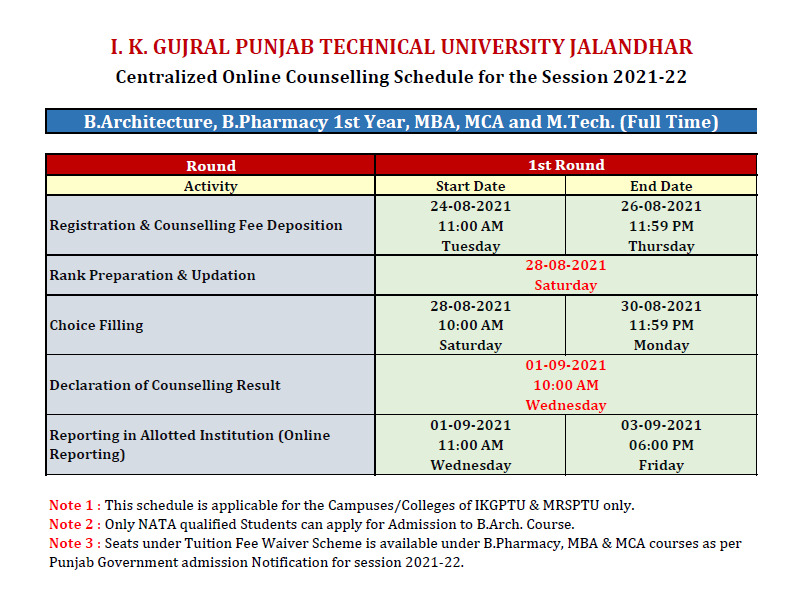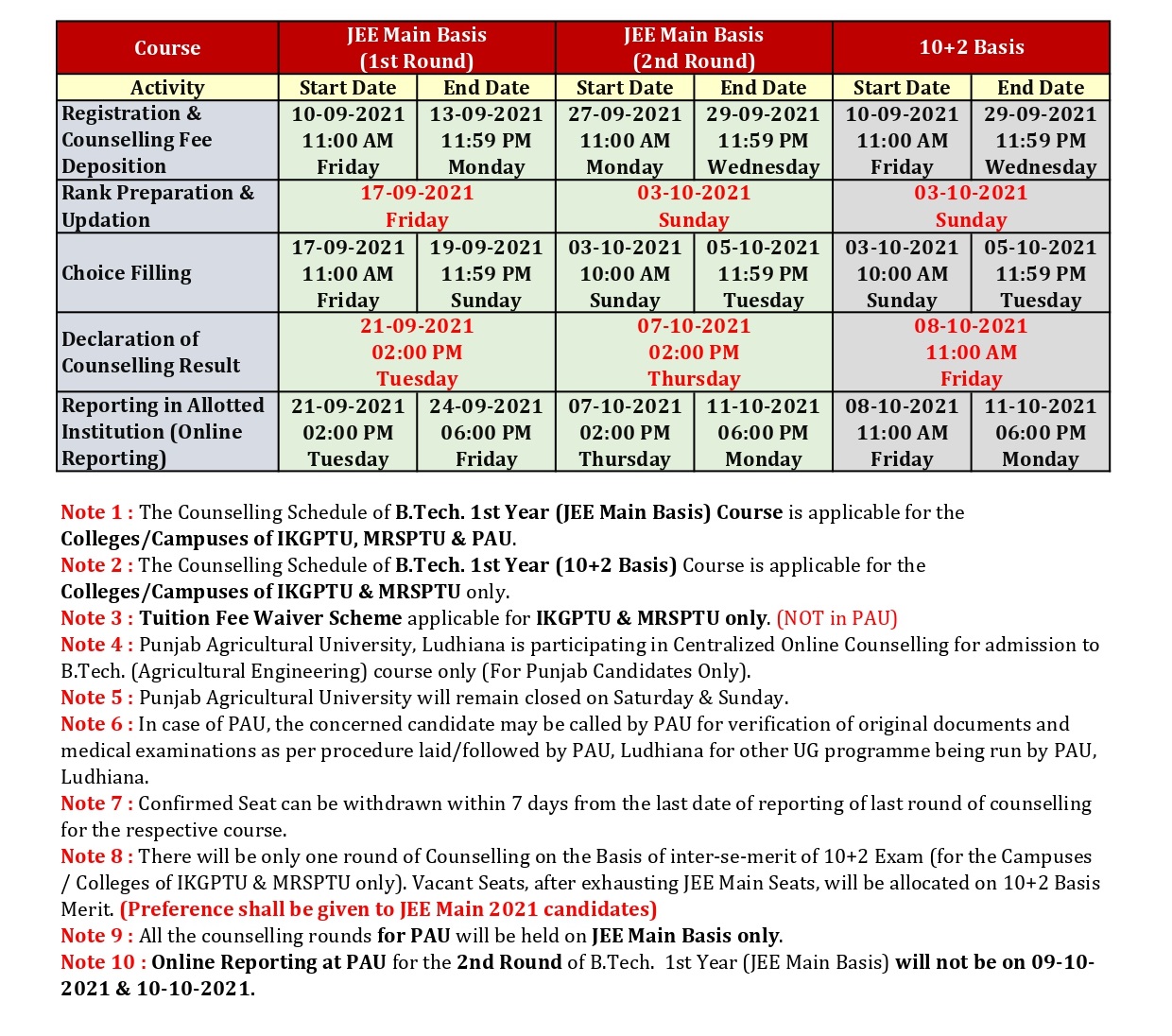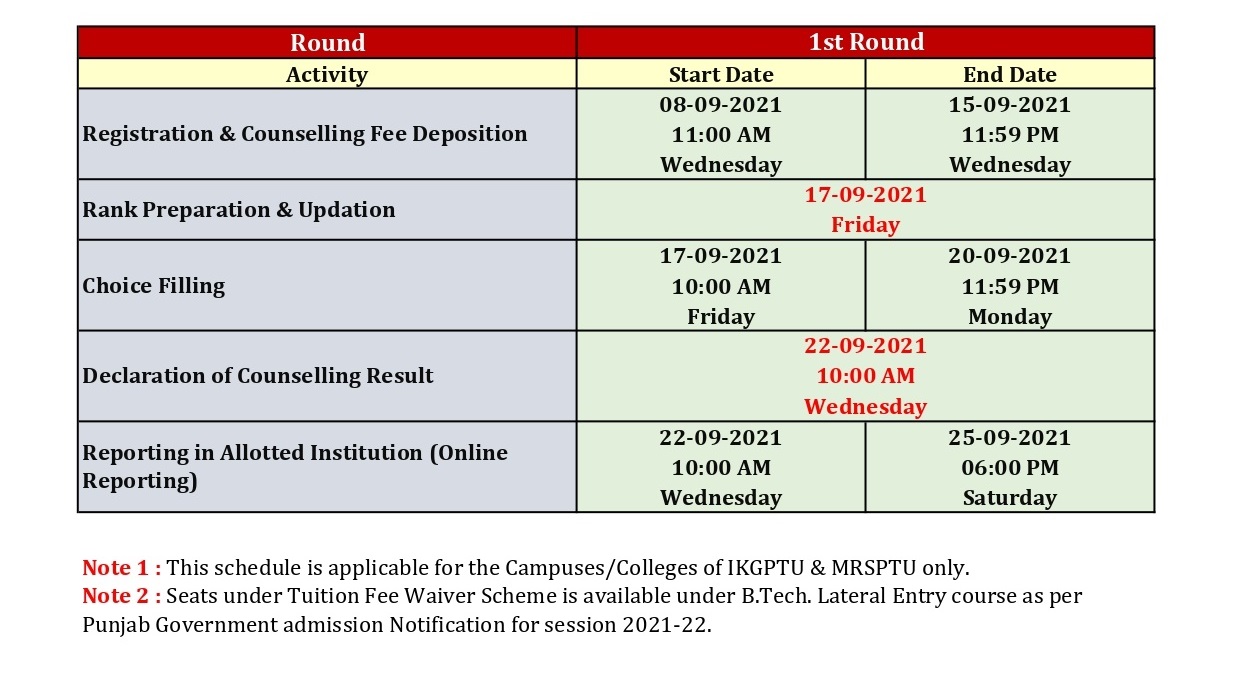 Advertisements
Session 2021-22
| Description | Updated On | Downloads |
| --- | --- | --- |
| Advertisement Admission Notice 2021-22 | 21-08-2021 | |
Session 2019-20
| Description | Updated On | Downloads |
| --- | --- | --- |
| Advertisement Admission Notice 2019-20 | 29-05-2019 | |
| Advertisement Admission Notice 2019-20 | 16-04-2019 | |
Session 2018-19
| Session 2018-19 Description | Updated On | Downloads |
| --- | --- | --- |
| Advertisement Admission Notice 2018-19 | 11-05-2018 | |
| Advertisement Admission Notice 2018-19 | 04-05-2018 | |
Counselling Schedule & Procedures (AICTE/COA/PCI Courses)
SESSION 2021-22
| Counselling Schedule & Procedures | Updated On | Downloads |
| --- | --- | --- |
| Counselling Procedure for Session 2021-22 | 23-08-2021 | |
| Counselling Schedule BArch, BPharm, MBA, MCA & MTech for Session 2021-22 | 20-08-2021 | |
| Counselling Schedule BTech (JEE Main & 12 Basis) for Session 2021-22 | 03-09-2021 | |
| Counselling Schedule B.Tech Lateral Entry for Session 2021-22 | 03-09-2021 | |
| Counselling Schedule B.Arch, B.Pharm, MBA, MCA & M.Tech for Session 2021-22 (2nd Round) | 03-09-2021 | |
SESSION 2020-21
| Counselling Schedule & Procedures | Updated On | Downloads |
| --- | --- | --- |
| B.Tech. 1st Year (on the Basis of inter-se-merit of 10+2 / Qualifying Exam) | 19-08-2020 | |
| B.Pharmacy 1st Year | 19-08-2020 | |
| Procedure to Participate in Centralized Online Counselling for Session 2020-21 | 22-08-2020 | |
SESSION 2019-20
| Counselling Schedule & Procedures | Updated On | Downloads |
| --- | --- | --- |
| B.Tech. 1st Year and B.Tech. 1st Year Fee Waiver on the basis of JEE (Main) | 31-05-2019 | |
| B.Tech. 1st Year (on the Basis inter-se-merit of 10+2 / Qualifying Exam) | 29-05-2019 | |
| B.Pharmacy 1st Year and B.Pharmacy 1st Year Fee Waiver | 31-05-2019 | |
| B.Architecture (Counselling Registration of B.Arch. for 2nd Round will start on 26/06/2019) | 31-05-2019 | |
| M.Tech (FT), M.Pharmacy (FT) & M.Architecture | 20-06-2019 | |
| MBA & MCA 1st Year | 20-06-2019 | |
| Lateral Entry (2nd Year) of B.Tech., B.Pharm. & MCA (Updated) | 05-07-2019 | |
| Counseling Fee Payment Procedure | 23-05-2019 | |
| Counselling Procedure for B.Tech. 1st Year (JEE Main Basis) Course | 27-05-2019 | |
| Counselling Procedure All Courses (Except B.Tech. JEE Main Basis Course) Session 2019-20 | 27-05-2019 | |
SESSION 2018-19
| Counselling Schedule & Procedures | Updated On | Downloads |
| --- | --- | --- |
| Schedule of Aptitude Test for Admission to B.Arch Course | 04-06-2018 | |
| B.Tech. 1st Year and B.Tech. 1st Year Fee Waiver on the basis of JEE (Main) | 11-05-2018 | |
| B.Tech. 1st Year (on the Basis inter-se-merit of 10+2 / Qualifying Exam) | 11-05-2018 | |
| B.Pharmacy 1st Year and B.Pharmacy 1st Year Fee Waiver | 11-05-2018 | |
| B.Architecture | 11-05-2018 | |
| M.Tech (FT), M.Pharmacy (FT) & M.Architecture | 11-05-2018 | |
| MBA & MCA 1st Year | 11-05-2018 | |
| Lateral Entry (2nd Year) B.Tech., Lateral Entry (2nd Year) B.Pharm. & Lateral Entry (2nd Year) MCA | 11-05-2018 | |
| Counseling Fee Payment Procedure 2018-19 | 11-05-2018 | |
| Counselling Procedure for B.Tech (10+2),B.Arch.,B.Pharma.,MBA,MCA,M-Tech.,M.Pharma. and LEET Course | 04-06-2018 | |
| Counselling Procedure for B.Tech. 1st Year (JEE Main Basis) Course for Session 2018-19 | 04-06-2018 | |
Central Admission Procedure for UGC courses
Session 2021-22
| Central Admission Procedure | Updated On | Downloads |
| --- | --- | --- |
| Central Admission Procedure for the session 2021-22 | 30/07/2021 | |
| Notification regarding Reservation Policy 2019 | 30/07/2021 | |
Session 2020-21
| Central Admission Procedure | Updated On | Downloads |
| --- | --- | --- |
| Central Admission Procedure for Admission to UGC (Non-AICTE) Courses | 26-05-2020 | |
Session 2019-20
| Central Admission Procedure | Updated On | Downloads |
| --- | --- | --- |
| Central Admission Procedure for Admission to UGC (Non-AICTE) Courses | 29.05.2019 | |
| Annexures of Central Admission Procedure | 29.05.2019 | |
Session 2018-19
| Central Admission Procedure | Updated On | Downloads |
| --- | --- | --- |
| Central Admission Procedure for Admission to UGC (Non-AICTE) Courses | 29.05.2019 | |
Information Brochure
Information-Brochure-2021-22
Information Brochure 2020-21
| Description | Updated On | Downloads |
| --- | --- | --- |
| Information Brochure for Session 2020-21 | 24-08-2020 | |
| Information Brochure for Session 2020-21 (International Students) | Uploading Soon | |
Information Brochure 2019-20
| Description | Updated On | Downloads |
| --- | --- | --- |
| Information Brochure for Session 2019-20 | 25-07-2019 | |
| Information Brochure for Session 2019-20 (International Students) | 25-07-2019 | |
Information Brochure 2018-19
| Description | Updated On | Downloads |
| --- | --- | --- |
| Title Page Message & Activities | 07-06-2018 | |
| Table of Contents | 07-06-2018 | |
| Part A – Information about IKGPTU | 07-06-2018 | |
| Part B – Information about MRSPTU | 07-06-2018 | |
| Part C – Information about PAU | 07-06-2018 | |
| Part D – Notifications, Certificates & Public Notice | 07-06-2018 | |
| Part E – Affiliated Colleges of IKGPTU | 07-06-2018 | |
PB. Govt Notifications
Session 2021-22
Admission Notifications of Govt. of Punjab, Deptt. of Tech. Education
| Course | Session 2018-19 | Session 2019-20 | Session 2020-21 |
| --- | --- | --- | --- |
| B.Pharmacy 1st Year | | | |
| B.Pharmacy 2nd Year (Lateral Entry) | | | |
| B.Tech. 1st year & B.Architecture | | | |
| B.Tech. 2nd Year (Lateral Entry) | | | |
| Hotel Management & Catering Technology (HMCT) | | | |
| M.Pharmacy (Full Time) | | | |
| M.Tech. (Full Time) | | | |
| MBA | | | |
| MCA 1st Year | | | |
| MCA 2nd Year (Lateral Entry) | | | |
| Pharm D (Post Bacc.) | | | |
| MAM 1st Year | | | |
| Other General Notifications of Govt. of Punjab | Updated On | Downloads |
| --- | --- | --- |
| Admission to B.Pharmacy Fee Waiver | 04-06-2018 | |
| Copy of All Annexure mentioned in the Notifications | 04-06-2018 | |
| Admission of SC-ST Candidates through Online Counselling | 04-06-2018 | |
| Fee Refund and Retentation of Original Certificate-UGC | 04-06-2018 | |
| Notification regarding Reservation Policy | 04-06-2018 | |
| Documents for Fee Waiver Dated 13-07-2009 | 04-06-2018 | |
| Directive on Refund of Fees for New Admissions -MHRD | 04-06-2018 | |
| Notification Tuition Fee Waiver Scheme 2011 | 04-06-2018 | |
| Notification Tuition Fee Waiver Scheme 2012 | 04-06-2018 | |
| Notification Tuition Fee Waiver Scheme 2015 | 04-06-2018 | |
| Memo Letter regarding Tuition Fee Waiver Scheme 2019 | 04-06-2019 | |
List of Colleges & Courses
Session 2021-22
| Description | Updated On | Downloads |
| --- | --- | --- |
| Academic program offered in the Campuses of IKGPTU in Session 2021-22 | 23-06-2021 | |
| Corrigendum related to Name of MTech ECE Course | 27-07-2021 | |
| Corrigendum related to Name of MTech EE Course | 16-07-2021 | |
Session 2020-21
| Description | Updated On | Downloads |
| --- | --- | --- |
| College wise Course wise Seats of Colleges for Session 2020-21 (Pharmacy) | 24-05-2020 | |
| College wise Course wise Seats of Colleges for Session 2020-21 (UGC) | 06-05-2020 | |
Session 2019-20
| Description | Updated On | Downloads |
| --- | --- | --- |
| List of Courses running under Affiliated Colleges of IKGPTU Session 2019-20 | 27-05-2019 | |
| College wise Course wise Seats of Colleges | 27-05-2019 | |
| Course wise list of AICTE Colleges Session 2019-20 | 27-05-2019 | |
Session 2018-19
| Session 2018-19 Description | Updated On | Downloads |
| --- | --- | --- |
| List of Constituent Campuses & Affiliated Colleges of IKGPTU | 19-05-2018 | |
| Course wise College List | 07-06-2018 | |
Eligibility Criteria
| Description | Session 2019-20 | Session 2018-19 | Downloads |
| --- | --- | --- | --- |
| Eligibility Criteria of AICTE Course for Session 2019-20 | 29-05-2019 | 10-04-2019 | |
| Eligibility Criteria of UGC (Non-AICTE) Courses for Session 2019-20 | 29-05-2019 | 10-04-2019 | |
Frequently Asked Questions
| Description | Session 2019-20 | Session 2018-19 |
| --- | --- | --- |
| Frequently Asked Questions (FAQ) 2019-20 | | |
Help Desk
Admission Help Desk Numbers
Title
Phone
Email

For General Admission Query

94780-98012, 75894-01150 (Mobile No.)

studentcentre@ptu.ac.in (For Students Queries)
admissioncell@ptu.ac.in (For College Correspondence only)

For Counselling Fee Related Query

94780-98145, 94780-98107 & 95011-06247
(Timings: 09:00 AM to 06:00 PM from Mon. to Sat.)

ptucounsellingfee@gmail.com