IKGPTU & YAYAVAR LITERARY FESTIVAL called Motivational Speakers, Sportsperson, Entrepreneurs, Writers and Youth Artists at one platform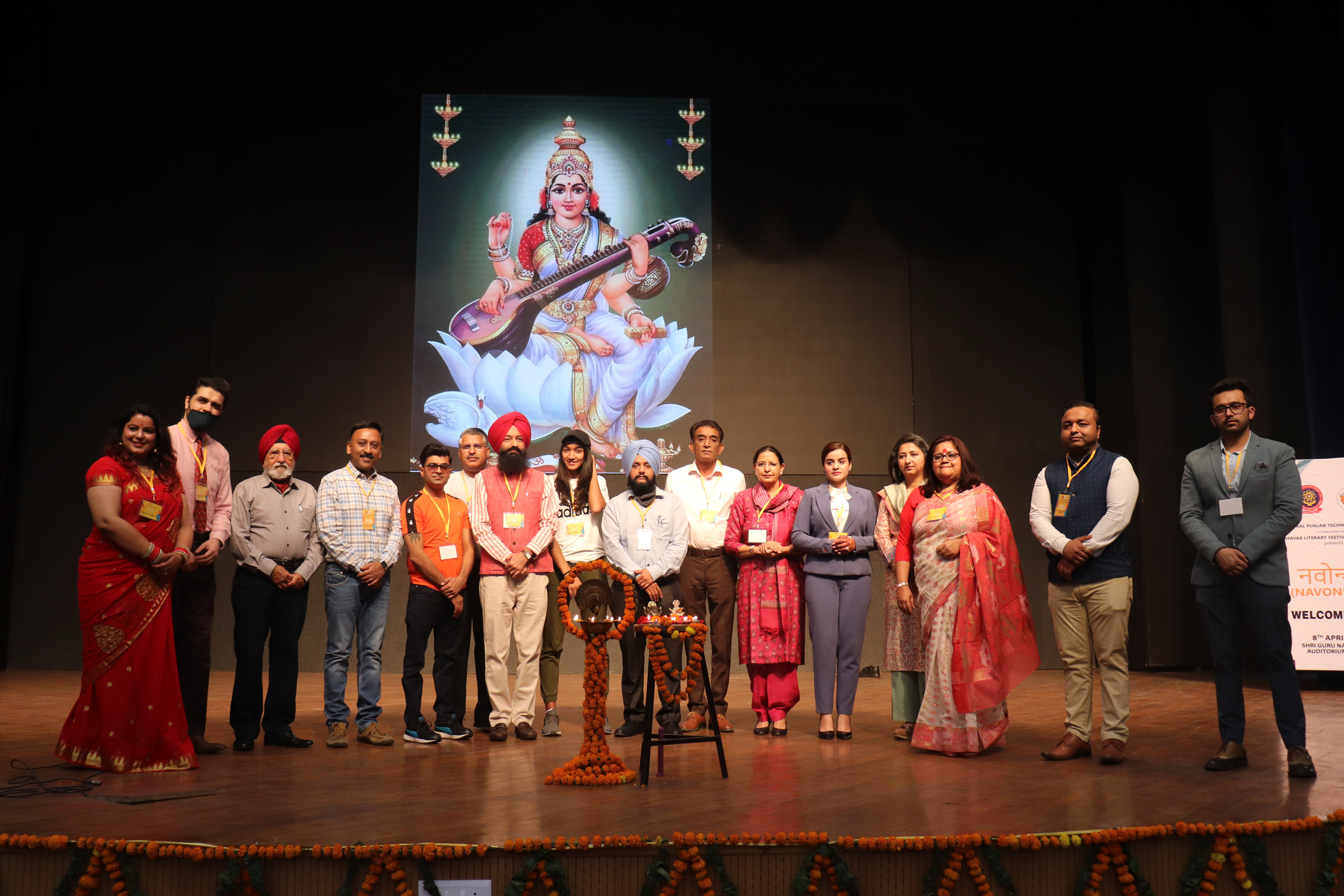 The University organized an event "NAVONMESH" to motivate its faculty, students and staff with the life experiences of experts
Event was open for public through YouTube live & other social media tools.
Punjabi poet Sukhvinder Amrit, Actor Major Mohommed Ali Shah, RJ Shwetima Jamwal were the centre of attraction
Jalandhar/Kapurthala: With the aim of providing motivation to its students, faculty & staff, I.K. Gujral Punjab Technical University organized an mega event on Thursday at its main campus. Event was on the stage of Sri Guru Nanak Dev Ji Auditorium. The day was full of knowledge, faith, self-confidence and motivational lectures, life experiences. The title of the event was "NAVONMESH". University organized this event in association with "YAYAVAR" Literary Festival". While following all the guidelines related to Covid prevention of Punjab government, the students, faculty and university staff were not invited by the organizing team in big strength & being a technical university, thousands of spectators were added to it using the technology, including national- international level students, faculty, researchers, general public joined this program through YouTube Live & other social media platforms. Vice Chancellor Prof. (Dr.) Ajay Kumar Sharma welcomed through online medium & announced this effort as an historical programme.
The event began with Gayatri Mantra and lighting the lamp ceremony. From the organizing team Er. Navdeepak Sandhu, Deputy Director (Corporate Relations and Alumni) IKGPTU & Ms. Nupur Sandhu, Founder and Director of YAYAVAR LITERARY FESTIVAL lead the inaugural ceremony. This was followed by a live band of a group of four students who performed on Bollywood songs with live music instruments.
In the first session, the topic "How I found my goal of life" was discussed by the International Football Player Women's League J&K Ms Afshan Ashiq. The second address was from Professional Skydiver Arjuna Awardee Group Captain (Retd) Kamal Singh on the topic "How Adventure makes you think out of box". The first session panellist was Mr Vinit K. Bansal, A banker, specially abled, entrepreneur and writer of dozen best sellers. The moderator was Ms Nupur Sandhu.
In the second session, Radio Mirchi Jammu & Kashmir's programming head RJ Shwetima Jamwal spoke on the topic "Social Media and its Impact".
In the next session, Dr. Sarabjit Singh Mann, Assistant Professor Punjabi IKGPTU was the Moderator. The panellists were Punjabi poetess and Ghazal singer Ms. Sukhvinder Amrit, Mr. Vijay Vivek & Mr. Dev Dard.
The third session was addressed by noted TEDx speaker, Actor, Major (Retd) Mohommed Ali Shah on the subject "Life of a Soldier", while the other speaker Aarusha Mahajan spoke on the topic "How to start a start-up".
At the end of the ceremony, Ms Nupur Sandhu placed the vote of Thanks. Dr. Mrigender Bedi, Dr. Vivek Aggarwal, Dr. Gazal Sharma, (Both Assistant Professors) Tarun Kanodia, Deepak Sidana & Ankit Kapila (Programmers) coordinated this mega programme.