COVID vaccination begins at I.K.Gujral Punjab Technical University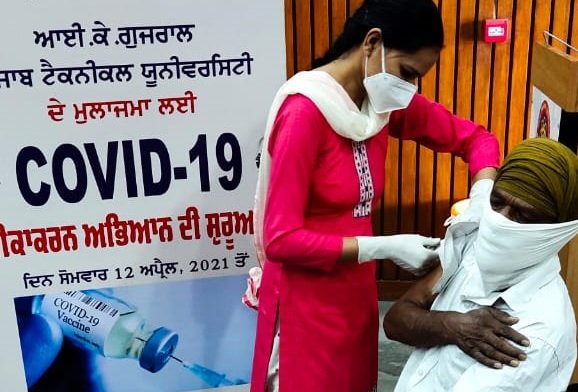 Vaccination for the age group of 45 years and above is being done in the first phase
Jalandhar/Kapurthala: Covid vaccination has started at I.K. Gujral Punjab Technical University from this week. According to the government instructions, in the first phase, the age group of 45 years and above is being vaccinated. The Covid-19 Protection Management Team of the University has organized it with support of the team of Health Department. University Vice Chancellor Prof. (Dr.) Ajay Kumar Sharma and Registrar Er. Sandeep Kumar Kazal lead the team and in their message both authorities motivated all the employees, officers and faculty members of this age group to get vaccinated.
VC Prof. (Dr.) Sharma said that IKGPTU has been very pro-active in Covid-19 protection management ever since the outbreak of this pandemic. University has established a special Covid-19 Protection Management Cell headed by a Dy. Registrar. "We have been conducting regular testing of all employees and now the University has taken lead in arranging Covid-19 vaccination for its employees at the campus itself." Prof Dr Sharma added.
Deputy Registrar Dinesh Juneja, the nodal officer of the University's Covid-19 Protection Management Team, said that under the direction of the University Vice-Chancellor and Registrar, he has started this by coordination of the vaccination team of the Health Department. In this, SMO Kala Sanghiya Dr. Guntas Singh, ANM Baljit Kaur, MPHW Gurpreet Singh started it with vaccination of 20 workers group. He said that they are waiting for the fresh guidelines of the government so that they meet their target of all employees' vaccination at different stages.
According to Nodal Officer Dinesh Juneja, family members of the 45 years & above of age group will also be given this benefit at University campus vaccination drive. He told that since September 2020, his team has been doing continuous testing work in a best way.
On this occasion, Assistant Registrar Devinder Kumar, Senior Assistant Jaswinder Singh Clerk Dalvinder Singh got the vaccination done with effective and better coordination.