IKGPTU organized Seminar on "Prevention of Sexual Harassment Act 2913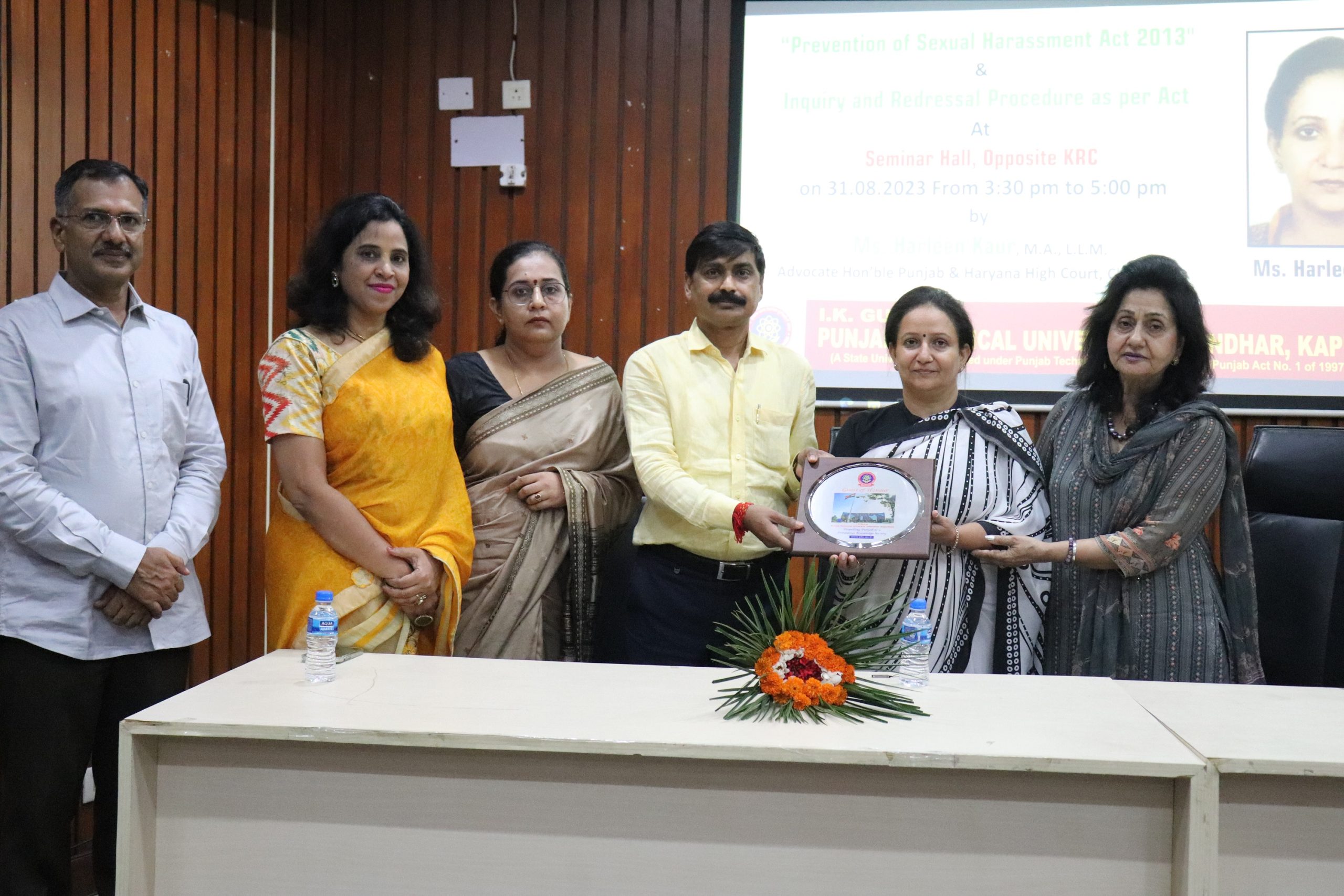 IKGPTU organized Seminar on "Prevention of Sexual Harassment Act 2013"
– Renowned advocate Harleen Kaur joined session as guest speaker
Jalandhar/Kapurthala ( ) It is unfortunate that even today women have to be victims of sexual exploitation at workplaces. Sexual harassment has many definitions and even a strict 2013 law applies to it. The need is to be aware, to resist exploitation from the beginning. These are the views of Harleen Kaur, a renowned female lawyer of Punjab and Haryana high court. Advocate Harleen Kaur was addressing a one-day awareness seminar organized at I.K.Gujral Punjab Technical University (IKG PTU) as the keynote speaker. The subject of the seminar was "Prevention of Sexual Harassment Act 2013". This seminar was specially organized by the Registrar's Office under the leadership of Vice-Chancellor Dr. Susheel Mittal for University Staff. The chief guest of the program was Registrar Dr S K Misra. He welcomed the main speaker, female lawyer Harleen Kaur. Renowned social worker Parminder Beri was also joined on a special invitation.
Advocate Harleen Kaur said that the above Act, 2013 is a historic law in the country, which is helpful in protecting women from sexual harassment at workplace. This law enabled women to stand up for their rights and assert their autonomy in the workplace. She explained that sexual harassment can be physical contact or solicitation of sexual favors or making racist comments or showing pornography or any other unwanted physical, verbal or non-verbal conduct, verbal/written, physical or visual. The Registrar Dr. Misra shared with the guests the aspects of friendly, respectful atmosphere among the university staff.
On this occasion, Dr. Nitya Sharman, Deputy Controller, Deputy Librarian Madhu Midda and Deputy Registrar Administration Devinder Kumar represented the University's Internal Complaint Committee (ICC). The event was moderated by Deputy Registrar Public Relations Rajneesh Sharma.