IKGPTU Organized One day awareness seminar under Nasha Mukt Bharat Abhiyaan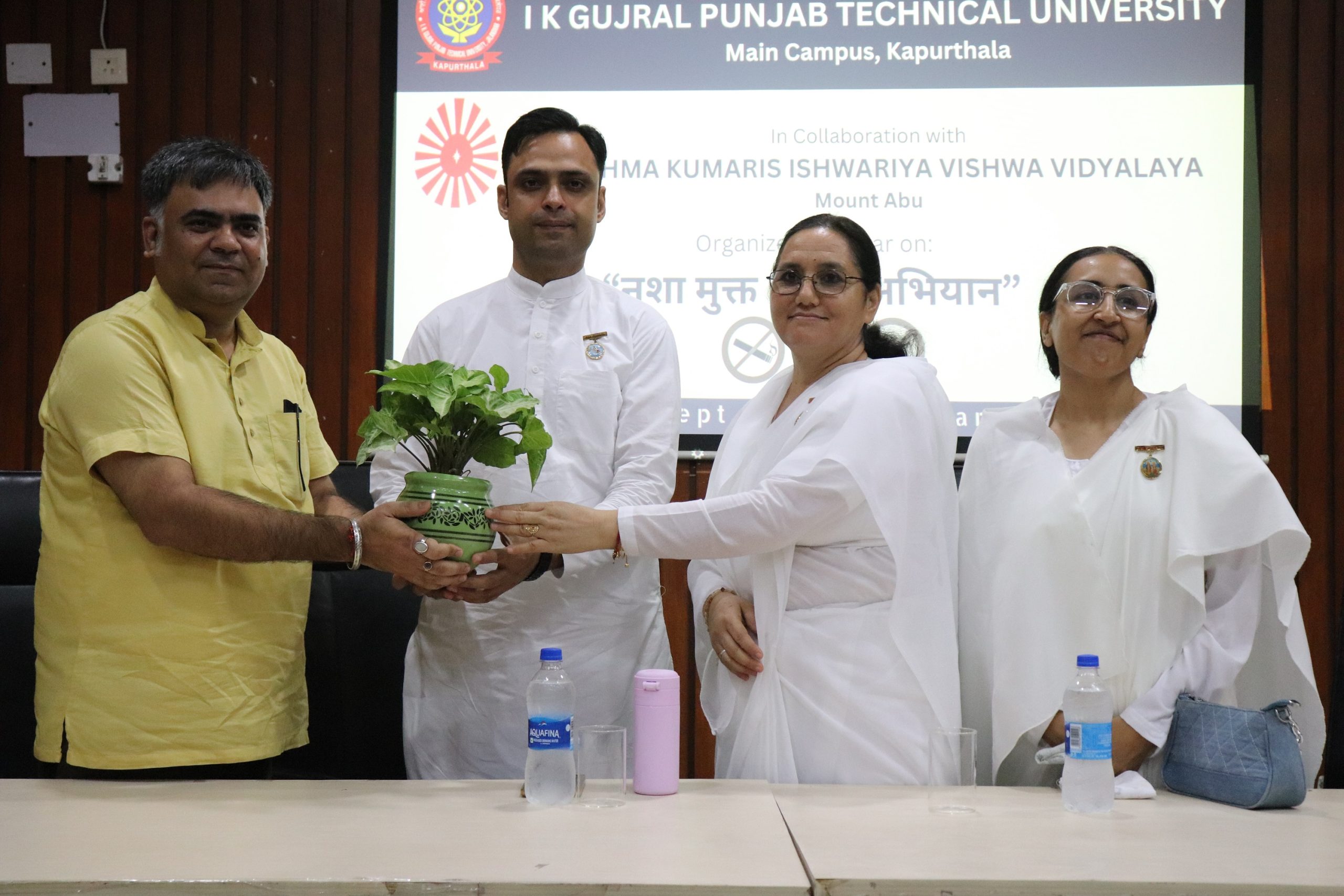 IKGPTU organized One day awareness seminar under "Nasha Mukt Bharat Abhiyaan"
– Understand life, it is not a race, there is no place for drug in life: Speaker B.K. Kamal
– Brahma Kumaris Kapurthala team delivered expert lecture & suggested meditation & other kriyas
Drug addiction is hollowing our society. Today, its prevention and eradication is a challenge for us. It is the responsibility of parents, society, young generation, government, educational institutions to eliminate it from the roots. These views are expressed by expert speaker of Brahma Kumaris Kapurthala B.K. Kamal. He came to I.K.Gujral Punjab Technical University (IKGPTU) to deliver an expert lecture & guide youngsters, University staff about how to avoid drug, depression & other daily illness factors through meditation. The occasion was a one-day seminar on the nationwide awareness program "Nasha Mukt Bharat Abhiyan". It is to be mentioned that an agreement has been signed between Brahma kumari Ishwarya Vishwa Vidyalaya (Mount Abu Headquarter) and the Department of Social Justice and Empowerment, Government of India to take necessary steps on the awareness of "Nash Mukt Bharat Abhiyan", under which such awareness programs are being conducted across the country.
This initiative was jointly undertaken by the Academic department and the student welfare department of the university. On reaching the university, the keynote speaker B.K. Kamal and his team were welcomed by Dean Academic Prof (Dr.) Vikas Chawla. Dean Academic Dr. Chawla explained about the institution and shared the welcome message. University Registrar Dr. S.K Misra congratulated for this event. University Vice-Chancellor Dr. Susheel Mittal has inspired the university staff to conduct such awareness-rich seminars continuously. He said that with this the morale & spirit of the students are high and they get motivation to stay away from social evils.
Meanwhile, speaker B.K. Kamal offered students a pledge not & never to take drugs and to oppose it in society. Speaker B.K. Kamal through his motivational address, a message was given to stay free from diseases like depression, anxiety, addiction etc. He suggested methods of meditation. B.K. Kamal conducts workshops from time to time both online and offline & till now he has inspired 3 lakh people and removed them from various social diseases.
During the seminar he told the students about putting themselves on the positive side through meditation. It is said about technology like the mobile phone that while it provides convenience for us, it also creates negative forces in our life. Use mobile only for convenience. University staff and students participated in the program.
———————————————————————————————————————————————————
आई.के.जी पी.टी.यू में "नशा मुक्त भारत अभियान" के तहत एक दिवसीय जागरूकता सेमिनार आयोजित
– जीवन को समझें, यह कोई दौड़ नहीं है, जीवन में नशे की कोई जगह नहीं है: बी.के. कमल
जालंधर/कपूरथला ( ) नशा हमारे समाज को खोखला कर रहा है! आज इसकी रोकथाम एवं उन्मूलन हमारे लिए एक चुनौती है! इसे जड़ से खत्म करना माता-पिता, समाज, युवा पीढ़ी, सरकार, शिक्षण संस्थानों की जिम्मेदारी है! ये विचार ब्रह्माकुमारी कपूरथला के विशेष वक्ता बी.के.कमल के हैं! वह आई.के. गुजराल पंजाब टेक्निकल यूनिवर्सिटी (आईकेजी पीटीयू) में "नशा मुक्त भारत अभियान" के तहत एक विशेष सेमिनार को मुख्य वक्ता के रूप में संबोधित कर रहे थे ! उल्लेखनीय है कि ब्रह्माकुमारी ईश्वरीय विश्व विद्यालय (माउंट आबू मुख्यालय) एवं भारत सरकार के सामाजिक न्याय एवं अधिकारिता विभाग के बीच "नश मुक्त भारत अभियान " की जागरूकता पर आवश्यक कदम उठाने के लिए एक समझौते पर हस्ताक्षर किए गए हैं, जिसके तहत देशभर में ऐसे जागरूकता कार्यक्रम चलाए जा रहे हैं!
यह पहल विश्वविद्यालय के अकादमिक विभाग एवं छात्र कल्याण विभाग द्वारा संयुक्त रूप से की गई थी! विश्वविद्यालय पहुंचने पर मुख्य वक्ता बी. के. कमल और उनकी टीम का स्वागत डीन अकादमिक प्रोफेसर (डॉ.) विकास चावला की तरफ से किया गया! डीन अकादमिक डॉ. चावला ने संस्था के बारे में बताया और स्वागत संदेश साझा किया! विश्वविद्यालय के रजिस्ट्रार डॉ एस.के. मिश्रा ने इस आयोजन के लिए टीम बधाई दी! विश्वविद्यालय के कुलपति डाॅ. सुशील मित्तल ने विश्वविद्यालय स्टाफ को इस तरह के जागरूकता से भरपूर सेमिनार लगातार आयोजित करने के लिए प्रेरित किया। उन्होंने कहा कि इससे विद्यार्थियों का सामाजिक कुरीतिओं से लड़ने, दूर रहने के लिए मनोबल बढ़ता है और उन्हें सामाजिक बुराइयों से दूर रहने की प्रेरणा मिलती है!
इसी बीच बी.के.कमल ने विद्यार्थियों को नशा न करने और समाज में इसका विरोध करने की शपथ दिलाई ! वक्ता बी.के. कमल द्वारा प्रेरक उद्बोधन के माध्यम से अवसाद, चिंता, व्यसन आदि रोगों से मुक्त रहने का संदेश दिया गया तथा उपाय भी सुझाये गये! बी.के. कमल समय-समय पर ऑनलाइन और ऑफलाइन दोनों तरह से वर्कशॉप आयोजित करते हैं! अब तक उन्होंने 3 लाख लोगों को प्रेरित कर उन्हें विभिन्न सामाजिक बीमारियों से दूर किया है!
सेमिनार के दौरान उन्होंने छात्रों को ध्यान के माध्यम से खुद को सकारात्मक पक्ष में लाने के बारे में बताया! मोबाइल फोन जैसी तकनीक के बारे में कहा जाता है कि यह जहां हमें सुविधा प्रदान करती है, वहीं यह हमारे जीवन में नकारात्मक शक्तियां भी पैदा करती है! मोबाइल का उपयोग केवल सुविधा के लिए करें! कार्यक्रम में विश्वविद्यालय स्टाफ एवं छात्र-छात्राओं ने भाग लिया!
———————————————————————————————————————————————————
ਆਈ.ਕੇ.ਜੀ ਪੀ.ਟੀ.ਯੂ ਵਿਖੇ "ਨਸ਼ਾ ਮੁਕਤ ਭਾਰਤ ਅਭਿਆਨ" ਤਹਿਤ ਇਕ ਰੋਜ਼ਾ ਜਾਗਰੂਕਤਾ ਸੈਮੀਨਾਰ ਦਾ ਆਯੋਜਨ
– ਜੀਵਨ ਨੂੰ ਸਮਝੋ, ਇਹ ਕੋਈ ਦੌੜ ਨਹੀਂ ਹੈ, ਇਸਦੇ ਨਿਰਵਾਹ ਵਿਚ ਨਸ਼ੇ ਦਾ ਕੋਈ ਸਥਾਨ ਨਹੀਂ ਹੈ: ਬੀ. ਕੇ. ਕਮਲ
ਜਲੰਧਰ/ਕਪੂਰਥਲਾ ( ) ਨਸ਼ੇ ਦੀ ਲੱਤ ਸਾਡੇ ਸਮਾਜ ਕੋ ਖੋਖਲਾ ਕਰ ਰਹੀ ਹੈ! ਅੱਜ ਇਸਦੀ ਰੋਕਥਾਮ ਤੇ ਜੜ੍ਹ ਖਤਮ ਕਰਨਾ ਸਾਡੇ ਲਈ ਇੱਕ ਚੁਣੌਤੀ ਹੈ! ਇਸਨੂੰ ਜੜ੍ਹ ਤੋਂ ਖਤਮ ਕਰਨ ਦੀ ਜਿੰਮੇਦਾਰੀ ਮਾਪਿਆਂ, ਸਮਾਜ, ਨੌਜਵਾਨ ਪੀੜ੍ਹੀ, ਸਰਕਾਰ, ਵਿੱਦਿਅਕ ਅਦਾਰਿਆਂ ਸਮੇਤ ਸਾਰੀਆਂ ਦੀ ਸਾਂਝੇ ਤੌਰ ਤੇ ਹੈ! ਇਹ ਵਿਚਾਰ ਬ੍ਰਹਮਕੁਮਾਰੀ ਕਪੂਰਥਲਾ ਦੇ ਵਿਸ਼ੇਸ਼ ਵਕਤਾ ਬੀ.ਕੇ.ਕਮਲ ਦੇ ਹਨ! ਉਹ ਆਈ. ਕੇ. ਗੁਜ਼ਰਾਲ ਪੰਜਾਬ ਟੈਕਨੀਕਲ ਯੂਨੀਵਰਸਿਟੀ (ਆਈ.ਕੇ.ਜੀ ਪੀ.ਟੀ.ਯੂ) ਵਿਖੇ "ਨਸ਼ਾ ਮੁਕਤ ਭਾਰਤ ਅਭਿਆਨ" ਤਹਿਤ ਇੱਕ ਵਿਸ਼ੇਸ਼ ਇੱਕ ਰੋਜ਼ਾ ਸੈਮੀਨਾਰ ਨੂੰ ਮੁੱਖ ਬੁਲਾਰੇ ਵੱਜੋਂ ਸੰਬੋਧਿਤ ਕਰ ਰਹੇ ਸਨ! ਜਿਕਰਯੋਗ ਹੈ ਕਿ ਬ੍ਰਹਮਕੁਮਾਰੀ ਇਸ਼ਵਰਿਆ ਵਿਸ਼ਵਾ ਵਿਦਿਆਲਿਆ (ਮਾਊਂਟ ਆਬੂ ਹੈੱਡਕੁਆਰਟਰ) ਅਤੇ ਭਾਰਤ ਸਰਕਾਰ ਦੇ ਸਮਾਜਿਕ ਨਿਆਂ ਅਤੇ ਸਸ਼ਕਤੀਕਰਨ ਵਿਭਾਗ ਵਿਚਕਾਰ "ਨਸ਼ਾ ਮੁਕਤ ਭਾਰਤ" ਮਿਸ਼ਨ ਜਾਗਰੂਕਤਾ ਤੇ ਜਰੂਰੀ ਕਦਮ ਉਠਾਉਣ ਲਈ ਇੱਕ ਕਰਾਰ ਹੋਇਆ ਹੈ, ਜਿਸ ਤਹਿਤ ਦੇਸ਼ ਭਰ ਵਿਚ ਅਜਿਹੇ ਜਾਗਰੂਕਤਾ ਪ੍ਰੋਗਰਾਮ ਕਰਵਾਏ ਜਾ ਰਹੇ ਹਨ!
ਯੂਨੀਵਰਸਿਟੀ ਦੇ ਅਕਾਦਮਿਕ ਵਿਭਾਗ ਅਤੇ ਵਿਦਿਆਰਥੀ ਭਲਾਈ ਵਿਭਾਗ ਵੱਲੋਂ ਸਾਂਝੇ ਤੌਰ ਤੇ ਇਹ ਉਦਮ ਕੀਤਾ ਗਿਆ! ਯੂਨੀਵਰਸਿਟੀ ਪਹੁੰਚਣ ਤੇ ਮੁੱਖ ਬੁਲਾਰੇ ਬੀ.ਕੇ.ਕਮਲ ਅਤੇ ਉਹਨਾਂ ਦੀ ਟੀਮ ਦਾ ਸਵਾਗਤ ਡੀਨ ਅਕਾਦਮਿਕ ਪ੍ਰੋ (ਡਾ.) ਵਿਕਾਸ ਚਾਵਲਾ ਵੱਲੋਂ ਕੀਤਾ ਗਿਆ! ਡੀਨ ਅਕਾਦਮਿਕ ਡਾ.ਚਾਵਲਾ ਨੇ ਸੰਸਥਾ ਸਬੰਧੀ ਦੱਸਿਆ ਤੇ ਸਵਾਗਤੀ ਸੰਦੇਸ਼ ਸਾਂਝਾ ਕੀਤਾ! ਯੂਨੀਵਰਸਿਟੀ ਰਜਿਸਟਰਾਰ ਡਾ.ਐਸ.ਕੇ ਮਿਸ਼ਰਾ ਵੱਲੋਂ ਇਸ ਆਯੋਜਨ ਲਈ ਵਧਾਈ ਦਿੱਤੀ ਗਈ! ਯੂਨੀਵਰਸਿਟੀ ਦੇ ਉਪ-ਕੁਲਪਤੀ ਡਾ. ਸੁਸ਼ੀਲ ਮਿੱਤਲ ਵੱਲੋਂ ਇੱਕ ਸੰਦੇਸ਼ ਰਹਿਣ ਅਜਿਹੇ ਜਾਗਰੂਕਤਾ ਭਰਪੂਰ ਸੈਮੀਨਾਰ ਲਗਾਤਾਰ ਕਰਵਾਉਣ ਲਈ ਯੂਨੀਵਰਸਿਟੀ ਸਟਾਫ ਨੂੰ ਪ੍ਰੇਰਿਤ ਕੀਤਾ ਗਿਆ! ਉਹਨਾਂ ਕਿਹਾ ਕਿ ਇਸਦੇ ਨਾਲ ਵਿਦਿਆਰਥੀਆਂ ਦਾ ਮਨੋਬਲ ਵਧਦਾ ਹੈ ਤੇ ਉਹਨਾਂ ਨੂੰ ਸਮਾਜਿਕ ਕੁਰੀਤੀਆਂ ਤੋਂ ਦੂਰ ਰਹਿਣ ਦੀ ਪ੍ਰੇਰਨਾ ਮਿਲਦੀ ਹੈ!
ਇਸ ਦੌਰਾਨ ਬੀ.ਕੇ. ਕਮਲ ਵੋੱਲੋਂ ਵਿਦਿਆਰਥੀਆਂ ਨੂੰ ਨਸ਼ਾ ਨਾ ਕਰਨ ਤੇ ਇਸਦਾ ਸਮਾਜ ਅੰਦਰ ਵਿਰੋਧ ਕਰਨ ਦੀ ਸਹੁੰ ਚੁਕਾਈ ਗਈ! ਬੁਲਾਰੇ ਬੀ.ਕੇ.ਕਮਲ ਵੱਲੋਂ ਪ੍ਰੇਰਣਾਦਾਇਕ ਸੰਬੋਧਨ ਰਾਹੀਂ ਡਿਪਰੈਸ਼ਨ, ਚਿੰਤਾ, ਨਸ਼ੇ ਆਦਿ ਜਿਹੇ ਰੋਗਾਂ ਤੋਂ ਮੁਕਤ ਰਹਿਣ ਲਈ ਸੰਦੇਸ਼ ਦਿੱਤਾ ਗਿਆ ਅਤੇ ਤੌਰ ਤਰੀਕੇ ਵੀ ਸੁਝਾਏ ਗਏ! ਬੀ.ਕੇ. ਕਮਲ ਆਨਲਾਈਨ ਤੇ ਆਫਲਾਈਨ ਦੋਵੇਂ ਢੰਗਾਂ ਨਾਲ ਸਮੇਂ ਸਮੇਂ ਤੇ ਵਰਕਸ਼ਾਪ ਕਰਵਾਉਂਦੇ ਹਨ! ਹੁਣ ਤਕ ਉਹ 3 ਲੱਖ ਲੋਕਾਂ ਨੂੰ ਪ੍ਰੇਰਿਤ ਕਰਕੇ ਵੱਖੋ-ਵੱਖ ਸਮਾਜਿਕ ਰੋਗਾਂ ਤੋਂ ਦੂਰ ਕਰ ਚੁੱਕੇ ਹਨ!
ਉਹਨਾਂ ਵੱਲੋਂ ਸੈਮੀਨਾਰ ਦੌਰਾਨ ਵਿਦਿਆਰਥੀਆਂ ਨੂੰ ਧਿਆਨ ਕਿਰਿਆ ਰਾਹੀਂ ਆਪਣੇ ਆਪ ਨੂੰ ਸਕਰਾਤਮਕ ਪਾਸੇ ਲਗਾਉਣ ਬਾਰੇ ਦੱਸਿਆ ਗਿਆ! ਉਹਨਾਂ ਟੈਕਨੋਲੋਜੀ ਜਿਵੇਂ ਮੋਬਾਇਲ ਫੋਨ ਬਾਰੇ ਕਿਹਾ ਕਿ ਜਿੱਥੇ ਇਹ ਸਾਡੀ ਲਈ ਸਹੂਲਤ ਪ੍ਰਦਾਨ ਕਰਦਾ ਹੈ ਉਥੇ ਸਾਡੇ ਜੀਵਨ ਵਿੱਚ ਨਕਾਰਾਤਮਕ ਸ਼ਕਤੀਆਂ ਵੀ ਪੈਦਾ ਕਰਦਾ ਹੈ! ਮੋਬਾਈਲ ਦਾ ਉਪਯੋਗ ਸਿਰਫ ਸਹੂਲਤ ਲਈ ਕਰੋ! ਪ੍ਰੋਗਰਾਮ ਵਿਚ ਯੂਨੀਵਰਸਿਟੀ ਸਟਾਫ ਤੇ ਵਿਦਿਆਰਥੀ ਸ਼ਾਮਿਲ ਰਹੇ!