IKGPTU organized a special function on Teacher's Day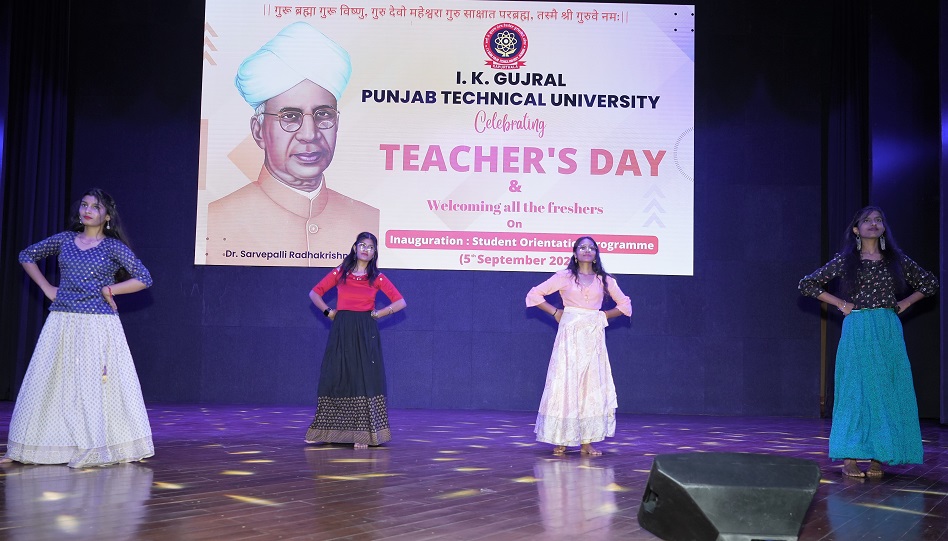 A Teacher is a complete relationship, more than imparting knowledge, making you capable
IKGPTU organized a special function on Teacher's Day, VC send his message to all faculty members
Jalandhar/Kapurthala By giving knowledge to student life, more than a qualified youth power maker or making us a capable in our relevant or choice field, A teacher is a relationship. It stays with you for life and even after life. When we were nothing, the teacher makes us a complete idol personality. A Teacher's knowledge, teaching of traditions stays with us throughout our life. This is a very special day to acknowledge. This is the message of Dr. S.K Mishra, Registrar, I.K.Gujral Punjab Technical University (IKG PTU). Registrar Dr. Mishra was addressing the Teachers' Day function organized in the University main campus on Monday. Congratulating all the teachers of the university campus, other campuses and affiliated colleges from the stage, he called them world builders. He congratulated all the teachers on this special day on behalf of the Vice Chancellor of the University, Mr. Rahul Bhandari, IAS.
The function started with Guru Vandana, a presentation by student Neha & Group. After this Dean Student Welfare Dr. Gaurav Bhargava welcomed everyone to the function. Poem was recited by student Yash Bhardwaj. Dean Academics Prof (Dr.) Vikas Chawla spoke on the Guru-Shishya Parampara. Faculty and NSS department in-charge Dr. Chandra Prakash shared his teaching experiences in a very simple way and the students were tied to the stage. Various cultural items were presented by students Aanchal Tuteja, Rinki Rawat, Shruti & Group, Vishnu, Ayushi & Group, Swaraj, Ankush, Daksh & Group, Deepika.
Professor (Dr.) Yadvinder Singh Brar, Dean R&D Dr. Ashish Arora, Prof. (Dr.) Rajneesh Kant Sachdev, Dr. Hitesh Sharma, Dr. Satbir Singh, Dr. Ranbir Singh and others were present in the function.
_____________
7466 _ Welcome to Registrar Dr S K Mishra by Prof Dr Yadwinder Brar and University students
7471 _ Dance performance by Students
7492 _ Present Faculty members
7549 _ Faculty participating in Games planned by students
7520 _ Dr S K Mishra Registrar addressing the audience during teachers day event