IKGPTU gives opportunity for Professional Development to Faculty & Officers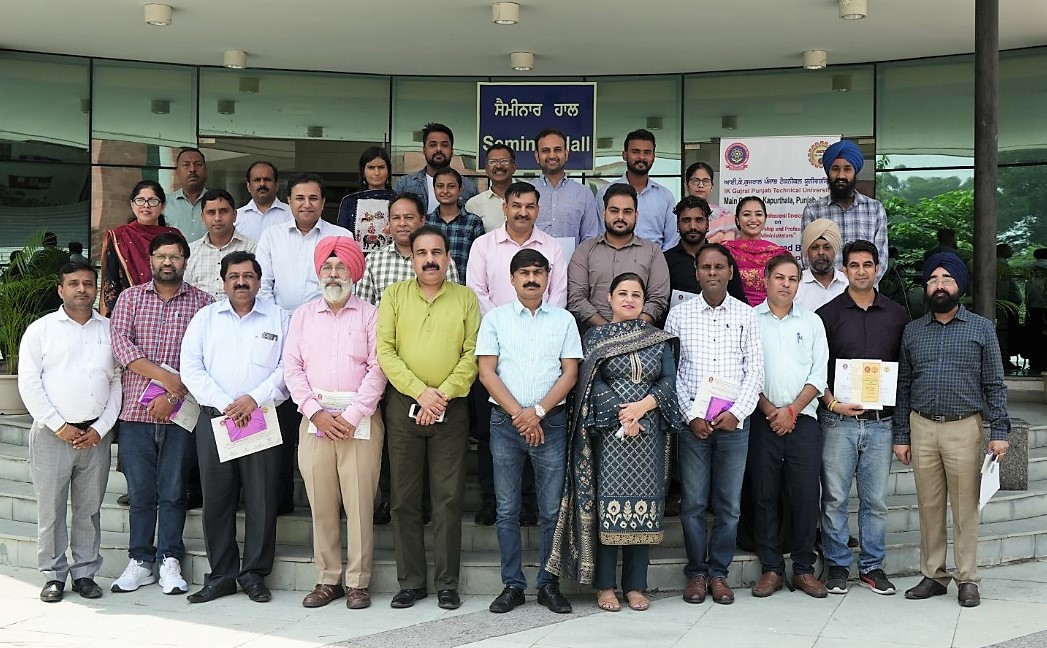 IKGPTU gives opportunity for Professional Development to Faculty & Officers
– Successfully organized 12-day PDP at Main campus, Registrar Dr. Mishra was the chief guest in the valedictory ceremony
Jalandhar / Kapurthala The growth of every institution depends upon the professional growth of its employees and for this it is important to organize Professional Development Programs (PDPs) regularly. The professionally stronger employee can give more progress to the organization. With This message I.K. Gujral Punjab Technical University (IKGPTU) organized 12-days professional Development Programme (PDP). At the valedictory ceremony Dr. S.K Mishra, Registrar, was the chief guest and he shared university vision towards professional development & employee growth. Expressing his gratitude to the Vice Chancellor of the University, Mr. Rahul Bhandari, IAS, he said that understanding the importance of such events in technical educational institutions and providing opportunity is a symbol of more growth.
The 12 day PDP was sponsored by All India Council for Technical Education (AICTE) which was successfully organized by the University Management Department and Registrar Office. In this, the Head of the Civil Department of the University, Dr. Rajiv Chauhan was the AICTE Coordinator, while the group's senior staff members participated in its other operational steps.
In this PDP started on 22nd August, the subjects on which the professional growth of the staff was done include RTI, Store and Purchase, Leadership and Multiple Dimensions, E-Office, Emotional Intelligence, Self-Awareness, Physical and Mental Health, Gender Sensitization and Sexual Harassment, Self-Analysis and Career Growth, Finance and National Education Policy (NEP) etc. Eminent speakers from across the country and abroad taught the staff on all these subjects, including Vice Chancellor of Central University Punjab Prof. Raghvendra P. Tiwari, Dr. Sohan Singh (Expert in Stress Management), IRS Officer Rohit Mehra, Dr. Naina Sharma. Department of Psychiatry Punjabi University Patiala, Varun Upadhyay Art of Living, Dr. Deepti Professor Panjab University Chandigarh, TDX Speaker Mandeep Kaur Tangra, Daniel Gabsare and others were present as session expert speakers.
In the final session of the event, a test was taken from the syllabus taught on the 12 days. In the end all the participants were awarded with certificates. Some live games were also organized during this time for Team Spirit. For the successful organization of the function, Prof. Mandeep Kaur, I.T. Coordinator Deepak Sidana was specially congratulated by the Registrar Dr. Mishra. University Dean P&EP Dr. RPS Bedi, Prof. Yadvinder Singh Brar, Finance Officer Dr. Sukhbir Walia, Deputy Registrar Sandeep Kumar Kajal, Dinesh Juneja, Sunil Kumar, Joginder Singh and others were present in the function.