IKGPTU Initiated 12 days PDP in association with AICTE_Principal Secretary cum Vice Chancellor motivated teams to organized in all state institutions after got training from this first PDP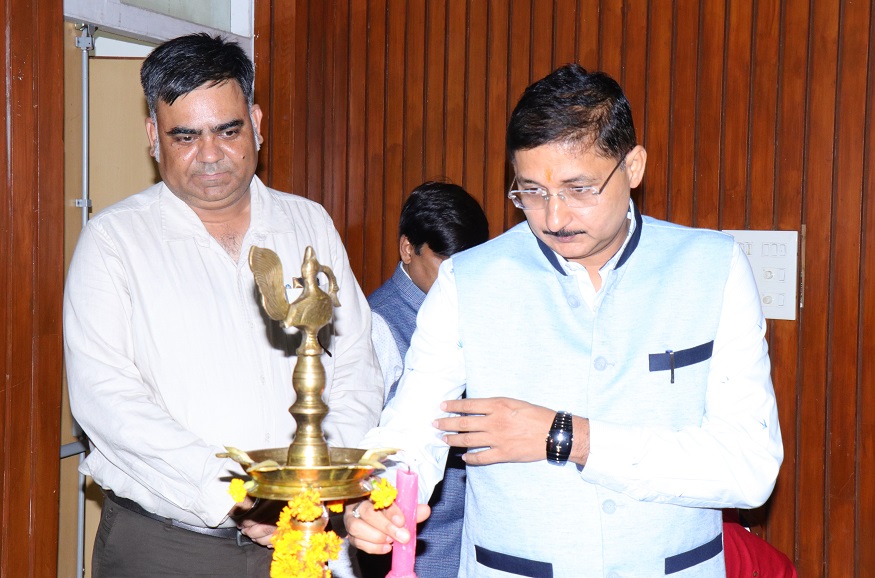 To develop Intellectual minds, efficiency in work & to provide satisfactory services; Professional development programs are very important: IAS Rahul Bhandari
IKGPTU Initiated 12 days PDP in association with AICTE, Principal Secretary cum Vice Chancellor motivated teams to organized in all state institutions after got training from this first PDP
Jalandhar/Kapurthala/Chandigarh I.K. Gujral Punjab Technical University (IKGPTU) has initiated a Professional Development programme (PDP) for the officers, employees & staff to create a skilled workforce, promote modern education system and to develop a better environment in Technical Educational Institutions. This first PDP
IMG_5287.JPG
has been started in association with All India Council for Technical Education (AICTE). This program aims also to conduct workshops on effective leadership exercises in technical educational institutions across Punjab in the next phase. University target topics are to develop better management and communication skills, knowledge of data handling, handling procurement & budgetary issues, self-analysis & career development, complete e-learning, e-office etc. The first PDP will continue till 12 days.
The first of its kind PDP was inaugurated by Sh. Rahul Bhandari, IAS, Principal Secretary, Department of Technical Education and Industrial Training, Govt. of Punjab and Vice Chancellor IKGPTU at main campus Jalandhar-Kapurthala Highway. Addressing the inaugural session as chief guest, Sh. Bhandari said that professional development programs are very important to enhance intellectual property, intellectual minds, work efficiency and provide satisfactory services. He talked about making arrangements to run professional development programs in various technical educational institutions of the state including universities and to implement the successful scheme soon.
Sh. Rahul Bhandari said, "The Government Technical Educational Institutions of Punjab, especially the two technical universities of the state, IKGPTU Jalandhar-Kapurthala and MRSPTU Bathinda, are providing great services to the students of the country and other countries too. As these institutes are leaders in providing professional education, the professional development and training of these institution staff is extremely important for their further growth in the future!"
PSTE cum VC IAS Rahul Bhandari launched the administrative training topics of this PDP. The topics are RTI Handling, Store and Purchase, Leadership Emerging Dimension, E-Office, Emotional Intelligence, Self-Awareness, Physical and Mental Health, Gender Sensitization and Sexual Harassment, Self-Analysis and Career Growth Training. Expert Lectures will also be given on subjects like Finance and National Education Policy.
University Registrar Dr. S.K Mishra told in his welcome address that the University Management Department, AICTE Coordinator and Registrar Office are trying to take this PDP initiative to every employee-officer. He described this beginning as an exemplary step in the progress of technical education in Punjab.
On this occasion, Dean Planning and Development Dr. RPS Bedi, Dean Academic Prof. (Dr.) Vikas Chawla, Controller Examination Dr. Paramjit Singh, Finance Officer Dr. Sukhbir Walia, Coordinator AICTE Prof (Dr.) Rajeev Chauhan, Assistant Professor Dr. Mandeep Kaur and others were present.