Freshers party for 2022 Batch – Vihan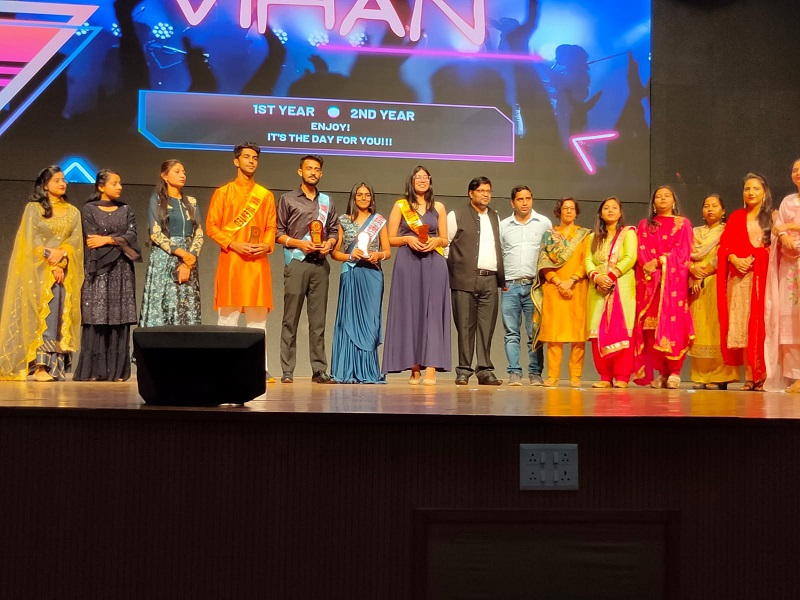 This is the first time that department of CSE, I K Gujral Punjab Technical University admitted over 400 students in single batch. The B Tech CSE and BCA program at IKGPTU Kapurthala is gaining popularity with every day. This is highest admission in a single program in the nearby areas of State of Punjab. The event was attended by Chief Guest of the event Dr. S. K. Mishra, Registrar along with Guest of Honour Dr. Vikas Chawla, Dean Academics. Dr. Hitesh Sharma Dean Research and Development also graced the occasion. Dr. S. K. Mishra encouraged students to participate and organize more such events as he described such events as Indispensable part of student life. Dr. Vikas Chawla too highlighted the impact of such events in student life and also stressed the need on making friends and contacts with seniors and juniors. The event was also attended by Sh. Rajneesh Sharma PRO and faculty members of CSE department Dr. Dinesh Gupta, Dr. Raman Kumar, Dr. Anshu Basin & Dr. Pooja Sharma.
The event began with chief guest and other members lighting the lamp and taking the blessings of Goddess Saraswati. It followed with the utmost energy of the audience, that included the students of the 2nd semester and the 4th semester of B.Tech. CSE, BCA and M Tech CSE who all were cheering at every moment of guest items presented by students. Everyone was vibing to the beats going on and cheers could be heard from every corner. Whether it was dance performances to temperature increasing performance, songs or some fun poetry; there was literally everything. After all that dancing and singing and vibing, the Freshers contest started with everyone performing mesmerizing ramp-walk with introduction. The shortlisting student's then had to participate in the question round. In between the final guest items like Bhangra that literally made everyone stand up from their seats and cheer the performances. Finally the result results came out and the title for Ms. Talented was given to Ms. Gudia and Mr. Talented to Mr. Aditya. Ms. Anchal was chosen to be the Ms, Freshers and Mr. Akshit Chaudhary was chosen to be the Mr. Freshers. The event then ended with rocking dance party and all students danced to the electrifying songs placed by the DJ.
Dr. Dinesh Gupta in the end congratulated the students who headed various committees for the successful event which included Mr. Mohit Sharma, Mr. Avjot Singh, Mr. Mohammad Arif, Mr. Sonu Kumar, Mr. Ajay Vishwakarma, Mr. Rajan, Mr. Shobit, Ms. Nidhi Sharma, Ms. Pooja Singh and others.