IKGPTU and NIT Delhi signed MoU to increase Academic Efficiency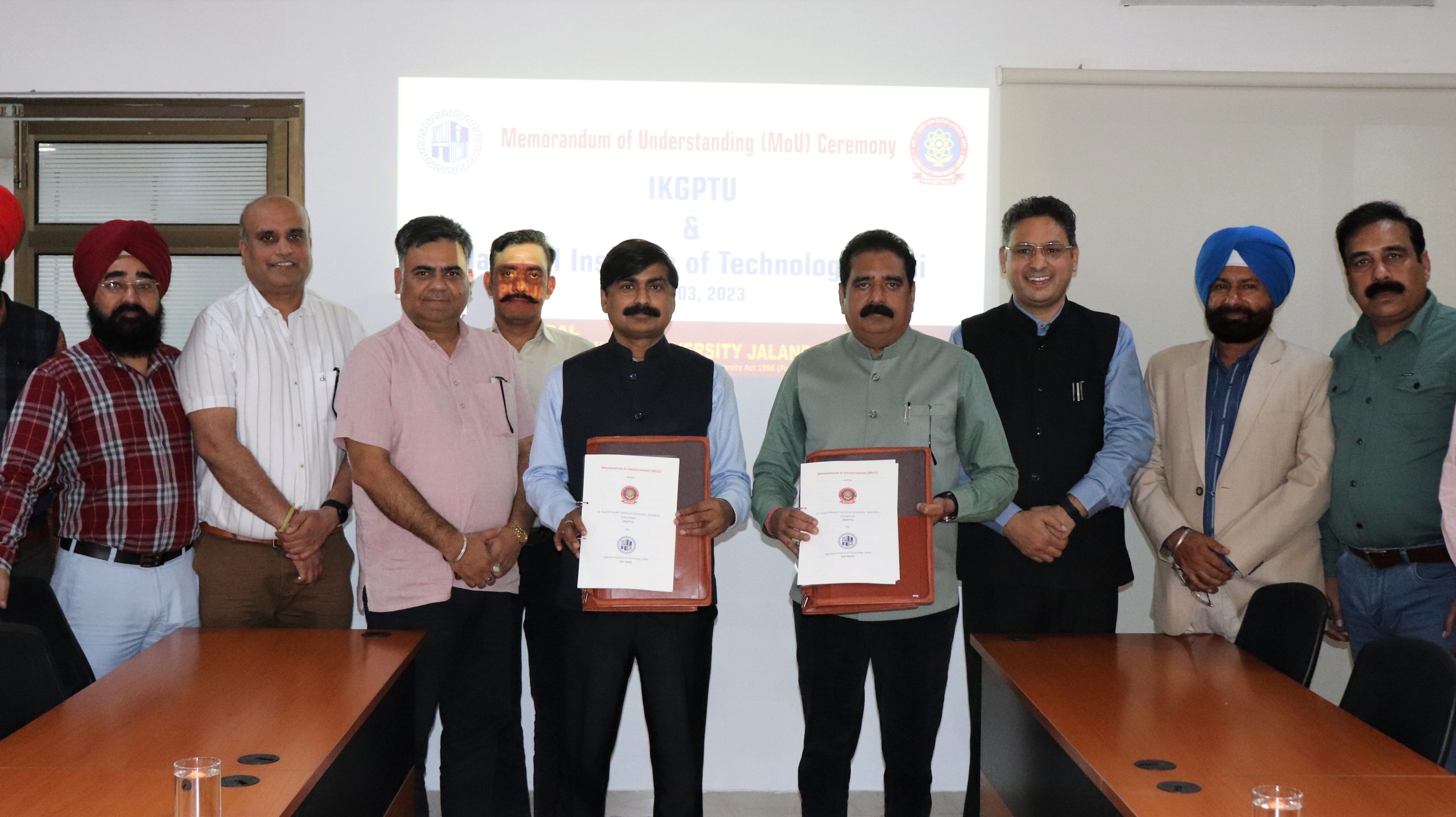 IKGPTU and NIT Delhi signed MoU to increase Academic Efficiency
– Both technical institutes will work for exchange of intellectual resources, partnership in innovation & entrepreneurship, research work, faculty, staff and students exchange
JALANDHAR/KAPURTHALA I.K.Gujral Punjab Technical University (IKG PTU) and National Institute of Technology (NIT) Delhi signed a memorandum of understanding (MoU) with the aim of enhancing academic competence. Through this agreement, both the technical educational institutions will work together in the field of technical education. Under this academic agreement, faculty members, students and staff of both the institutes will get to use the resources and opportunities of each other's institute. This MoU will increase Academic Efficiency. Both technical institutes will work for exchange of intellectual resources, partnership in innovation & entrepreneurship too. The document was signed on Monday, April 03rd by Director NIT Delhi Prof. (Dr.) Ajay Kumar Sharma and Registrar IKGPTU Dr. S.K Misra. Registrar Dr. S.K. Misra has described it as the best initiative taken as per the vision of the National Education Policy (NEP).
Director Prof. (Dr.) Ajay Sharma said that such Academic agreements are necessary to make the Indian education sector a special place at the global level. It is worth remembering that Prof. (Dr.) Ajay Kumar Sharma also served IKGPTU as the Vice Chancellor from March 2018 to September 2021.
The initiative for this MoU has been taken by the R&D department of the university. Dean R&D Dr. Hitesh Sharma said that all academic institutions can move forward by using each other's better resources, which is possible only with such kinds of MoUs. Dean Academics Prof. (Dr.) Vikas Chawla congratulated everyone for this effort. Dean College Development Dr. Balkar Singh, Dean Student Welfare Dr. Gaurav Bhargava, Dean P&EP Dr. R.P.S Bedi, Finance Officer Dr. Sukhbir Singh Walia, Deputy Dean Prof. (Dr.) Satbir Singh, Deputy Registrar Rajneesh Sharma, Assistant Professor Dr. Sarabjit Singh were present on the occasion.