Brig. Ajay Tewari witnessed ongoing 10 days NCC camp at IKGPTU Main campus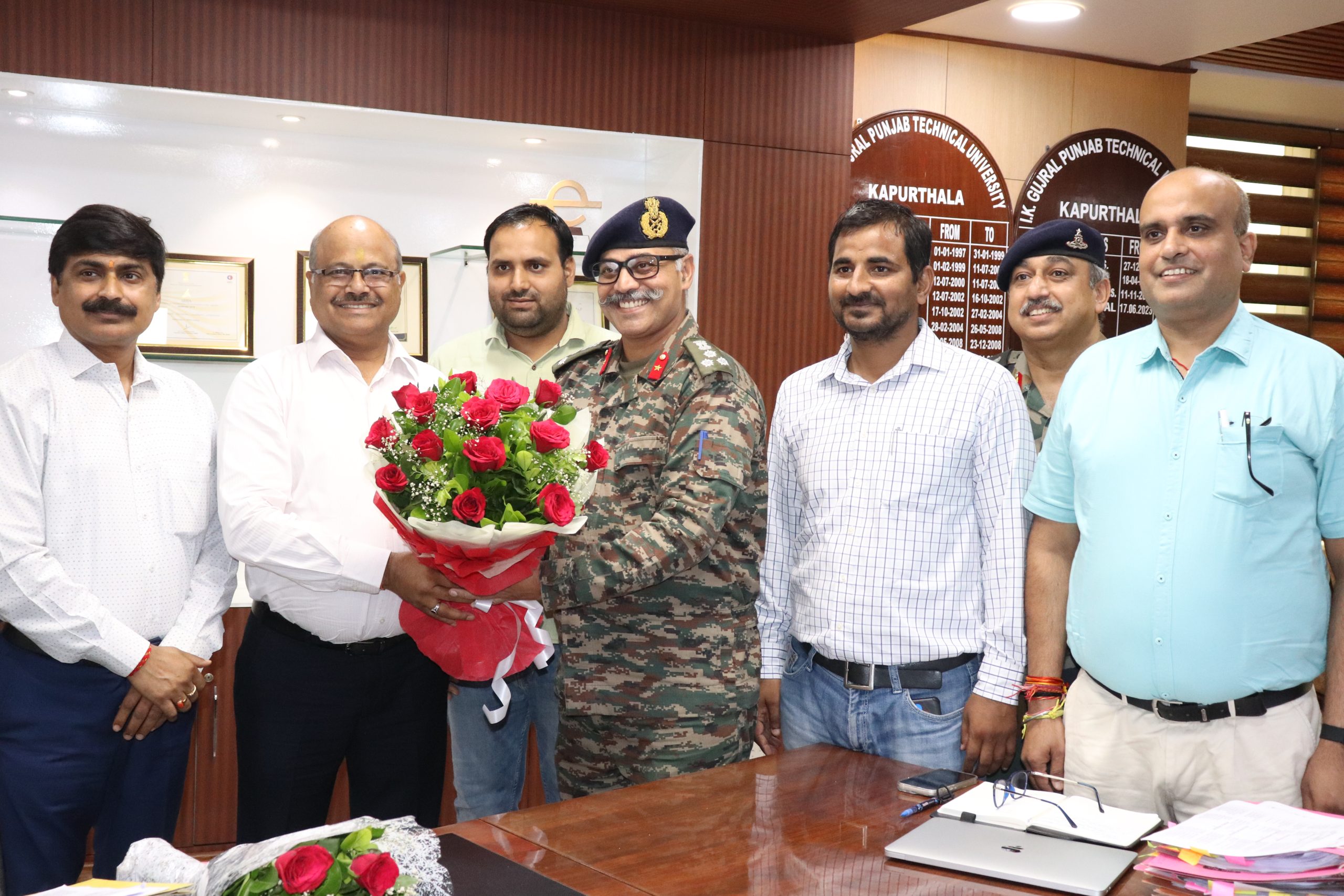 Brig. Ajay Tewari witnessed ongoing 10 days NCC camp at IKGPTU Main campus
– Interacted with NCC cadets, meeting was held with University VC Dr. Susheel Mittal
Jalandhar.Kapurthala Brigadier Ajay Tewari, SM GP CDR, NCC Gp HQ Jalandhar visited I.K.Gujral Punjab Technical University main campus Kapurthala on July 17, 2023 to witness ongoing 10 days NCC (National Cadet Corps) Combined Annual Training Camp (C.A.T.C). It commenced on July 10, 2023. This camp is scheduled to terminate on 19th July. Camp is organized under the aegis of 21 Punjab Battalion NCC Kapurthala.
Dr. Susheel Mittal, Vice-Chancellor, IKGPTU, welcomed Brig. Ajay Tewari. He interacted with the NCC cadets and encouraged them for an active participation in this camp. In a joint meeting, he had a productive interaction with Commanding Officer Col. Vishal Opal. He highlighted that such camps be regularly organized for the cadets to instill discipline in them and to increase the ability to work hard. He stressed that in the present times, cadets need to utilize Artificial intelligence applications in the present era of defence for remote assessment.
During the meeting, Registrar Dr. S.K Misra said that all the cadets, who came to participate in this camp are an example of patriotism and courage. Dr. Gaurav Bhargava (Dean Student Welfare), Dr. Vinay Kehar and Dr. Naveen Kumar Sharma NCC caretaker were also present during the meeting.
Commanding Officer Col. Vishal Opal briefed Brigadier Ajay Tewari about the various activities organized by the students of camp. He highlighted that the cadets of the University campus and affiliated colleges participated with courage and valour. All cadets were trained to become front liners. Apart from this, cadets were also taught subjects like map reading, weapon training and drill.
Keeping in mind the physical development of the cadets, during these 10 days, they were associated with various sports competitions like football, basketball and athletics, so that their physical stamina can also be boosted further. He specifically mentioned the various facilities provided by the University authorities for the successful completion of this camp.
Brigadier Ajay Tewari visited the sites where various activities by the cadets were being supervised and performed. He appreciated the efforts of the staff of I.K. Gujral PTU and 21 Pb Bn NCC towards making this camp a great success.