The 2nd International Conference "CNRE-2022" Concluded at IKGPTU Jalandhar-Kapurthala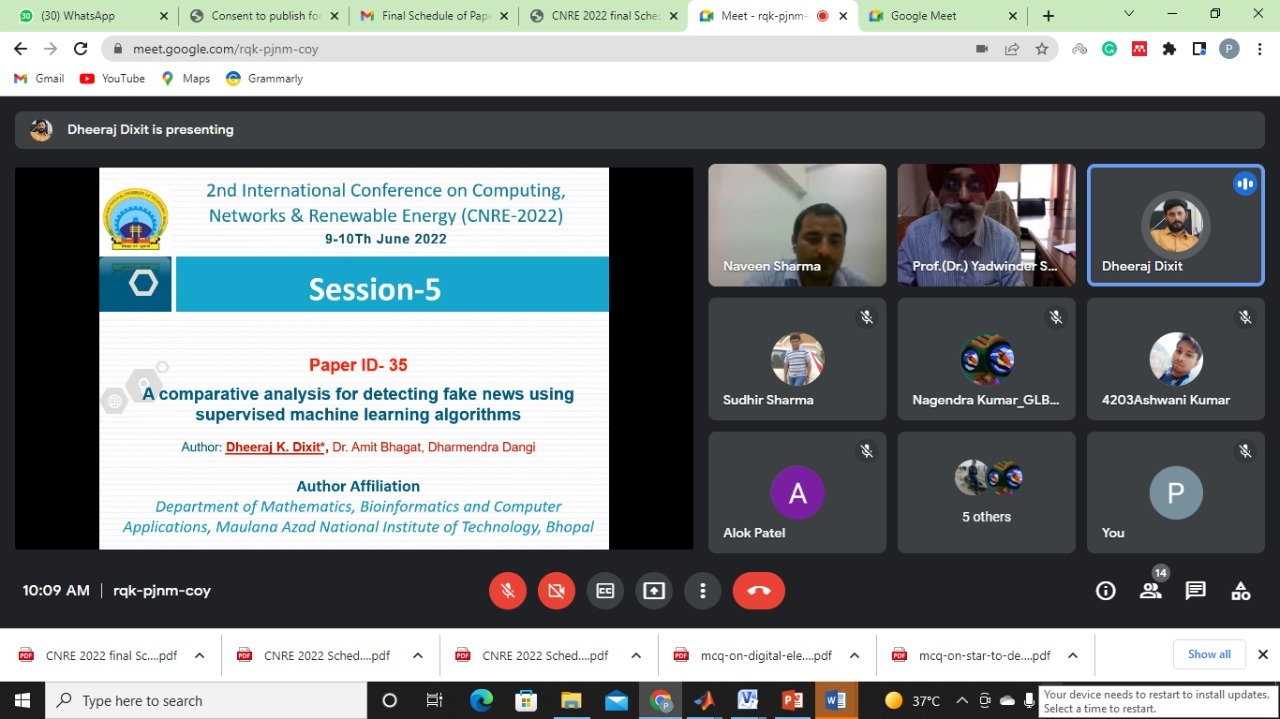 In this high tech era, the Students, Teachers must be filled with new information every day: Principal Secretary Rahul Bhandari, IAS
The 2nd International Conference "CNRE-2022" Concluded at IKGPTU Jalandhar-Kapurthala
Efforts of Punjab Government are continue to promote international research work at IKGPTU & Its 250+ affiliated colleges
58 papers were presented in the conference conducted through online medium
Jalandhar / Kapurthala : In this hi tech era, the students, teachers must be filled with new information every day. The need now is not only to be aware of the research work associated with it, but now it has become imperative to keep an eye on what is happening on the subject at the international level, and to monitor the changes closely. It's time for a global research approach by sitting at your place but by sharing the resources through the IT support system and holding a global conference is a path for educational institutions. The Punjab Government is constantly striving for such initiatives in its educational institutions and more than 250 colleges affiliated to I.K. Gujral Punjab Technical University Jalandhar-Kapurthala. This was stated by IAS Rahul Bhandari, Principal Secretary, Department of Technical Education and Industrial Training and Vice Chancellor, I.K. Gujral Punjab Technical University (IKG PTU). Mr. Rahul Bhandari was addressing the organizing team and participants of the Second International Conference "CNRE-2022". He said that the time is not far away when through such international conferences students would have the opportunity to stay in Punjab and do research in international studies.
The subject of the 2nd International Conference was "Computing, Networks and Renewable Energy (CNRE-2022)". It was an online event. The all received paper underwent critical review by the experts and selected research papers were presented online. Total more than 160 research papers were submitted by the researcher from various institutes like IITs, NITs, CFIs, foreign universities and colleges via EasyChair website.
University accepted only the best 33 high quality full-length research papers in Scopus indexed Conference Proceeding with American Institute of Physics (AIP). Only 20 good quality papers are accepted for publication in the second conference proceeding with ISBN at university level.
Conference Chair Dr Satvir Singh and Organizing Chair Dr Naveen Kumar Sharma said that every paper has undergone plagiarism check and at least three blind reviews. In some cases, four reviews were considered to ensure the quality of research papers. Dr Bharat Bhushan Sharma from JSS Academic of Technical Education (Nodia), Dr Anuj Banshwar from UPTU Lucknow, Dr Sujith Kumar JAIN (Deemed-to-be University, Bengaluru, Dr Palvinder Singh Mann from GTU Ahmedabad, Dr Vijay Pal Singh from GJU Hisar, Dr Rajiv Chauhan from IKGPTU Kapurthala coordinated special sessions in the CNRE-2022 on relevant domains.
Mr Rahul Bhandari (IAS), Vice-Chancellor IKGPTU cum PSTE was the Chief Guest of the event. On the occasion he encouraged organizers and participants to keep on organizing such academic activities in future also to help beginners in the domain of research.
Professor Vikas Chawla, Dean Academics, IKGPTU Kapurthala said that 58 papers have been presented online by the researchers and evaluated by experts for further recommendation in SCI and Scopus journals.
Further, Dr Satvir said that the university is organizing third in the series International Conference on Computing, Networks and Renewable Energy (CNRE-2023) during June 22-24, 2023. CNRE-2023 will be organized in collaboration with reputed SCI/Scopus indexed journals to provide an even better platform to researchers to showcase their research work.