Technical Education Minister Harjot Bains Invites Universities to make Punjab a start-up Hub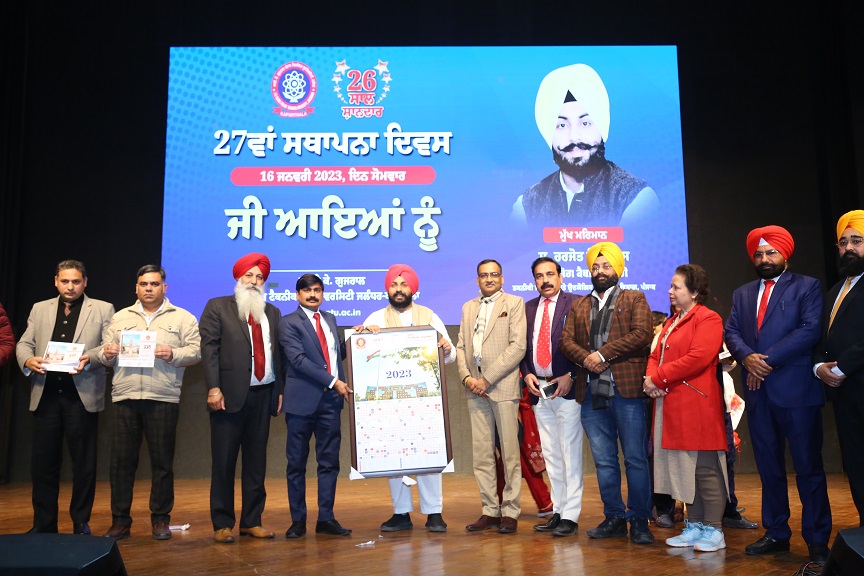 Technical Education Minister Harjot Bains Invites Universities to make Punjab a start-up Hub
– Cabinet Minister Harjot Singh Bains joined 27th Foundation Day function as Chief Guest at I.K.Gujral Punjab Technical University Jalandhar-Kapurthala
– Minister Bains encouraged schools, colleges, technical education institutions and universities to work together
– Renowned industrialists Harjinder Singh Cheema, Surender Vikram Singh and distinguished Alumnus Rahul Davesar and Kaushal Singh received special awards
Jalandhar/Kapurthala/Chandigarh Technical Education and Industrial Training Department Punjab Minister Harjot Singh Bains has invited universities to make Punjab a start-up hub. Minister Bains said that startup activities are the need of the hour. He shared the example of an alumnus of I.K.Gujral Punjab Technical University (IKGPTU) who is setting up a successful company by taking jaggery as a startup. Cabinet Minister Harjot Bains was addressing the 27th Foundation Day function of IKG PTU as the chief guest on Monday.
He said that at present the industries in Punjab are in dire need of skilled workers. Sharing the facts of requirement of boiler industry, he said that at present only this industry requires 50 thousand skilled workers, whereas skilled worker having a degree or certificate is not available in the state. Minister attributing this to the lack of interaction and coordination between school education, college education or technical education and universities. He encouraged schools, colleges, technical education institutions and universities to work together for the betterment of the state and its employment need. On this occasion, he assured the recommendations of the 7th Pay Commission implemented by the Punjab Government and the recommendation to extend the benefits of the old pension scheme to the employees of technical universities as well.
Minister Harjot Singh Bains was warmly welcomed by Registrar Dr. S.K Misra, Finance Officer Dr. Sukhbir Singh Walia and Controller of Examinations Dr. Paramjit Singh. University Registrar Dr. Misra presented the details of 26 years of achievements and initiatives of the university before the Cabinet Minister S. Harjot Singh Bains. On this occasion, "Pavitar Kirtan" in the holy presence of Sri Guru Granth Sahib Ji was also performed by "Raagi Singh".
The cultural ceremony of the Foundation Day was started with lighting the lamp by Chief Guest Cabinet Minister Harjot Singh Bains, Special Guest Rajiv Kumar Gupta, IAS, Secretary Punjab State Technical Education and Industrial Training Board and the host team at Sri Guru Nanak Dev Ji Auditorium. Renowned Industrialist Harjinder Singh Cheema, Chairman Cheema Boilers, Ropar and Surender Vikram Singh, Founder VT Netzwelt Pvt. Ltd. was awarded by Cabinet Minister Harjot Bains. Distinguished Alumnus Rahul Davesar, People Manager Microsoft and Kaushal Singh, Co-Founder and COO Jagger Cane (Start-up) received special awards during the ceremony. The Technical Education Minister also released the annual calendar of Public Relations Department of the University.
During the program, the welcome speech was given by Registrar Dr. S.K Misra, while the vote of thanks was delivered by Dr. R.P.S Bedi, Chief Coordinator of the event & Dean (Planning & External Planning). The stage was moderated by Deputy Registrar Public Relations Rajneesh Sharma, Assistant Professor Punjabi Dr. Sarabjeet Singh Mann and Deputy Librarian Madhu Midda. The cultural items "Giddha", "Bhangra" were performed by the students of University Main Campus & affiliated college CT college jalandhar. After the ceremony, "Guru Ka Langar" was served. Cabinet Minister Harjot Bains sat in "Pangat" (row) and respect to "Guru Ka langar".
University Dean Academic Prof (Dr.) Vikas Chawla, Dean College Development Dr. Balkar Singh, Dean Student Welfare Dr. Gaurav Bhargava, Dean R&D Dr. Hitesh Sharma were present in the host team.