IKGPTU Signed MoU with CSIR-CLRI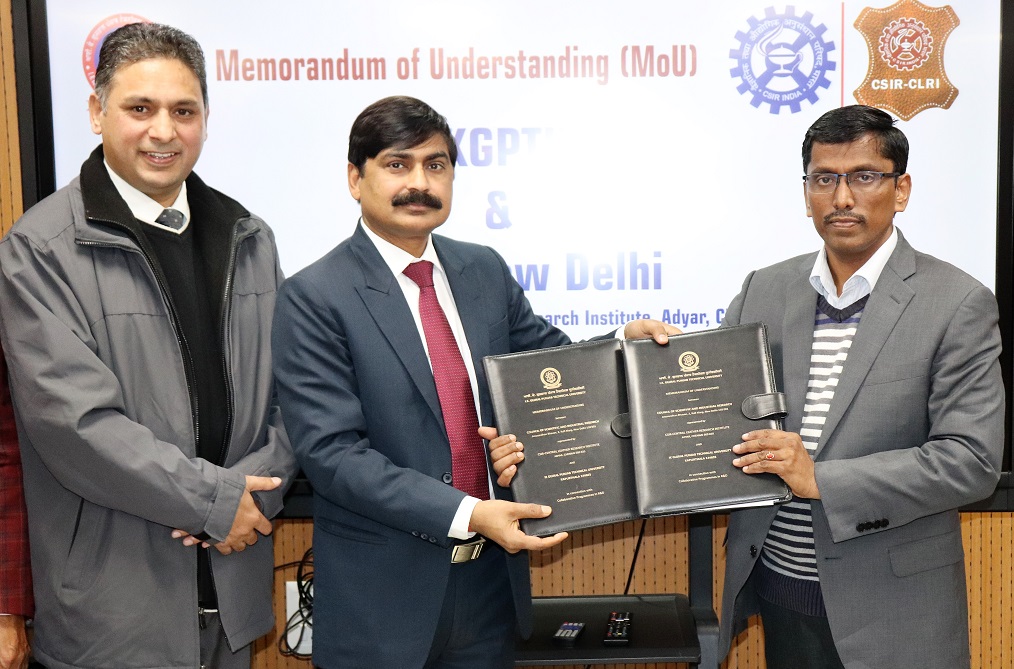 IKGPTU signed MoU with CSIR-CLRI
– University will try to support the local leather industry through this MoU: Registrar Dr. S.K.Misra
Jalandhar/Kapurthala with the aim of further strengthening the academic capability I.K Gujral Punjab Technical University (IKG PTU) signed memorandum of understanding (MoU) with Council of Scientific and Industrial Research-Central Leather Research Institute (CSIR-CLRI). On behalf of IKGPTU, Registrar Dr. S.K Misra signed over MoU document, while Scientist Dr. P. Sudhakar signed on behalf of CLRI). Scientist Dr. P. Sudhakar was nominated for this signature by Dr. K.J.Sariram, Director, CSIR-CLRI. Scientist V. Karthik was also present with him.
University Dean Dr Hitesh Sharma shared various aspects of the MoU and also informed about the previous performance through this MoU. Registrar Dr. S.K.Misra said that with this second circle MoU, University will try to watch the the needs of the local leather industry. He said that efforts will be made that the local industry should also get the benefit of such a big national level institution, which is being headed by the Honorable Prime Minister of India. He shared the facts about the strength of the Jalandhar based leather industry. Dean College Development Dr Balkar Singh also discussed about the academic course agenda through this MoU.
On this occasion Dean Academics Dr. (Prof) Vikas Chawla, Dean P&EP Dr. R.P.S Bedi, Dean Student Welfare Dr. Gaurav Bhargava, Dr. Satbir Singh, Finance Officer Dr. Sukhbir Walia and others were also present.