Success of awareness campaign depends on our responsibility: VC IKGPTU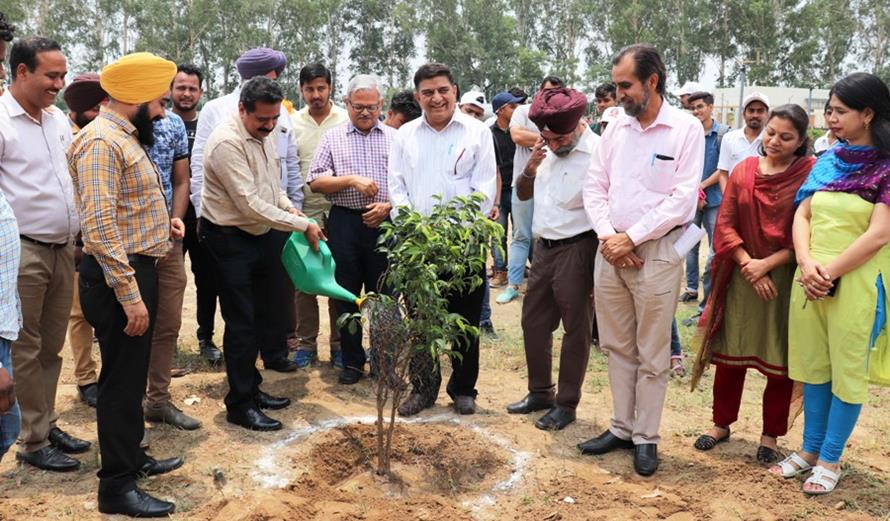 IKG PTU organised Two days program on World environment day
Awareness program in village Dhapai on first day, tree plantation drive in University on second Day
Our responsibility is of prime importance when we celebrate any specific day. It is successful only when we feel responsible for the same. It is our duty to make others aware about the same and always do our duty to save the environment. This was said by Vice Chancellor I.K.Gujral Punjab Technical University Prof. (Dr.) Ajay Kumar Sharma. He was addressing concluding remarks related to two day awareness program at the University premises. He said that this should not be the ending of a program but the beginning. He encouraged everyone to work collectively in this direction.
The special guest of the occasion was Environmentalist Prof. Adarsh Pal Vig from Guru Nanak Dev University and Mr. Ashwini Joshi, who is retired from Defence Services and now working on Environment. After the concluding remarks, Vice Chancellor Prof Dr Sharma inaugurated plantation drive in University.
The first day of the program started from University's nearby village Dhapai. Under the guidance of Registrar Dr. S.S. Ahluwalia and joint registrar Dr. R.P.S. Bedi, the villagers were told about the hazards of plastic usage. They were given an oath that they will not use plastic in future. Joint Registrar Dr. Bedi also shared his bad experiences about the use of plastic. He motivated to villagers to avoid the use of plastic item, especially plastic carry bags.
In the second phase, the students and faculty members cleaned the village premises. Registrar Dr. S.S. Ahluwalia gave his message of environment conservation. Senior Faculty member from engineering department Prof. Dr. Vikas Chawla and Mr. Harbirinder Singh seek the cooperation of villagers.
Vote of thanks was given by program coordinator Dr. Chander Prakash. The stage was conducted by Dr. Sarbjit Singh Maan. On this occasion, all the faculty members, Gurdwara President Amarjit singh Dhapai, Sarpanch Bhajan Singh and University students were present.