Quality sustainance and sustainability is possible only through NAAC: VC IKGPTU Prof. Ajay K. Sharma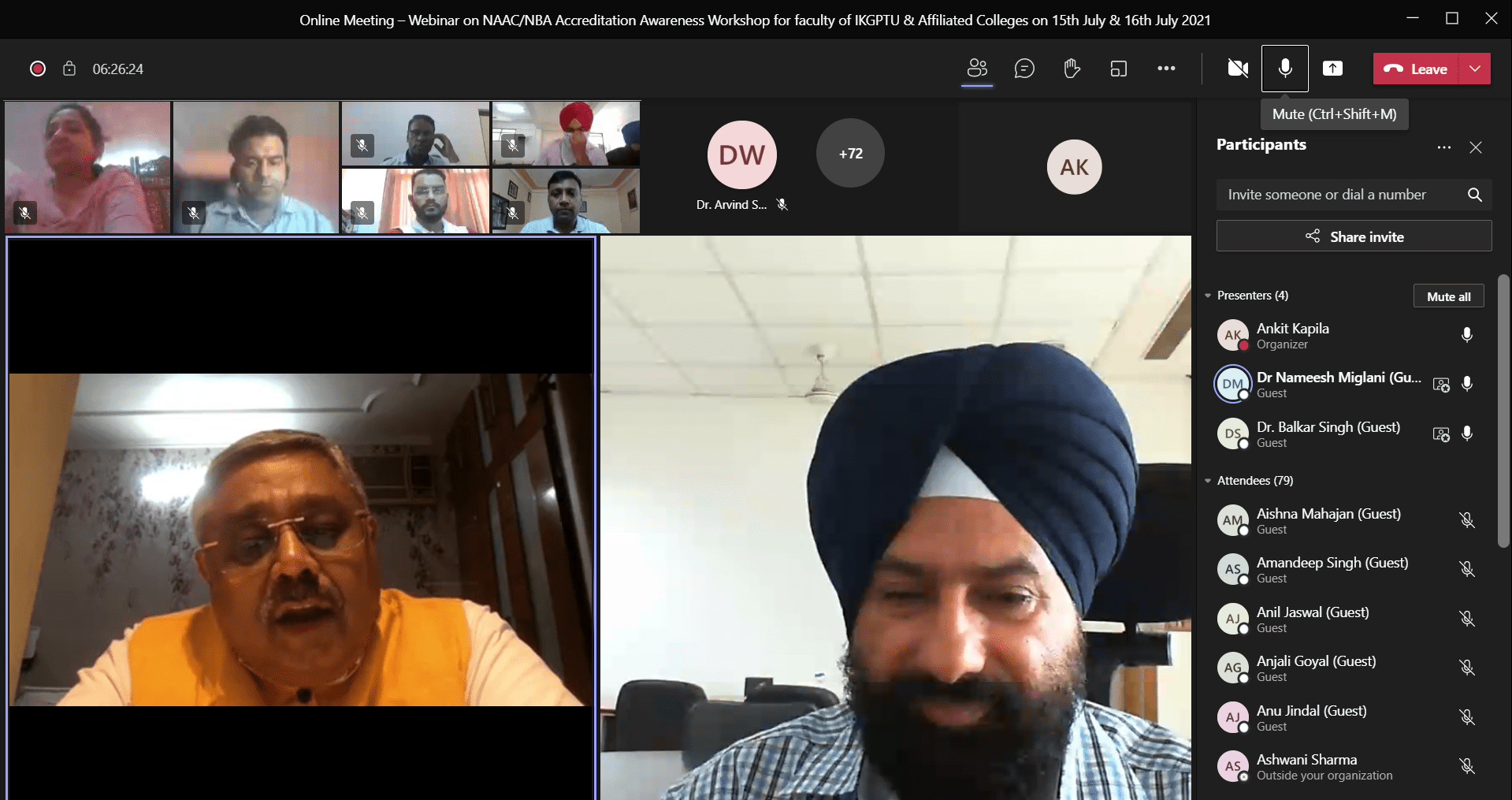 · University organized a special workshop for "NAAC & NBA Accreditation Awareness
· The aim was to aware and prepare the Directors & Principals, Faculty members of Affiliated Colleges for Accreditation
Jalandhar/Kapurthala: The quality sustainance and sustainability in educational institutions is possible only through National Assessment and Accreditation Council (NAAC) & National Board of Accreditation (NBA). It is the main responsibility of all IKGPTU affiliated colleges to ensure it. It helps the institutions to know their strengths, weaknesses, opportunities through an informed review. This message was delivered by Vice Chancellor I.K.Gujral Punjab Technical University (IKGPTU) Prof. (Dr.) Ajay Kumar Sharma. He was addressing a special workshop cum webinar as Chief Guest on the topic "The importance of NAAC & NBA Accreditation." The aim of this workshop webinar was to aware and prepare the Directors & Principals, Faculty members of Affiliated Colleges for Accreditation. VC Prof. (Dr.) Ajay Kumar Sharma shared his views during the inaugural session and he motivated the participants & faculty members to prepare themselves for accreditation. He also informed the Director, Principals, Faculty members of the colleges about the advantages of accreditation. He updated the latest development and initiatives taken by the University for the benefit of the students of University and affiliated colleges.
Director College Development Dr. Balkar Singh welcomed the participants and the resource persons of the workshop. In its first session the resource person Prof.(Dr.) Akshay Girdhar, Dean Academics, GNDEC, Ludhiana guided participants on the key components of Outcome Based Education and Vision, Mission, Program Educational Objectives, Graduate Attributes and Program Outcomes related to accreditation. In the 2nd session he talked about the necessary components. He clarified to the participants that to get UGC grants, financial aids, RUSA grants etc, accreditation is very important. He said that it is made mandatory by the government of India for all Higher Educational Institutes. Ultimately, it offers a better direction and identity to the institute.
The second day resource person for the workshop was Dr. Nameesh Miglani, General Secretary, STEPS. He was inspired by the words "Quality is not a destination; it is a continuous process to maintain the standards of institutions". He referred to participants about the assessment methodology, guidelines, benefits, quality initiatives, and its advantages.
Around 250 participants from more than 150 colleges participated in this webinar. It was organized by the University's College Development Department.