IKGPTU student's project on use of "Scrap Rubber Tyre as a Construction Material" won the Best paper Award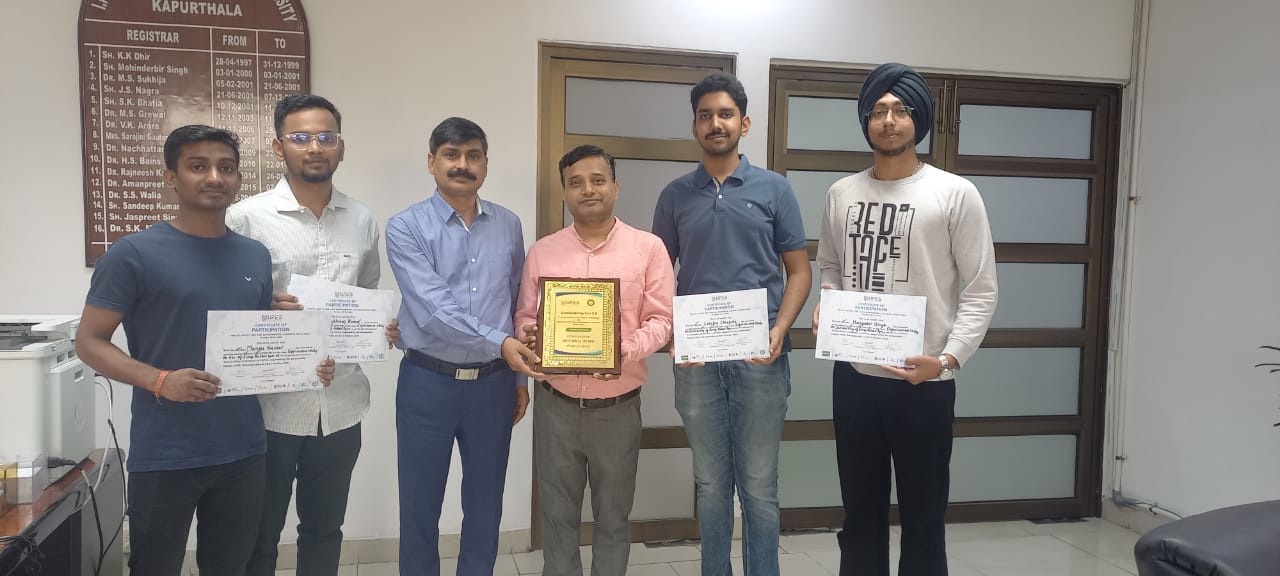 Students of B.tech Final year received the award at University of Petroleum and Energy studies Dehradun in an International Conference
Vice Chancellor Dr Susheel Mittal & Registrar Dr S K Misra patted the success of students and honored them.
Jalandhar/Kapurthala It's hard to dispose of scrap rubber tyres in view of growing environmental concern and limited availability of land by Municipal authorities. Millions of tonnes of the material is either dumped into landfills or burnt. In an attempt to tackle this issue, The I.K.Gujral Punjab Technical University (IKGPTU)'s fourth year students of B.Tech., Department of Civil Engineering, namely Lakshy Chhapola, Shubham Kumar, Hargunbir Singh, and Mantu Kumar, under the guidance of Head of the Department Prof. (Dr.) Rajiv Chauhan, has worked on a project at B. Tech. level investigating the suitability of adding scrap crumb rubber into soil and concrete improving the construction properties of the materials. The students recently presented this project report as a paper at the University of Petroleum and Energy Studies, Dehradun (Uttarakhand) and were awarded. It was the event " Sustainability Fair 2.0″, hosted by the University of Petroleum and Energy Studies in which the students presented their paper with the topic "Experimental Study on Suitability of Scrap Rubber Tyre as a Construction Material in Soil and Concrete" under the topic "Safety", and awarded for the Best Oral Presentation for the topic.
Vice Chancellor Dr. Susheel Mittal, Registrar Dr. S.K. Misra and Dean Academic Prof. (Dr.) Vikas Chawla has patted the success of the students. These authorities have congratulated all the team members, who were directly or indirectly associated with this project paper, including the Civil Engineering Department for this success. Vice Chancellor Dr. Susheel Mittal has said that this success shows that the students of IKG PTU will provide better solutions to many problems in the country and abroad in the future. Dr. Mittal said that in today's era, it is important not only to go with book-based study only but to work on such projects which can establish an eco-friendly system for the society. During this, the students were honored with certificates on behalf of the University by Registrar Dr. S.K Misra. The students express their sincere gratitude to Vice Chancellor Dr Susheel Mittal, Registrar Dr S.K.Misra, and Dean (Academics) Prof. (Dr.) Vikas Chawla for providing the financial support required for the project, transportation and accommodation for the students during the international conference. On this occasion, HOD Civil Department cum incharge project Prof. (Dr.) Rajeev Chauhan assured university authorities to do more projects in future.