IKGPTU students Overall development is our prime duty: Registrar Dr. S K Misra – IKGPTU Hoshiarpur Campus organized 8th Annual Athletic Meet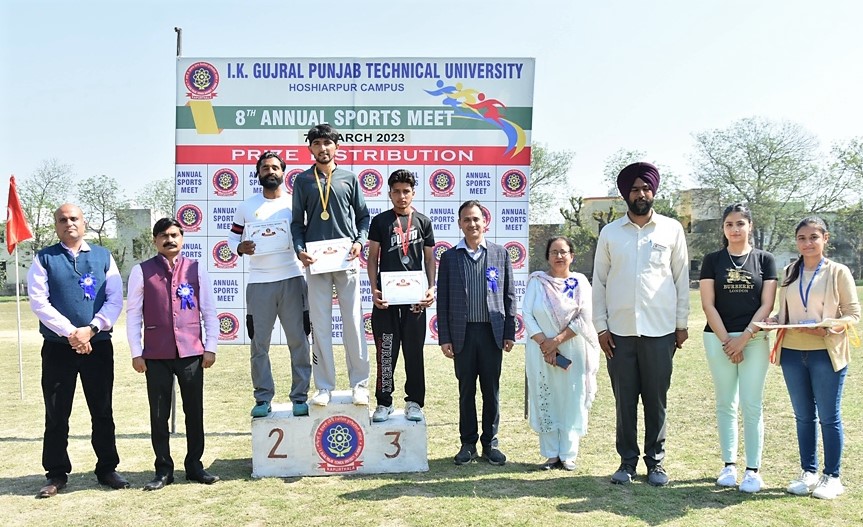 Sports activities during Technical study are the most important parameter. In technical educational institutions, Sports activities may increase study stamina too. It is a fact that healthy thinking resides in a healthy body, which gives the power to move forward in student life. These are the views of Dr. SK Misra, Registrar, I.K. Gujral Punjab Technical University (IKG PTU) Jalandhar-Kapurthala. He was addressing the inaugural session of the 8th Annual Athletic Meet which began at the University's Hoshiarpur Campus on Tuesday March 07 . He was present as the chief guest at the function. Dr. Gaurav Bhargava, Dean Student Welfare, IKG PTU graced the event as the guest of honour. IKG PTU Hoshiarpur Campus is situated inside Pandit J.R Government Polytechnic College, Jalandhar Road (Opposite Petrol Pump).
The program started with flag hoisting. This year both traditional sports (like Kabaddi) and Olympic sports are also part of the meet. Dr. S.K.Misra, Registrar IKGPTU congratulated the students for this event and wished them all the best for their bright future. Dr. Misra announced that special emphasis is being laid on the overall development of the campus and campus placement of the students and this time the university will ensure maximum placements under the guidance of various departments of Punjab Government. He also honored the meritorious students of the campus by giving them certificates.
Dr. Gaurav Bhargava, Dean Student Welfare appreciated the activity of the students and boosted their morale. During the event Dr. Rachna Kaur, Principal Pandit J.R Government Polytechnic College and Director of Hoshiarpur Campus Dr. Ashish Arora also boosted the morale of the students. Sh. Gagan Jot Singh, Deputy Registrar, Hoshiarpur Campus of the University was also present as the convenor in this function.