IKGPTU students and faculty together developed "Sodhavani"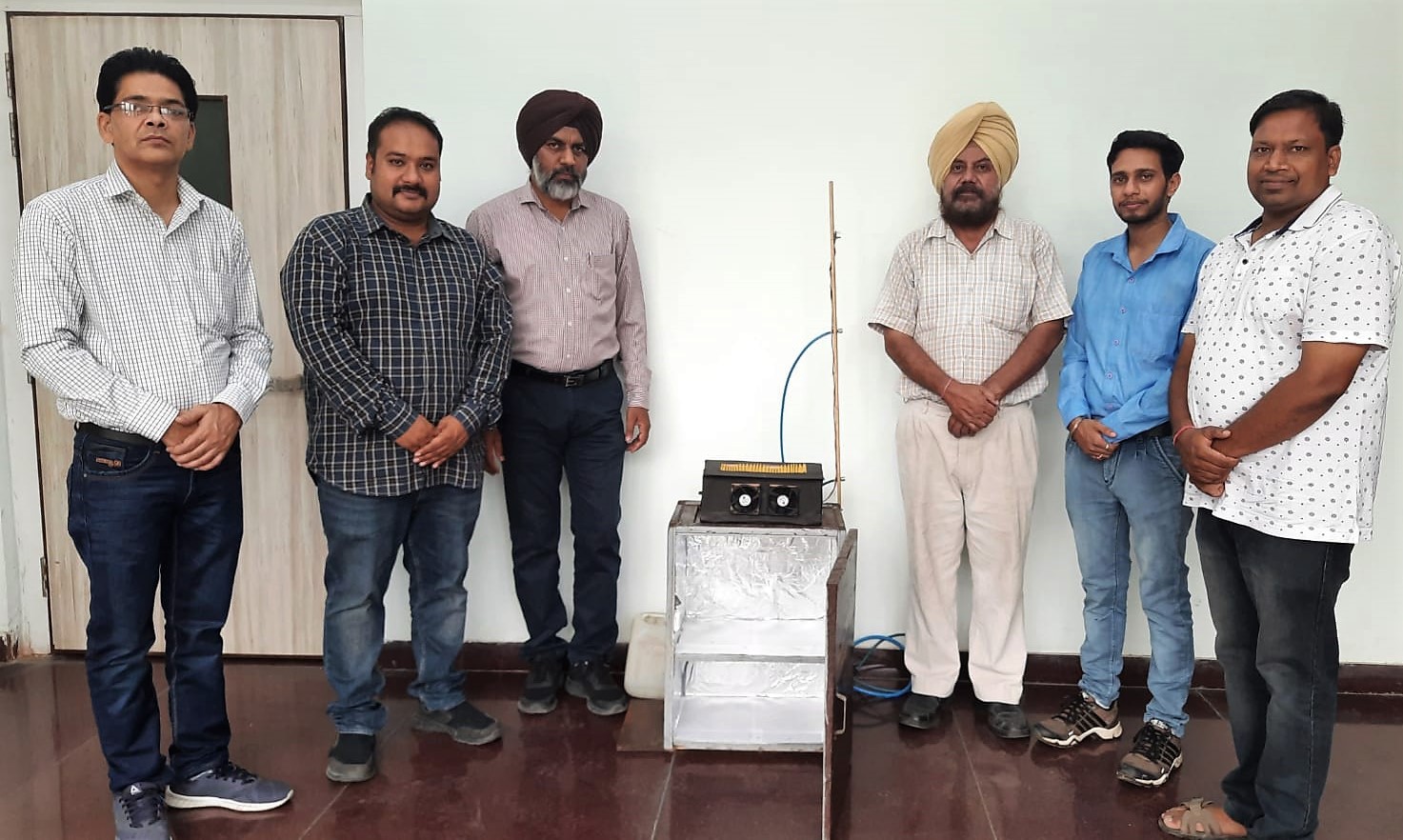 A device to secure and protect from viruses & pollution within few seconds
University Vice Chancellor Ramesh Kumar Ganta, Senior IAS and Registrar IAS Jaspreet Singh congratulated to team
Jalandhar/Kapurthala: In the pandemic situation, it is most important to keep ourselves disinfect. For this purpose, people are doing lot of things like washing hands, cloths again and again but they are still at risk. The solution of this problem is provided by a team of student-faculty of I.K. Gujral Punjab Technical University. A student of B. Tech. Electronics and Communication Engineering (ECE) Rachit Kumar, under the guidance of Dr. Rakesh Goyal, Assistant Professor ECE has made a device named SODHAVANI. This device will not only fumigate whole body but also fumigate all the commodities which you bring from market even in the eatable items without harming its nutrition properties and also decontaminate our surroundings without a trace of virus.
On this excellent project, University Vice Chancellor Ramesh Kumar Ganta, Senior IAS and Registrar IAS Jaspreet Singh congratulated to team. In his message, Registrar IAS Jaspreet Singh said that the important task of universities is to bring forward better inventions and get them patented for meaningful works for the society and we feel proud that our faculty & students are regularly working on this way.
Sharing the technical part of device, Dr. Rakesh Goyal, Assistant Professor ECE said that it has a Quadruple fully automatic fumigate system that first detect a human body and start mist nozzles system which is used to spray fumigate liquid of the human body. Second it has two radiation chambers, first is high radiation chamber for our basic commodities. Second chamber is a low radiation chamber which can be used to fumigate all eatable items without harming its nutrition properties.
He shared that the last system of this device is air refiner which can be used to refines or purify the polluted air of our surrounding. They make this device only in the cost of 5000-6000 rupees. This device can be universally used in all the places like houses, offices, Cinema Halls, religious places, hospitals, airport, railway stations etc. because it is a portable, cheap and loaded with fully intelligent modern technology. He confirmed that the project has also applied for the patent.
On this occasion, ECE department head Prof (Dr.) Avtar Singh Buttar, Associate Prof (Dr) Satbir Singh, Assistant Prof (Dr) Amit Gupta, Assistant Prof Rakesh Kumar and student Rachit Kumar were present.