IKGPTU senior faculty composed, sung spiritually devotional song in respect to 400th Prakash Utsav of Sri Guru Teg Bahadur Ji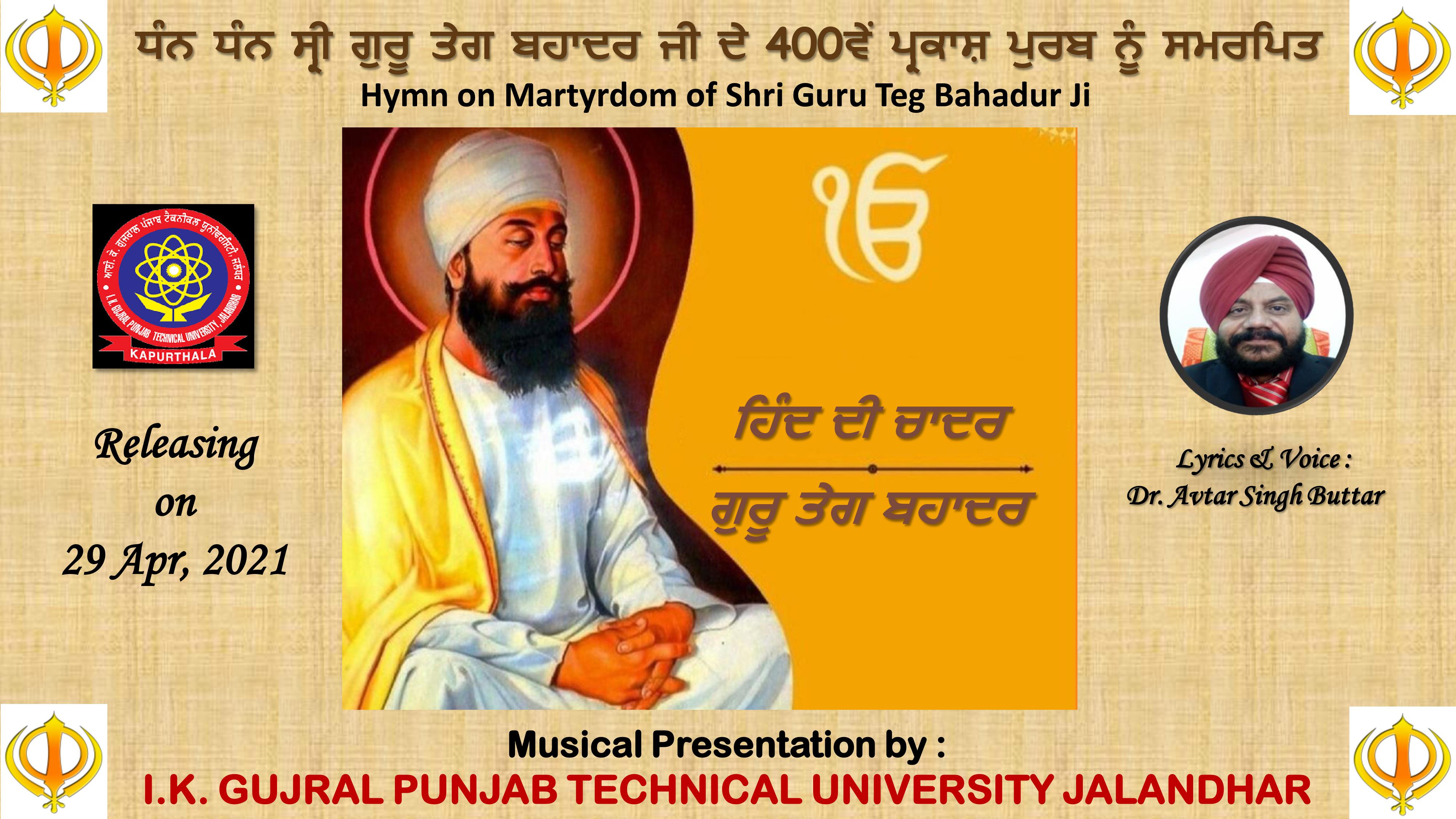 VC Prof. Dr. Ajay K. Sharma congratulates to Prof. Buttar and released the song
Jalandhar/Kapurthala: In respect and Honor to Hind-Di-Chaddar Sri Guru Tegh Bahadur Ji's 400th Prakash Utsav, senior faculty of I.K. Gujral Punjab Technical University composed, sung a spiritually devotional song. The senior Faculty of Electronics Department Prof.(Dr.) Avtar Singh Buttar initiated this job out of his educational teaching track. In this devotional song Prof. Buttar depicting the importance of Guru Sahib's life and martyrdom. The lyrics and background music of this religious song dedicated to Guru Teg Bahadur Sahib ji was also performed by Prof. (Dr.) Buttar.
The song was released by the Vice Chancellor of the University Prof. (Dr.) Ajay Kumar Sharma during a special but limited function at the University. Before the release of the song, a prayer (ardaas) was offered under the auspices of Guru Maharaj. On this occasion the Vice Chancellor of the University Prof. (Dr.) Ajay Kumar Sharma said that the University is planning a number of programs in the series of 400th birth anniversary (parkash utsav) of Guru Sahib including seminars, workshops on Guru Sahib's life and message, Kavi Darbar, releasing of books are also in pipeline. He spoke about the life of Guru Sahib and Congratulate to Prof. Buttar on this initiative. VC Dr Sharma said that such religious songs are a source of inspiration for our new generation for religious, spiritual and communal unity.
It is worth to mention that in this religious devotional song, important topics related to the life of Guru Tegh Bahadur ji such as the discovery of the Ninth Guru by Makhan Shah Lubana at Baba Bakala, Guru Ji Simran, Aurangzeb's religious intolerance and Kashmiri Pandits' appeal to Guru Sahib, Guru Sahib's martyrdom are also penned by Prof Buttar. The Sikh martyrdom tradition includes details up to the Khalsa Sajna after the martyrdom of Guru Sahib are also part of the song.
The required assistance for the preparation of this song was given by the Assistant Professor Mathematics Dr. Gurjinder Singh, Assistant Professor Electronics Dr. Dalveer Kaur, Assistant Professor and Head of Department of English Priyanka Mahajan.
On this occasion the Dean Academic Affairs of the University Prof. (Dr.) Vikas Chawla also congratulated to Dr Buttar. University Registrar Er. Sandeep Kumar Kazal also send his best wishes note to Dr Buttar. Associate Deans of various departments, Heads of various departments, senior faculty, officers and member staff were present through online GoogleMeet.