IKGPTU & Punjab Police conduct seminar on Drug De-Addiction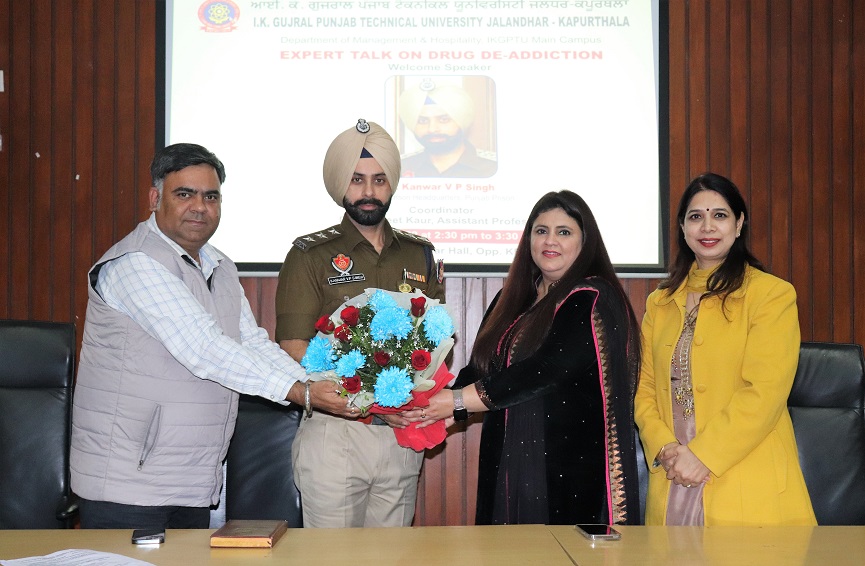 Have self-control and avoid drugs, if there is a mistake, discuss and get relief: Kanwar V.P. Singh
– IKGPTU & Punjab Police conduct seminar on drug de-addiction
Jalandhar/Kapurthala It is natural to make mistakes at a young age due to lack of knowledge, and these mistakes affect not one person but his or her entire family and society too. Therefore, it is important to have self-control and avoid drugs, liquor, smoke etc. but if there is a mistake, discuss it and get rid of it. This message was delivered by DSP Jails (Headquarters) Kanwar V. P Singh, who was addressing students at I.K. Gujral Punjab Technical University (IKG PTU) on Tuesday. DSP Kanwar V.P. Singh was addressing the seminar on drug de-addiction. It was organized by the management department of IKGPTU & Punjab Police. Through question-and-answer session, he asked the students to find out their inner thoughts and invited them to refrain from consuming drugs in sadness and happiness, but neither in happiness nor by being influenced by movies. He said about coming out of drug addiction by quoting filmmaker actor Sanjay Dutt example.
On arrival at the university, he was welcomed by the dean academic Prof (Dr) Vikas Chawla and the head of the management department Prof. (Dr.) Harmeen Soch. The program was presided over by Prof. Chawla and he said that this subject is the need of the present time. The coordinator of this program from the university, Prof. (Dr.) Rajpreet Kaur, assistant professor management, gave the welcome words of the program.
Key note Speaker Mr. Kanwar V.P. Singh encouraged the students to emphasize physical exercise in their daily life and avoid addictions like drugs. He told about the ill effects of drugs in the society and its negative impact on moral behavior. He also informed about its adverse effects on health. Students and faculty members from various academic departments of the university were present on this occasion!