Former Prime Minister Sh Inder Kumar Gujral remembered on his death anniversary at IKGPTU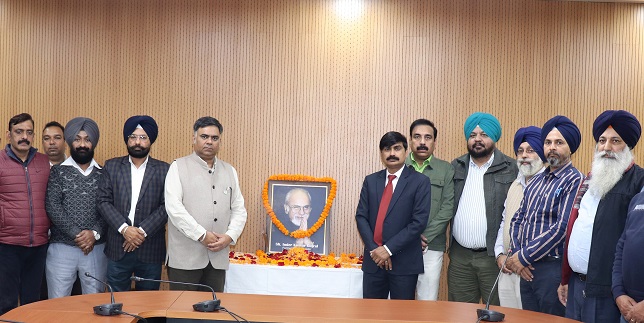 "Gujral ji's contribution to Indian foreign policy and relations is everlasting"
– Former Prime Minister Sh. Inder Kumar Gujral remembered on his death anniversary at IKGPTU
– Even today the Gujral Doctrine is the subject of research for students: Dr. S.K Misra
Jalandhar/Kapurthala The 12th Prime Minister of the country, Sh. Inder Kumar Gujral was not only recognized in his own country, India, but even today his ability is being recognized in many countries. His active participation & contribution in foreign policies and his work related to good relations with foreign countries will be recalled & repeated for ages. Sh. Gujral ji's contribution towards Indian foreign policy and relations is forever. These reference notes are read at I.K.Gujral Punjab Technical University on wednesday by Registrar Dr S K Misra. He was addressing the remembrance ceremony and meeting organized on the death anniversary of former Prime Minister Sh Inder Kumar Gujral Ji at University main campus. Sharing the aspects of "Gujral Doctrine", he said that "Gujral Doctrine" is a subject of research for students even today.
In the documentation presentation prepared by Rajneesh Sharma, Deputy Registrar of Public Relations Office of the University, it was shown that Mr. Gujral's tenure as Prime Minister was from April 1997 to March 1998. He was also a diplomat, politician and freedom fighter. Sh. Gujral ji was born on December 04, 1919 in the undivided land of Punjab in Jhelum district during the British period. He had a special relation with Doaba and Majha in Punjab. Punjab also gave his family an opportunity to serve politically. His son Mr. Naresh Gujral represented Punjab in the Rajya Sabha.
It was told in the memorial meeting that his respected mother Mrs. Pushpa Gujral was a socialist and freedom fighter. The Science City is named after her as Pushpa Gujral Science City Kapurthala, next to University. Gujral saheb has a lot of contribution for Punjab, especially for Jalandhar like Doordarshan Jalandhar, Science City are examples of his contribution. The land of Jalandhar is blessed that his name is associated with the name of Punjab Technical University from the year 2015.
During the commemorative meeting, the faculty, students, officers and employees under the leadership of University Registrar Dr. S.K Misra paid tribute to him by offering flowers in their respective order. On this occasion Dean University P&EP Dr.RPS Bedi, Dean College Development Dr.Balkar Singh, Dean Academics Dr.Vikas Chawla, Dean Student Welfare Dr.Gaurav Bhargava, Controller Examinations Dr.Paramjit Singh, Director IQAC Dr. Amanpreet Singh and others were present.