IKGPTU faculty Dr. Barinderjit received IRSD Academic Excellence Award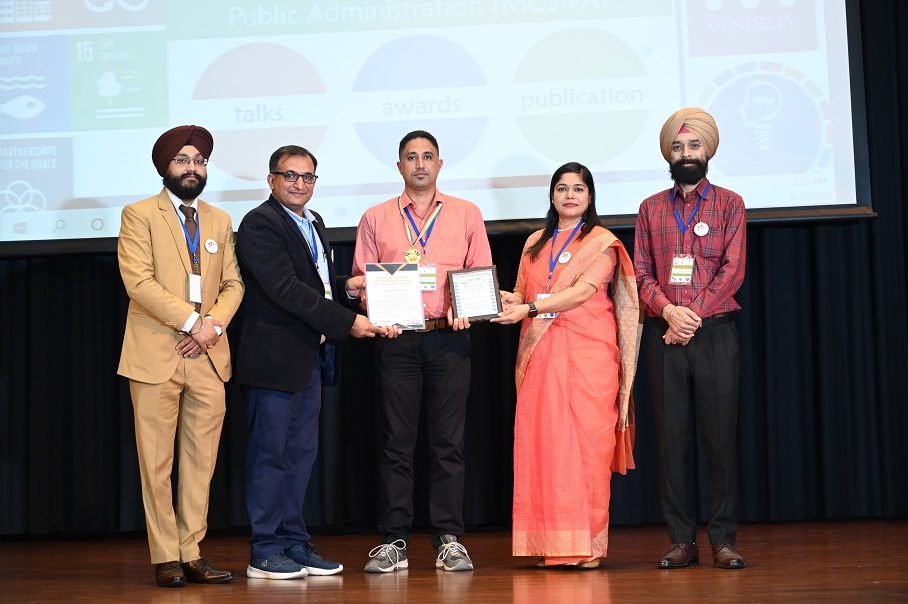 IKGPTU faculty Dr. Barinderjit received IRSD Academic Excellence Award
Jalandhar/Kapurthala : Dr Barinderjit Singh, Assistant Professor, Department of Food Science and Technology of I. K. Gujral Punjab Technical University (IKGPTU) received the IRSD Preeminent Academic Excellence award 2022. He was honored with this prestigious award during the 8th International Conference on Interdisciplinary Research for Sustainable Development for his remarkable contribution in the field of Food Science and Technology. This conference was held at the Mahatma Gandhi State Institute of Public Administration (MGSIPA), Chandigarh.
On this achievement of Dr Barinderjit, University Registrar Dr. S.K Misra & other senior officials congratulated him. Registrar Dr. Misra said that the University is having maximum number of PhD & highly academic excellence faculty at its main & other constituent campuses and these kinds of awards are proof that University faculty is contributing maximum in academic excellence of the country.
This event was organized by Green Thinker Z Society in Academic association with Centre for Modern Construction, Western Sydney University, Australia; Elsevier's Mendeley; IIT Bombay Spoken Tutorial, Wakelet, Flipgrid, The Intelligent Indian and I2OR. 100 Researchers, Engineers and Educators from 5 countries participated in the event.
Ms. Akanksha Saini, National Coordinator, IIT Bombay- Spoken Tutorial; Dr. Harsh Sadawarti, Vice-President, Desh Bhagat University, Punjab; Dr. Sawtantar Singh Khurmi, Punjabi University Patiala, Punjab, and Dr. Labh Singh, Former Advisor, Department of Telecommunication, Ministry of Communication, Govt of India; were the Guest of Honours during the Programme.
It is worth mentioning that Dr Barinderjit Singh has contributed over 65 scientific papers in different national & international journals and conferences, eight book chapters, and five books in food science technology, engineering & management. He has received eight best paper awards at various national & international conferences and the young scientist award by the International Institute of Organized Research, India. He has filed seven patents and four are granted to him.