IKGPTU decided to conduct regular examinations from January 04 in physical mode only with all necessary precautions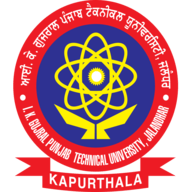 Re-appear exams have been successfully concluded in physical mode in the month of December 2020
if any student feels unsafe or difficult to appear in January 2021, he/she can opt for the option of March/when the environment becomes conducive, notices were already circulated
Jalandhar/Kapurthala/Chandigarh: I.K Gujral Punjab Technical University has proactively dealt with Covid-19 situation to ensure safety of its students and staff and ensured smooth functioning of university affairs. University has ensured proper compliance of guidelines of UGC/MHA/State Govt since beginning of Covid-19 situation. Even the UGC/govt. guidelines for re-opening the universities have been fully complied and all safety measures have been taken like regular sanitization, ensuring social distancing and wearing of masks etc. In case of hostels also, university has allotted only one room per student and all applicable SOPs are being strictly enforced to ensure students safety. University is getting all students regularly tested and wherever any case is detected, treatment/immediate isolation is being done with help of health authorities and parents.
Being technical education subjects, online assessment is not possible all across. So the university decided to conduct the re-appear & regular examinations of intermediate classes in physical mode only with all necessary precautions. In fact, re-appear exams have been successfully concluded in physical mode in the month of December 2020.
Regarding regular examinations starting from 04-01-2020, university still adopted a student friendly and flexible approach. Each student was given the option to take these exams in January 2021 or if he/she thinks it difficult, the student can opt for appearing in March 2021 or even later as the environment becomes conducive. Further, a wide range of examination centres were offered to students to choose the one which can be nearest to their home/otherwise convenient.
In light of the above flexible approach of the university, 26000 out of 42000 students have opted for the January-2021 option.
Also, university will not be charging extra exam fee from those appearing in March 2021/when the environment becomes conducive.
Still, some miscreants have tried for rumour mongering and are creating confusion to mislead the students when a student was tested positive today.
University authorities have addressed all such apprehensions and advised the students to be careful from rumour mongers. Still if any student feels unsafe or difficult to appear in January 2021, he can opt for the option of March/when the environment becomes conducive. However, as majority students have already opted for January 2021 exams, the said exams will be held in physical mode only and on schedule.