IKGPTU Civil Engineering Department invites Govt. School Students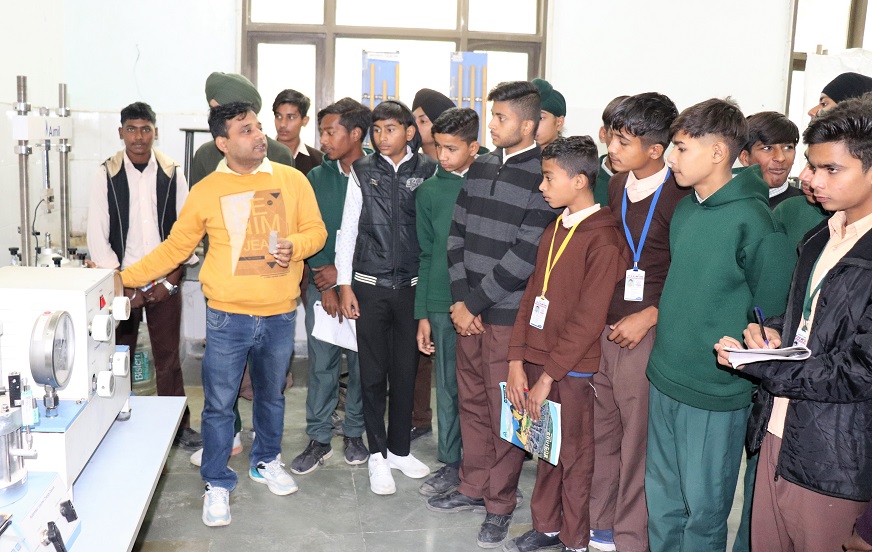 IKGPTU Civil Engineering Department invites Govt. School Students Registrar Dr. S.K. Misra appreciated the initiative of Civil Engineering Department
Jalandhar/Kapurthala With the objective of creating awareness about engineering education among the school students and to inform the students of nearby secondary schools about the courses being run in the university, I.K.Gujral Punjab Technical University (IKGPTU) has taken an initiative as "Campus & Courses near You". Through this initiative, the University is inviting students from nearby secondary schools to the main campus. The aim of the university management is to make the students aware of the better education they are getting near their homes through this invitation, so that in future these students can take advantage of the better education opportunities available around them first.
On Thursday, the students of Government Senior Secondary School Bhulana (RCF), Sultanpur Lodhi visited the Civil Engineering Department of the University. School's vocational teacher Raman Kumar, Punjabi teacher Arunlata were present with these students. Prof. (Dr.) Rajeev Chauhan, Head of the Department of Civil Engineering said that during this visit, the students were made aware about the opportunities in civil engineering, the future and the role of civil engineers in the development of the country. All the students were told about the laboratories of civil engineering and the role of civil engineers in the development of infrastructure like roads, canals, and cities. Prof. Chauhan said that it has been observed that the core engineering fields of Civil, Electricals and Mechanical are not being filled across the country, so this program was organized to create awareness among young children. More such visits will be organized in the near future.
The students who visited on this occasion said that they often used to be curious about what is taught here, today they have gone through a feeling like a dream come true.
University Registrar Dr. S.K Misra has appreciated this initiative. He said that such efforts are important to connect the students and parents of the surrounding areas with the campus. Dean Academic cum Campus Director Prof (Dr) Vikas Chawla said that these efforts will continue. Dr. Dinesh Gupta of CSE department was also present on this occasion.