IKGPTU Celebrates 72nd Constitution Day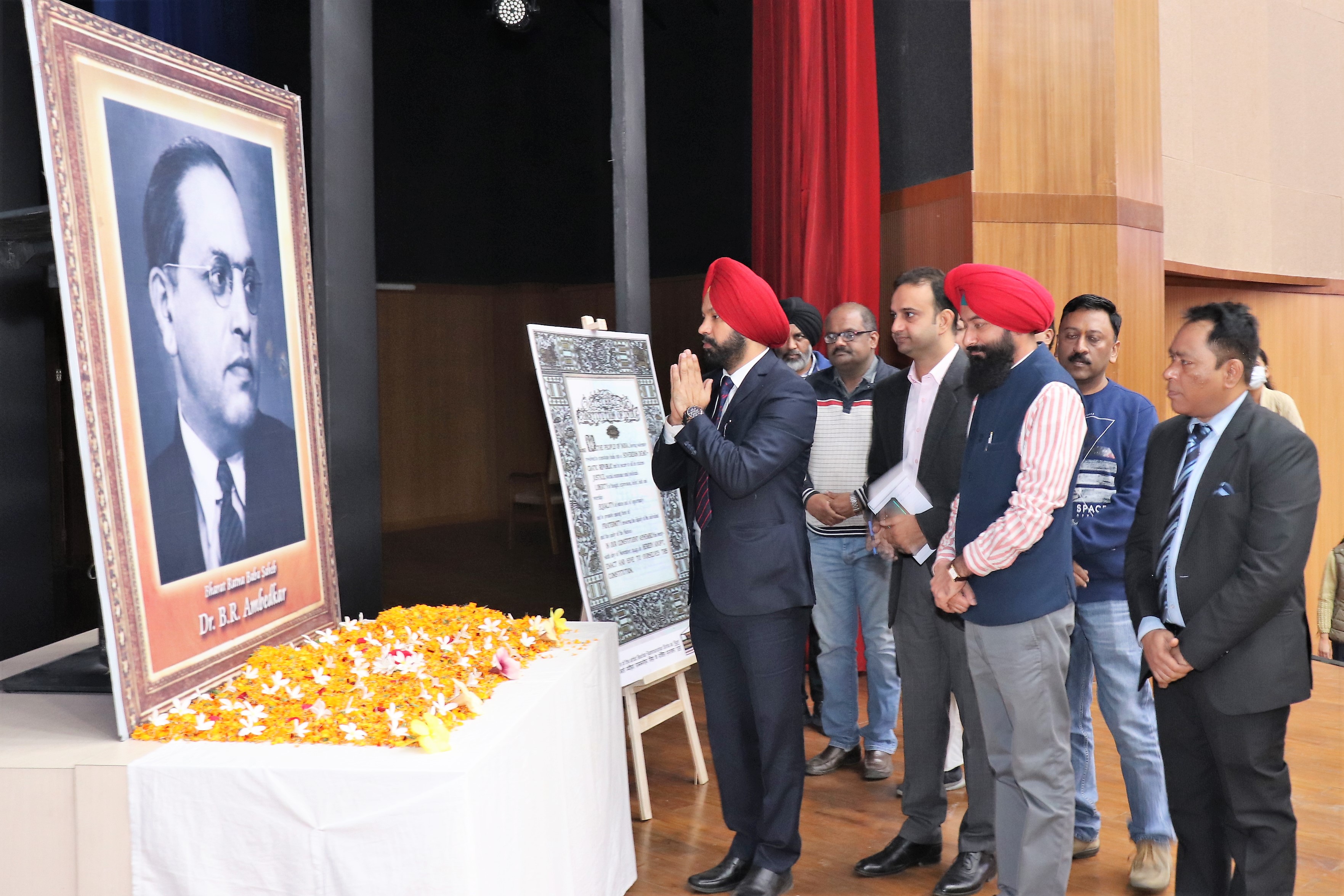 University Registrar IAS Jaspreet Singh read the Preamble, audience took the oath
Jalandhar/Kapurthala: The Constitution Day was celebrated with full devotion and morality at I.K. Gujral Punjab Technical University (IKG PTU) on Friday. University Registrar IAS Jaspreet Singh attended the function as the chief guest. Deputy Registrar Dr. Sandeep Mehmi delivered the special speech of the day. During the event, all pay respect to the father & the architect of the Indian Constitution, Dr. Babasaheb Ambedkar ji. At the same time, making the copy of the Preamble of the Constitution in public in a big way, everyone was called to put it in their offices or work place.
Deputy Registrar Dr. Sandeep Mehmi, who was the speaker, said that every year 26 November is a very special day for every Indian citizen. This is the day when the Constituent Assembly of the country duly adopted the existing Constitution. It is the Constitution which makes us realize the feeling of a free citizen of a free country. While the Fundamental Rights given in the Constitution give us our rights by becoming our shield, we also remind us of our responsibilities in the Fundamental Duties given in it. He called upon all the students present from the stage to read the speech given by Babasaheb ji a day before 26 November.
According to the facts kept from the forum, in the year 2015, as the 125th birth anniversary year of Dr. Ambedkar ji, the architect of the Constitution, the Ministry of Social Justice and Empowerment declared the Central Government's decision to celebrate this day as 'Constitution Day', was notified. This day is celebrated to promote the sense of respect among the citizens for the constitutional values.
University Registrar IAS Jaspreet Singh read out the Preamble of the Constitution. During this, everyone present in the meeting took an oath to abide by the Constitution. On behalf of University administration authorities, the Registrar, congratulated everyone on the Constitution Day.
University's Associate Professor Dr. Satveer Singh, Deputy Controller Examinations Er. Sandeep Kumar Kajal, Deputy Registrar Paramjit Singh Gill, Deputy Director Corporate Relations Er. Navdeepak Sandhu, Assistant Professor Vivek Agarwal, Gazal Sharma and others were present on this occasion.