IKGPTU bids adieu to its great Academician Vice Chancellor, Prof. Dr Ajay Kumar Sharma given warm farewell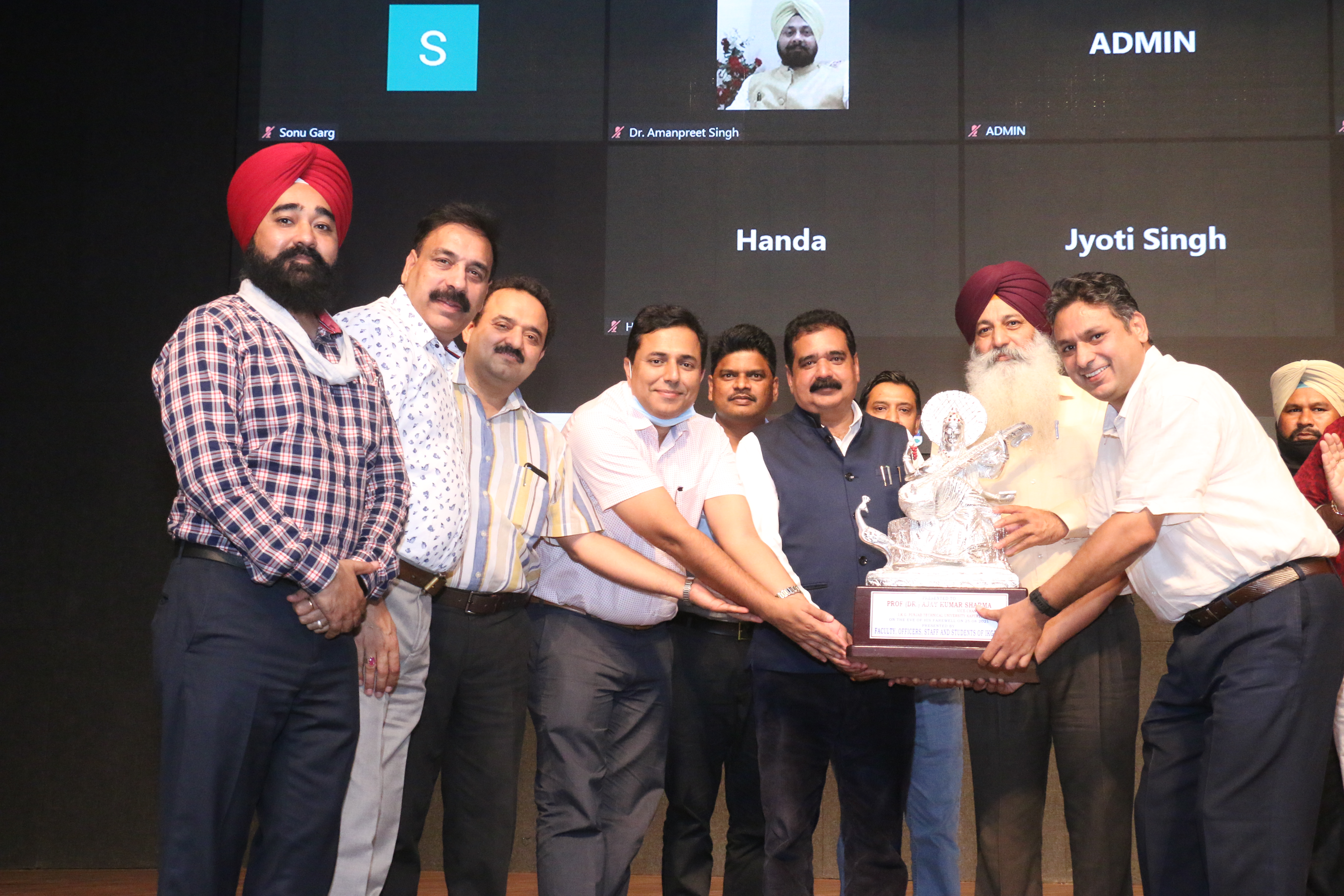 We feel proud that Prof. Dr. A.K. Sharma performed great job for academic excellence at IKGPTU: IKGPTU BOG Chairman Dr.S.K.Salwan
Its responsibility transfer period; all should mark their pending work now & be ready to start a new journey for the more Academic growth of IKGPTU: Prof. Dr. Sharma
Jalandhar/Kapurthala: I.K.Gujral Punjab Technical University (IKGPTU) bid adieu to its great academician Vice Chancellor (V-C), Prof. (Dr.) Ajay Kumar Sharma, with a warm farewell on August 25, 2021. Prof. (Dr.) Sharma had joined as the V-C of IKGPTU in March 2018 for an initial term of three years. He was given extension in March 2021 till the appointment of next Vice Chancellor by the state government. Prof. (Dr.) Sharma was appointed as the 13th Vice Chancellor of the University. On Wednesday, a farewell ceremony was organised for Prof. (Dr.) Sharma, which was attended by University Officials, Faculty, students, staff & other stakeholders by following the state Govt. COVID 19 safety protocol instructions. Prof. (Dr.) Ajay K. Sharma attended his farewell ceremony accompanied by his family members, friends.
On this occasion, Outgoing Vice Chancellor Prof. (Dr.) Sharma said that its responsibility transfer period. Now the university family should mark their pending work & be ready to start a new journey for the more Academic growth of IKGPTU with a new visionary Vice Chancellor. Prof. (Dr.) Sharma shared their experiences with University faculty, officers, staff & students.
Emeritus Scientist Dr. S.K. Salwan, Former Chairman Armament Research Board & Chairman-Board of Governor (BOG) IKGPTU congratulates Dr Prof Sharma for great work during his tenure. He said that the University feels proud that Prof. Dr. A.K. Sharma performed a tremendous job for academic excellence at IKGPTU.
Way forward to the event, Er. Sandeep Kumar Kazal, recent past registrar, said that Prof. Dr. Sharma's guidance, encouragement, and motivation to the faculty members & students, led to the development of the University as an outstanding technical university. He said it was the vision of Prof. Dr. Sharma that IKGPTU achieved many academic targets in the last three & almost half years. Er. Kazal shared the points related to academic initiatives, quality measures for academic strengthening, infrastructure development, student's placement, research & development, administrative reforms and student activities during the tenure of VC Prof. Dr. Sharma.
Under Prof. Dr. Sharma's tenure as V-C, the IKGPTU achieved rank of 96 and 104 among top Institutions in Technical Education in NIRF-2019 and NIRF-2020 by the Ministry of Human Resource and Development (MHRD) New Delhi. The Number of admissions in the various courses in the University campuses has increased three times in the last three & half years.
Reading the facts of the remarkable achievements, Er. Kazal shared that in the period of the last three years the University signed academic MOUs with 18 Foreign Universities for faculty, Staff & student exchange. The University strengthened vocational courses and signed MOUs with Sector Skill Councils, started Academic Degree Programs at Mohali, Established new Teaching Departments in the University Campus, also started 15 new affiliated colleges and initiated 296 revised syllabus courses in affiliated colleges. University also started 74 vocational courses. Prof. Dr. Sharma also worked to make the system transparent for University stakeholders. University also made provision of including MOOCs online course's credits upto 20% for students to complete their degree. The concept of Major & Minor in degree certification also introduced in Prof. (Dr.) Sharma's tenure.
He also introduced a uniform policy for rationalization of internal assessment to bring uniformity and transparency in awarding internal marks by all affiliated colleges. To give the exposure of its faculty VC Prof. (Dr.) Sharma allowed University faculty members to participate in more than 190 International/National conferences and Short term courses. The University uploaded the examination records of more than 16 lakh students on national academic depository (NAAD) with the vision of Prof. (Dr.) Sharma.
Apart from these initiatives, conduct of online examination, development of mobile applications, automation of Knowledge Resource centre, Development of infrastructure projects in the IKGPTU Campus is also the achievement of Prof. Dr. Sharma's tenure.
Dr. Sharma also promoted and supported the sports activities as well as sports infrastructure of the University. The state of the art Athletic track, Basketball court, volleyball court, badminton court, Lawn tennis synthetic court, Football/Hockey Ground, Open gym and indoor gym all were established in the last three years.
University Officials remembered Prof. Dr. Sharma's vision towards student's placements. He supported placement & alumni networks by providing state Job fairs jointly with the Punjab Govt. The highest package was 15 Lakh per Annum in the tenure of Prof. Sharma. IKGPTU also developed and fortified linkages with industry, particularly, local to global.
Prof. (Dr.) Sharma also led the awareness & patients support campaign during the pandemic COVID 19. At the end of the ceremony A token of gratitude & respect was given to Prof. (Dr.) Ajay Kumar Sharma.
It is worth mentioning that 367 students did their PhD under the supervision & guidance of Dr Sharma. There are 425 papers published by the University faculty under the command of Dr Sharma.
Dean Academics Prof. Vikas Chawla, Dean Student Welfare Dr Neel Kanth Grover, Dean Faculty welfare Dr Harmeen Soch, Finance Officer Dr. S.S Walia, Controller of Examination Dr Paramjit Singh, Joint Registrar Dr RPS Bedi, Director Mohali Campus Dr Prabhjot Kaur also addressed the function and convey their best wishes to Dr Sharma. Citation of Vice Chancellor was read by Dr Sarabjit Singh Mann, Stage was conducted by Deputy Registrar Rajneesh Sharma & Vote of thanks was delivered by Dr Hitesh Sharma. A token of gratitude was given to Prof. Dr. Sharma by the University family and University's non teaching staff association.