IKG PTU organized its first film festival, 08 Academic Institutions participated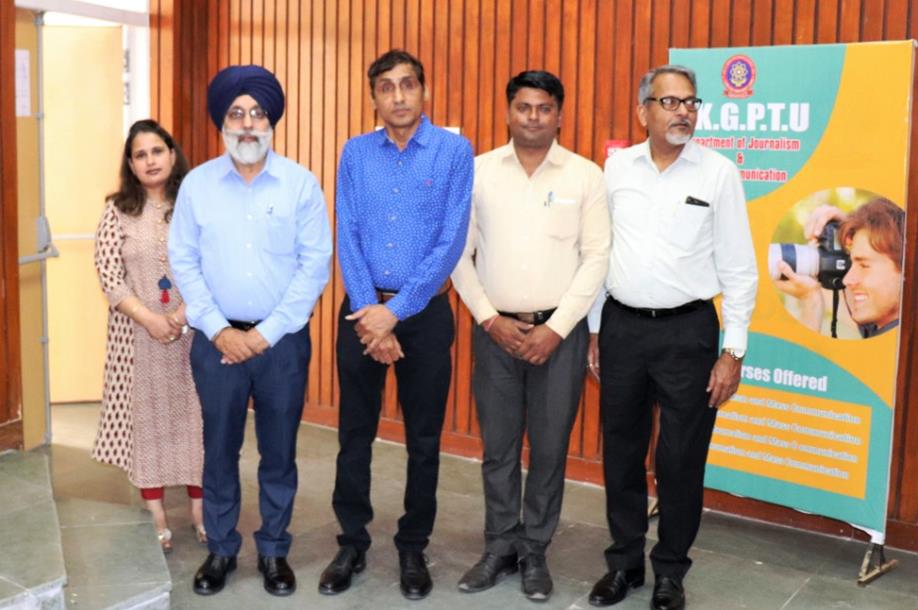 IKG PTU organized its first film festival, 08 Academic Institutions participated
Initiative taken by Department of Journalism & Mass Communications of IKGPTU
University Campus Director with faculty inspired to Students for their maximum participation in next venture
APJ College of fine Arts Jalandhar bagged "Best Film Award", HMV was on 2nd position
Cinema is the most powerful medium of communication. It is a mirror in which we often see our self and face of the society. This is a beautiful means to communicate with the masses. Students during their education get to learn the process by making short movies or documentaries. This inspirational message is of Vice Chancellor IKGPTU Prof. (Dr.) Ajay Kumar Sharma & this message was read by Prof. (Dr.) Yadwinder Singh Brar, Campus Director IKGPTU. He was addressing first Inter Institutional Film festival of I.K.Gujral Punjab Technical University. This Film Fest was organized by Department of Journalism & Mass Communication.
Prof. Brar said that such events boost the confidence of the students and encourage them to come forward. The guidance of the mentors further sharpens their inborn talents.
Total 08 Institutes participated in the shot movie contest during the fest. According to results, following colleges bagged various awards in different categories: First Best Film and Best Director 'Block Over Thinking' of APJ College of Fine Arts Jalandhar, Second Best Film and Best Actor 'Log Out Zindagi' of HMV Jalandhar, Best Editing, Best Art work and Best Concept Movie was 'Game of life' by PCTE Baddowal (Ludhaina), Best Poster 'Hustler' made by Doaba College Jalandhar.
Prof. (Dr.) Namarta Joshi HOD JMC GNDU Regional Campus Jalandhar, Siddak Preet Singh Makkar, Owner & Director White Falcons Films, Vikas Gawande Assistant Professor, Ludhiana, HoD JAMC Prof. (Dr.) Ranbir Singh were present in Judgement pannal. During the event "Ganesh vandana" was also performed by University students.