Vice Chancellor motivate students in the final session of Techno Fest "NAVONMESH 2.0" Chancellor motivate students in the final session of Techno Fest "NAVONMESH 2.0"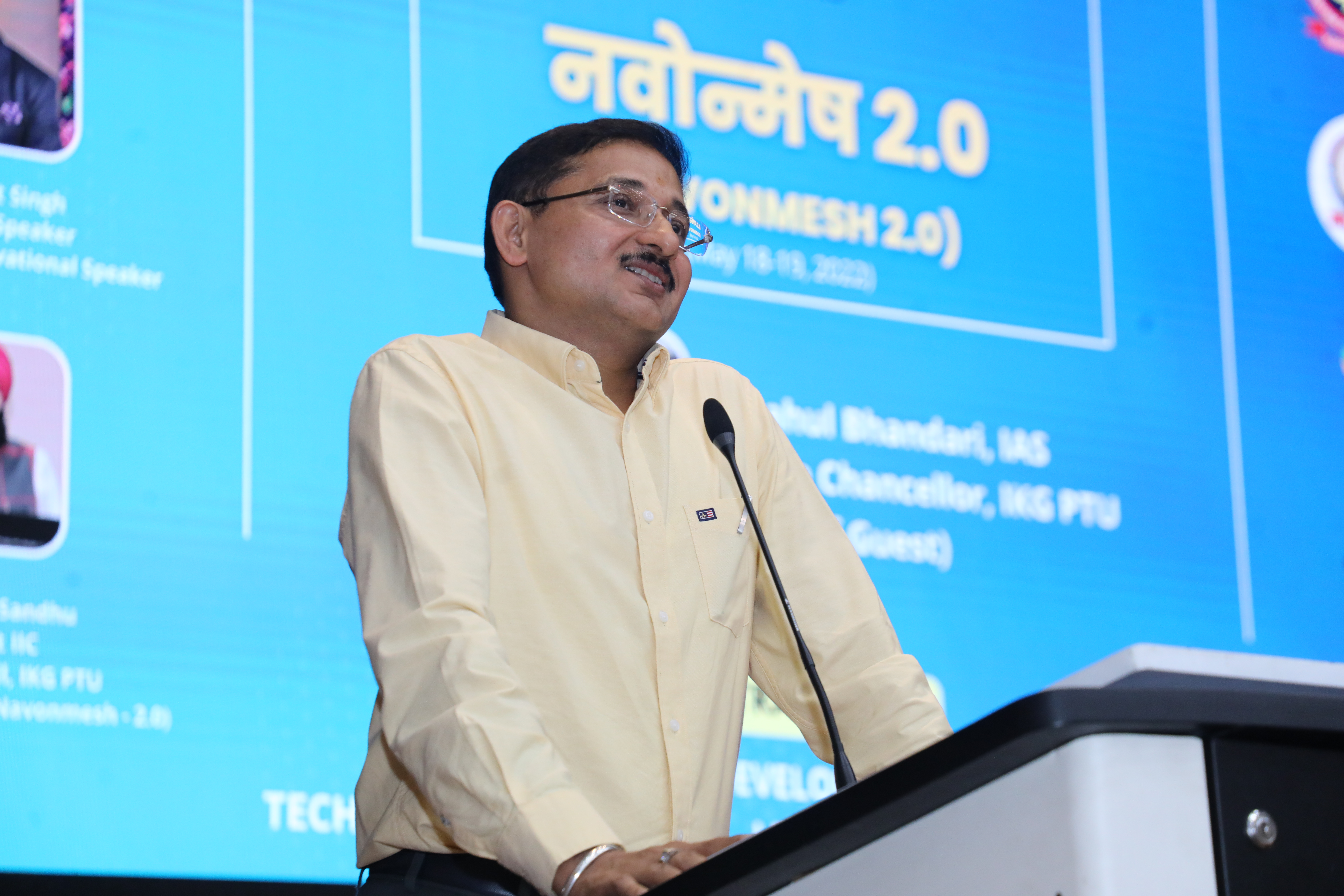 Keep the thoughts high, be ready to work hard then no obstacle can stop your success: Rahul Bhandari
IKGPTU Vice Chancellor motivate students in the final session of Techno Fest "NAVONMESH 2.0"
Certificates distributes to the winner students of various items
Jalandhar/Kapurthala : Keep your thoughts high; don't let your negative or low thoughts change the direction of your right steps in any adverse situation too. Always be ready to work hard, and then no obstacle will come in the way of your success. These are the words of Rahul Bhandari, IAS, Vice Chancellor I.K.Gujral Punjab Technical University (IKGPTU). VC Rahul Bhandari was addressing students on the last day of the Techno Fest "NAVONMESH 2.0" as chief guest. It was organized at Sri Guru Nanak Dev Ji auditorium IKGPTU main campus.
He said that the university has been known for its student centric and disciplined approach since 2013-14, when its first campus academic session was started. He advised students and faculty to move forward with discipline. Vice Chancellor Bhandari said that the undisciplined have no chance of appeal at university. He inspired the students to dream for further study at Silicon Valley.
During the event Dr S.K.Mishra, Registrar motivated students to make future plans for the global approach & growth of the country. Before reaching the auditorium, Vice Chancellor Mr. Bhandari visited the various stalls set up by the students in "NAVONMESH 2.0" exhibition gallery under the self-employment (Entrepreneur Project) where he interacted with the students and their team leader faculty members. He went through the food items related projects, engineering projects prepared by the students. He was accompanied by Dean Academic Prof (Dr) Vikas Chawla, Dean Student Welfare Prof (Dr) Neel Kanth Grover, Deputy Director Corporate Relations Department Navdeepak Sandhu.
Certificates were also distributed between the winning students from the stage by Vice Chancellor Mr. Rahul Bhandari.