Concentration, contemplation and meditation are the basics of idea generation, work on it: VC IKG PTU Ramesh K Ganta IAS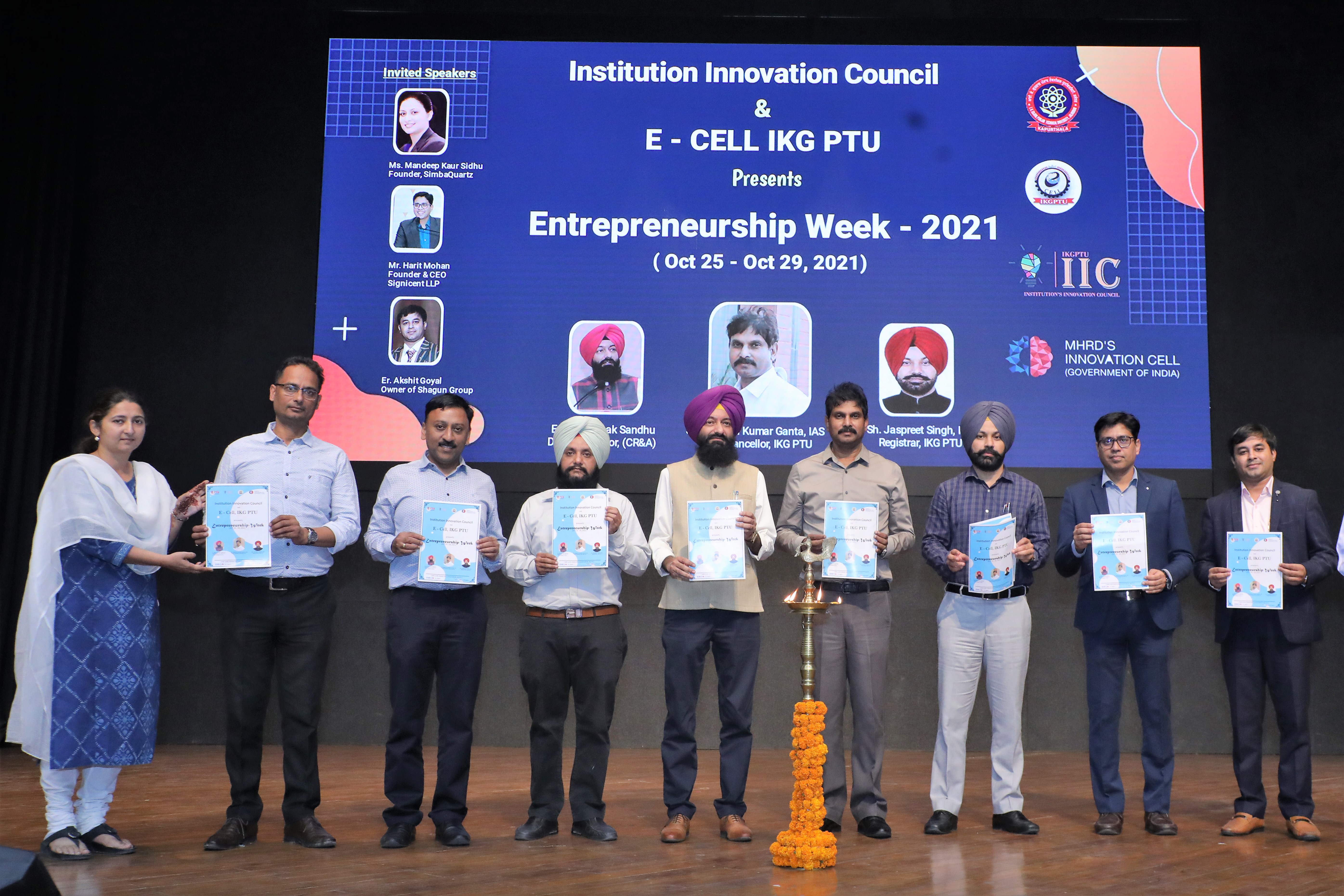 E-week started at IKGPTU, first day 02 guest speakers met the students
Today Internet is becoming the basis of GDP growth of the world, look new and think exclusive: Registrar IAS Jaspreet Singh
Jalandhar/Kapurthala() Concentration, contemplation and meditation are the generators of new ideas; students have to work on it. Take the example of technology in life, see the daily innovations, ideations of various companies surround you like technology master Apple never stops, it keeps giving you one new app or function after another, this is the specialty of success today. Always peek into every topic and discover something new. These inspirational messages are of Senior IAS officer Ramesh Kumar Ganta, Principal Secretary Technical Education and Industrial Training Department Govt. of Punjab and Vice Chancellor of I.K Gujral Punjab Technical University. He was addressing the Entrepreneur Week (E-Week) which started at the University Campus on Monday.
Presiding over the function, University Registrar IAS officer Jaspreet Singh, who is also the Additional Deputy Commissioner, Jalandhar, while addressing he said that today Internet is becoming the basis of GDP growth of the world, always keep focus on new and think Exclusive. Recalling an incident during his engineering studies, he told that his idea was that it would be better if the traffic lights (signals) did not indicate to run according to the time, if they give signals based on the number of vehicles. Because sometimes the number of vehicles (traffic) is more on one side then they also get 20 seconds to move forward and even if there is less traffic on the other side of the road, the green signal is available only for the empty road. In such a situation, there should be a number of vehicle based signals through RIDF technology so that the chances of traffic jams are less and today Chandigarh traffic is following it.
On the first day of the function, 02 guest speakers met the students, among them Mr. Harit Mohan, Founder & CEO, Signicent India and Mr. Akshit Goyal, owner of Shagun Group and alumni of the university. Mr. Harit spoke on how to start a profitable & innovative business and Mr. Goyal delivered an interactive session on Business Development and Entrepreneurship.
The welcome address at the function was read out by Engineer Navdeepak Sandhu, Deputy Director, Corporate Relations and Alumni Department of the University. The e-week brochure was also launched on the occasion. This week is being celebrated by the Institutional Innovation Council (IIC) and E-Cell jointly. It also includes Rs.500 Venture Competition and Business Plan Competition. Among the students, Akanksha of third year, Harshita of fifth semester and Shubham Kumari of third semester performed excellently during the culture event. University faculty and students were present at the function.