A Special program organized on "National Press Day" at IKGPTU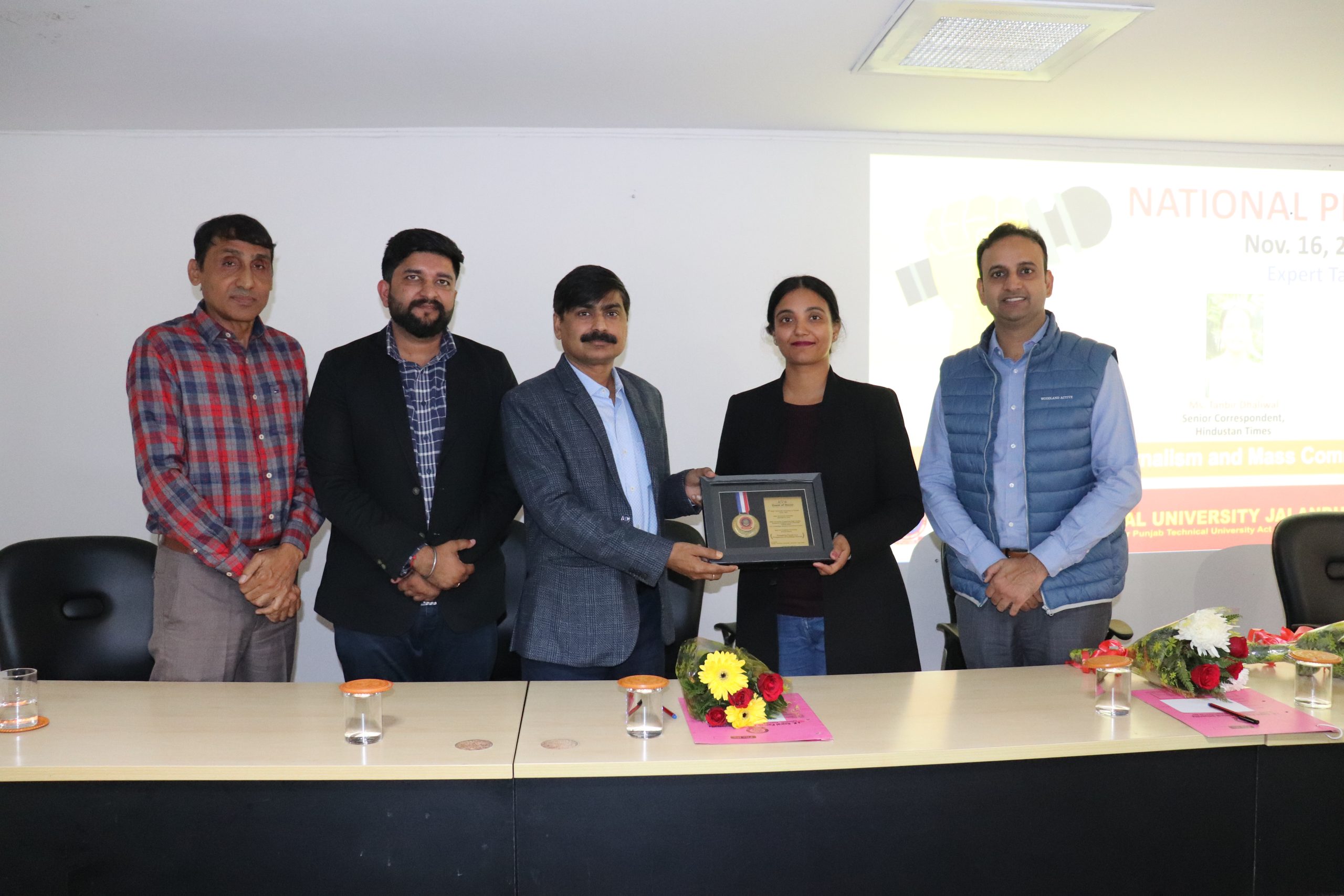 Journalism is more dependent on passion than profession: Registrar Dr. S.K Misra
Kapurthala The challenges in journalism are very high, while the opportunities are also immense. These opportunities have more exposure than other professions. Journalism is more a passion than a profession. Despite corporate interference, journalists are doing ethical journalism in every segment. This is the beauty of this passionate journey. These are the conclusions drawn from various lectures by experts during a special program organized on National Press Day at IK Gujral Punjab Technical University (IKG PTU). An expert talk was organized in two sessions by the Department of Journalism and Mass Communication of the University on National Press Day. In this, Chief Correspondent Pankaj Kapahi and Senior Correspondent Tanbir Dhaliwal were invited. Tanbir Dhaliwal represents Print Journalism as experts & Pankaj Kapahi talks about Electronics Media. University Registrar Dr. S.K Misra presided over the event.
 Registrar Dr. S.K Misra said that journalism depends more on passion than profession. Expert Pankaj Kapahi spoke on the challenges in journalism in an interactive session with the students. He told how a TV anchor and journalist has to handle a live session, in which on asking a sentence, it is read to be informed about its front and back aspects. At the same time, while doing live reporting and coverage of sensitive issues, he also gave information about self-defense. In this session, the students were very impressed by the voice of journalist Kapahi, pronunciation of his words and information about the occasion. 
Second session was on print journalism & Expert was Tanbir Dhaliwal. She gave various information including examples about credibility challenges in the era of social media and web media. During this, he also talked about the challenges faced by women journalists. Tanbir Dhaliwal also spoke on the role of Ethics and PCI. Expert speakers were welcomed in the program by Dr. (Prof) Ranbir Singh, Head of the Department of Journalism and Dr. Ekta Mahajan, Assistant Professor, while the vote of thanks was read by Rajneesh Sharma, Deputy Registrar Public Relations of the University. 
A video made by student Saksham was highly appreciated. Student Nikhil Sharma handled the responsibility of directing department photography and videography in very well manners. Faculty of the department Dr. Balbir Kumar, Mangla Sahni and HK Singh were present in the function. On this occasion, the National Press Day cake was also cut by the department faculty & students.