23rd Inter College Athletic Meet (Men & Women) begins at I.K. Gujral Punjab Technical University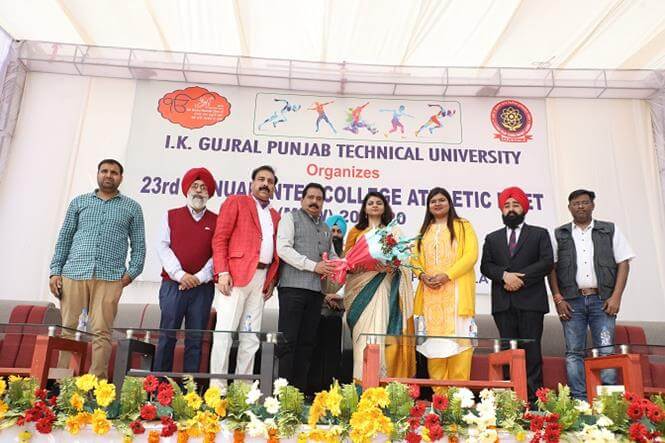 New dimensions of professional education are available in sports activities. Even we can say that professionalism comes only through sports. The efforts of the University are to get every student participating in atleast one game and earn the professionalism within the game. This is the message of Vice Chancellor I.K.Gujral Punjab Technical University Prof. (Dr.) Ajay Kumar Sharma. VC Prof. Sharma was addressing the inaugural session of 23rd Inter College Athletic Meet (Men & Women) which started at the University Main Campus on Wednesday. The meet was inaugurated by IAS Deepti Uppal, Deputy Commissioner Kapurthala as Chief Guest. She hoisted the flag and released the balloons to mark the opening of the meet. The meet was declared open by VC Prof (Dr.) Ajay Kumar Sharma. Ms. Charru SDM, Kapurthala was also joined inaugural session.
Taking these ideas forward, Kapurthala Deputy Commissioner IAS Deepti Uppal said that it is the spirit of a game that gives the power to win and move forward. She encouraged all the students to participate in sports maximum. She attended the ceremony as a special guest. Registrar Dr. S.S Walia & Joint Registrar IKGPTU Dr. RPS Bedi welcomed Vice Chancellor Prof. Sharma, IAS Deepti Uppal and other guests of the occasion.
Dr. Bedi said that the University is moving forward to give every student an opportunity to advance from every side and sports promotion is one important aspect. Athletic Meet is being organized for the first time at University Main Campus. For this a new playground has also been constructed in University Campus. An impressive march past was conducted by all participated teams under the music of Army Band and ceremony of lighting the Mashal (Tourch) was performed. The athletes took an oath to follow the spirit of sportsmanship in sports.
A total 50 teams (both Men & Women) from 29 educational institutions including University Main Campus are participating in this athletic meet. This athletic meet will continue till 06 March.