The world is waiting for fresh ideas in IT sector every second: VC Prof (Dr.) Ajay K.Sharma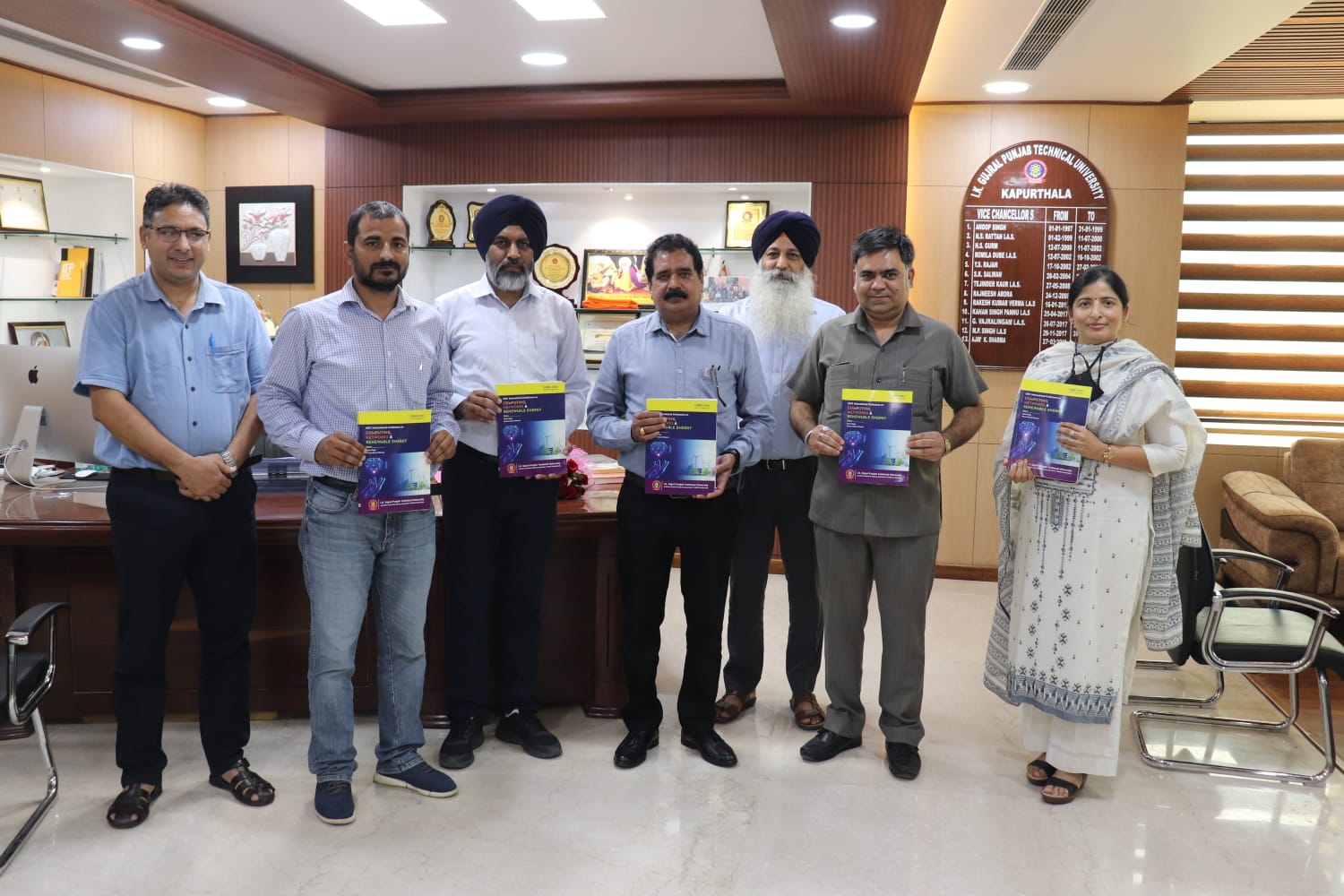 IKGPTU organized 1st International Conference on Computing, Networks & Renewable energy
NIT Director Prof. Lalit K. Awasthi inspired participants for high research on their subjects
Jalandhar/Kapurthala: Information Technology, Computing, Networking and renewable energy are the subjects which need upgradation, development and innovation every second at global level. No one knows on which platform your high study, hard work in these subjects give you the global recognition. Keep your research and focus high you will surely achieve. These motivational words are delivered by Vice Chancellor I.K.Gujral Punjab Technical University (IKGPTU) Prof. (Dr.) Ajay Kumar Sharma. He was addressing researchers, academicians and students on the occasion of an International conference. This 1st International conference was organized by IKGPTU in which another renowned academician Prof Lalit Kumar Awasthi, Director National Institute of Technology (NIT) Jalandhar was Chief Guest. Prof. Awasthi inspired participants for high research on their subjects.
The valediction programme was live streamed online through YouTube. Total 150 papers were submitted by the researcher from various institutes like IITs, NITs, CFIs, foreign & universities and colleges. University published only 60 high quality full-length research papers in its Conference Proceeding with ISBN number. Total 126 papers were received through the rigorous online review process through EasyChair and the university website.
Members of the organizing team of IKGPTU, Dr. Satvir Singh and Dr. Naveen, said that every paper has undergone plagiarism check and at least two blind reviews. In some cases, four reviews were considered to ensure the quality of research papers. Dr Bharat Bhushan Sharma from Banasthali Vidyapith Jaipur, Dr Anuj Banshwar from UPTU Lucknow, Dr Rajiv Chauhan, Dr Rakesh & Dr Amit from IKGPTU Kapurthala coordinated special sessions in the CNRE-2021 on relevant domains.
On this occasion, the Conference Proceedings were released. Prof. Vikas Chawla, Director, Main Campus and Dean Academics IKGPTU said that 55 papers have been presented online by the researchers and evaluated by experts for further recommendation in SCI and Scopus journals. Prof. Amarish Dube (France) and Prof. Viera Rozinajova (Bratislava) delivered keynote addresses and introduced participants with the latest research issue in the domain of renewable energy. Registrar Sandeep Kumar Kazal congratulated the team for organizing such a remarkable event.
Further, VC Prof Sharma said that the University is organizing second in the series International Conference on Computing, Networks and Renewable Energy (CNRE-2022) during June 9-11, 2022. If COVID-19 pandemic ends by that time, the university will hold CNRE-22 in physical mode on its Main Campus at Kapurthala. CNRE-2022 will be organized in collaboration with National Institute of Technology, Jalandhar and reputed SCI Journals to provide an even better platform to researchers to showcase their research work.