Teacher's Day celebrated at IKGPTU with full enthusiasm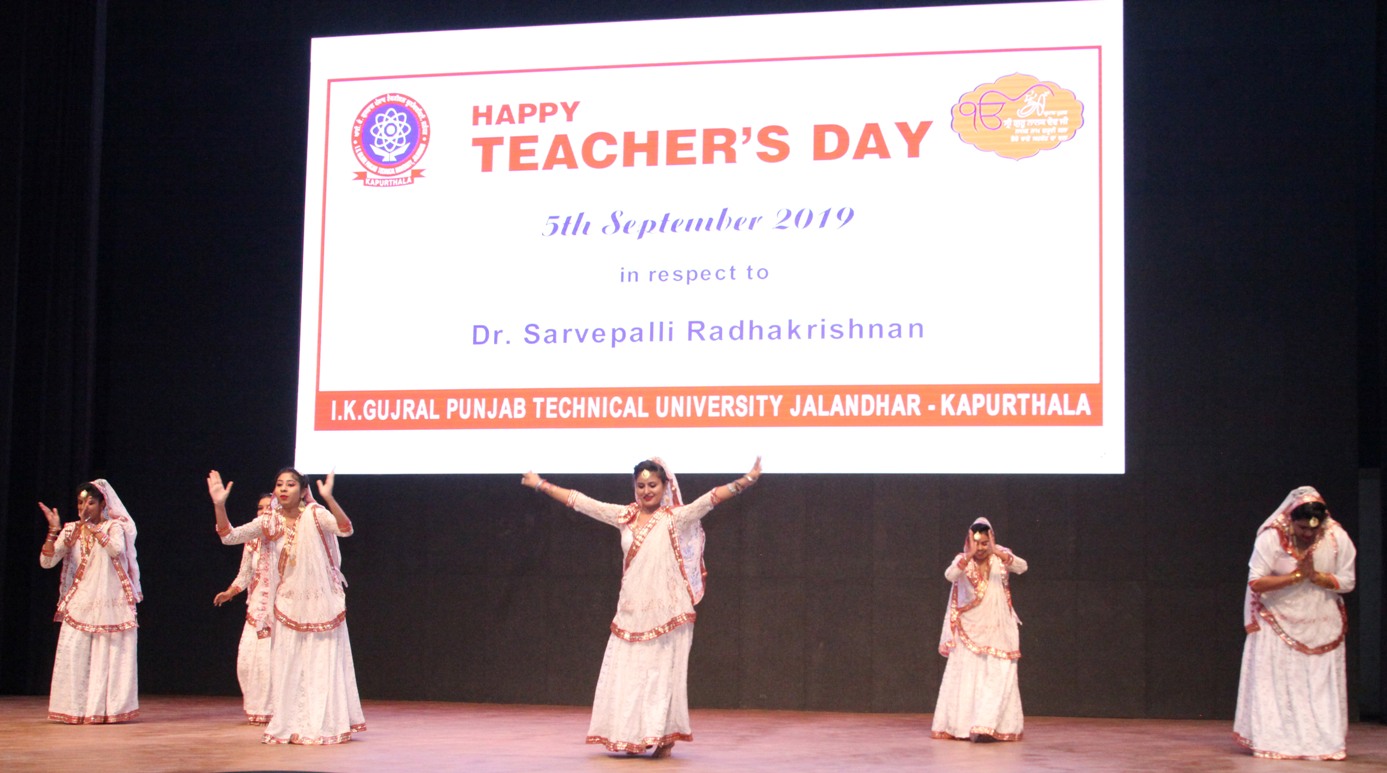 Technology is just a tool; teachers are the real mentors of every era: VC IKGPTU
· Teacher's Day celebrated at IKGPTU with full enthusiasm
· University Campus students celebrated it with staff and faculty by performed various cultural activities
· Vice Chancellor Prof. (Dr.) Ajay Kumar Sharma congratulated campus faculty, students for organizing a great event on Teacher's Day
In this era of smart phones and rapid innovations, where most of the tasks involve a part of technology, but one cannot ignore the fact that Technology is just a tool; Teachers are the real mentors of every era. This message was delivered by Prof. (Dr.) Ajay Kumar Sharma, Vice Chancellor, I.K.Gujral Punjab Technical University during the inaugural hour of Teacher's Day event at University's main campus. Event was held at Sri Guru Nanak Dev Ji Auditorium. VC Prof. (Dr.) Sharma was the chief guest of event & his focus was the importance of teachers in the technological era. He said that nobody can ignore that all the technology developers are also developed or sharpen by teachers.
The campus students organized it on their own and invited the faculty and staff members. On this occasion, students start the event with Shabad Gyan followed by prayer "Guru Brahma….". After that a poem, western dance, Punjabi folk dance, group song & Giddha was performed by the students. A team of local FM radio station was also performed during the event. Fun games, activities & titles were also given to the various heads and teachers of academic departments.
Campus Director Dr. Yadwinder Singh Brar, Joint Registrar Dr. RPS Bedi were lead the organizing core team. They all addressed to students. They said that one should never forget his/her teacher in whole life. There is a teacher within everyone, the need is to recognize and understand that teacher and work accordingly. All Speakers congratulated campus students for organizing Teacher's Day in wonderful manners. In this program, Deputy Librarian Madhu Midda, Assistant Director Youth Services Sameer Sharma, Dr. Sarabjit Singh Maan, Cultural Coordinator main campus, University Officers & all faculty members were present.