Student Induction Program" inaugurated at main campus, Vice Chancellor Dr. Mittal made the first address with the new students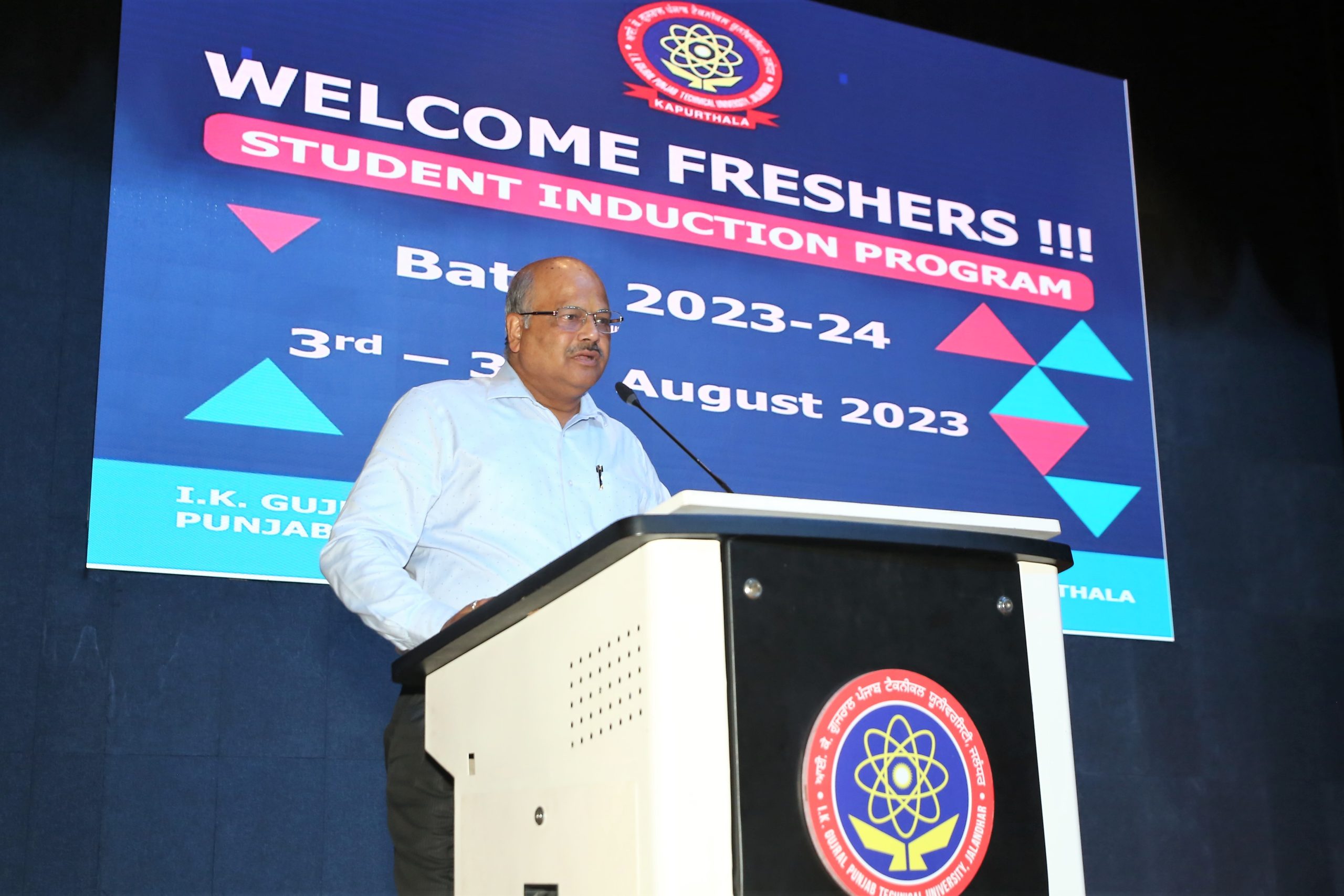 University Education journey is different from school learning journey, make yourself serious about classroom studies: Vice Chancellor Dr. Susheel Mittal
IKGPTU "Student Induction Program" inaugurated at main campus, Vice Chancellor Dr. Mittal made the first address with the new students
Jalandhar/Kapurthala University education journey is totally different from school education learning. Students have to make themselves serious about studies, specially classroom study. Education in university does not mean just studying, but being ready to move forward in every field. During the course, apart from education, students here learn how to perform successfully in society, job, business and life and how to be better in every class. Bringing maturity in work, ensuring 100% attendance and studies in the classroom should be the aim. This is the message to the new students from the Vice Chancellor, IKGPTU (I.K.Gujral Punjab Technical University). He was addressing the "Student Induction Program" organized in the university campus as the chief guest on Monday. This was the first address of Vice Chancellor Dr Mittal to newly admitted students in the new academic session 2023-24.
Vice-Chancellor Dr. Mittal said that students must stay connected with family members and religion, in which you grew up, because family and your theist faith always gives you inner spiritual strength. It will give you the courage and confidence to move forward. During this, he inspired the students of the university that the institution in which they have come to study, is a public University. The government is providing maximum facilities at low fees here. In such a situation, it is your responsibility to be serious from now, complete your studies, be able to repay this and participate in the progress of your nation and state.
At the beginning of the program, after performing the lighting lamp ceremony, the Shabad was sung by senior students of the campus. After this the welcome address was delivered by Dean Academic Prof (Dr) Vikas Chawla. Program Coordinator Jitendra Narula shared the outline of one month long programs. Information about various departments was shared with new students by Dean Student Welfare Dr. Gaurav Bhargava. Vote of thanks was delivered by Dean R&D Dr. Hitesh Sharma. The stage was moderated by Dr. Sarabjit Singh Mann, Assistant Professor of Punjabi. Dean College Development Dr. Balkar Singh, Prof. Dr. Yadwinder Singh Brar, Dean Faculty Dr. Satbir Singh, Controller Examinations Dr. Paramjit Singh, Assistant Professor Dr. Chander Prakash and others were present on this occasion.