ONE DAY LECTURE ON "PUBLIC RELATIONS" BY MR. MANVINDER SINGH, DPRO JALANDHAR (25 Feb 2020)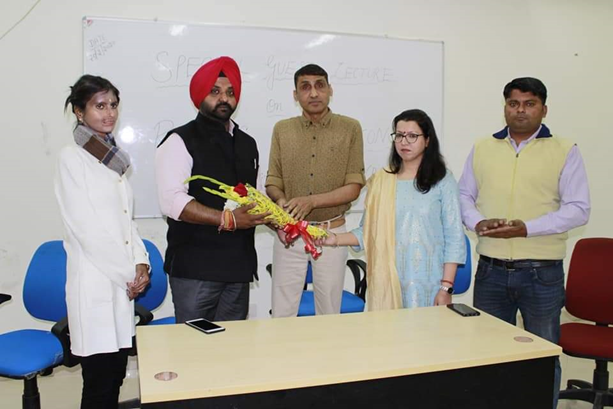 The JMC Department of IKG PTU organised a one day lecture on Public Relations. The speaker of the day was Mr. Manvinder Singh, D.P.R.O. (Jalandhar). The guest lecture was attended by Undergraduate and Postgraduate students, provided them with invaluable insights into the Public Relations sector.
Mr. Manvinder Singh, in his lecture explained thoroughly the concept of Public Relations. He said, "Public Relations is not a new area. It is as old as civilization. A good Pubilc Relations Officer shape an organization's image. He builds the brand and communicate the message of an organization to the public." He further said that to be a successful PR one has to be loyal towards his organization, develop the art of handling the crisis. He summed up the lecture by saying that the field of Journalism is very vast and it has a great future ahead. One has to be passionate to work in this field.
Dr. Ranbir Singh, Dr. Ekta Mahajan along with other teaching fraternity extended cordial welcome to the resource person. The session came to an end with the vote of thanks proposed by Dr. Ekta Mahajan. On this occasion, Dr. Balbir Kumar and Ms. Mangla Sahni were also present.