IKGPTU Journalism and Mass Communication students showcase their talent in the "Fresh Vibes 2023" event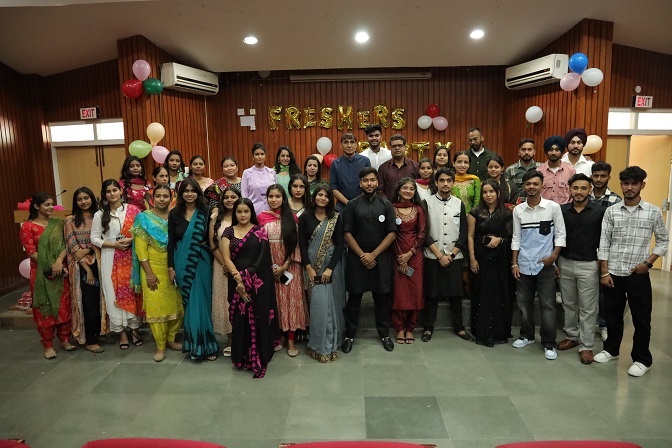 KGPTU Journalism and Mass Communication students showcase their talent in the "Fresh Vibes 2023" event.
· Department Celebrated Fresher's Party for batch 2023 as 'Fresh Vibes'
· Student Priyanka, Anurag, Babanpreet, Deepak, Lovish and Divya got the title awards
Jalandhar/Kapurthala: The Department of Journalism and Mass Communication of I.K.Gujral Punjab Technical University (IKGPTU) marked a memorable start to the 2023-24 academic year for new students. The students of the department organized a fresher's party titled 'Fresh Vibes' at the Seminar Hall, main campus. It was a day filled with excitement, energy, and camaraderie where new students were able to socialize, make connections, and build lasting relationships to create memories.
The program started with the inaugural speech by Prof. (Dr.) Ranbir Singh, Head of the department. In his welcome speech, Dr. Ranbir Singh congratulated the new students and encouraged them to participate in various extracurricular activities along with their studies to make the most vibrant three years on campus of their life.
The new students showcase their talent through breath-taking ramp walks and dance performances, including songs, poems, solos, duos, and group dances.
On this special occasion, Kapurthala District Language Officer, Ms. Jaspreet Kaur, was present as the judge for the modelling event. The program continued with a screening of Mr. and Miss Freshers 2023. In these two rounds of the selection process, Mr. Deepak and Ms. Babanpreet from BA JMC and Mr. Anurag and Ms. Priyanka were given the title as Mr. Fresher and Mr. Fresher from MA JMC. The best attire title was given to Mr. Lovish and Ms. Divya.
Madam Jaspreet Kaur shared her experience with the students. She motivated the students to participate in all the activities organized by the university. She said that to be successful, you should have clear intentions and a pure heart. Then, no one can stop you from being successful in life.
Following a lively open DJ, the event concluded with a group photo of the entire department.
Dr. Ekta Mahajan, in the end, congratulated the students who headed various committees for the successful event, which included Ms. Kiran, Ms. Rajvir, Ms. Pooja, Ms. Akashdeep Kaur, Ms. Neha, Ms. Anushka and Mr. Aniket.
Faculty also played an important role in making the welcome party a success. Their support and guidance helped new students feel welcomed and valued and set a positive tone for their future academic journey.
The students remembered the day as one of their most memorable and thanked their seniors for organizing such a wonderful party.
On this occasion, Ms. Mangla Sahni, Mr. HK Singh, Ms. Rajwinder Kaur, and Ms. Garima was present.