IKG PTU Department of Journalism and Mass Communication organized an expert lecture on National Press Day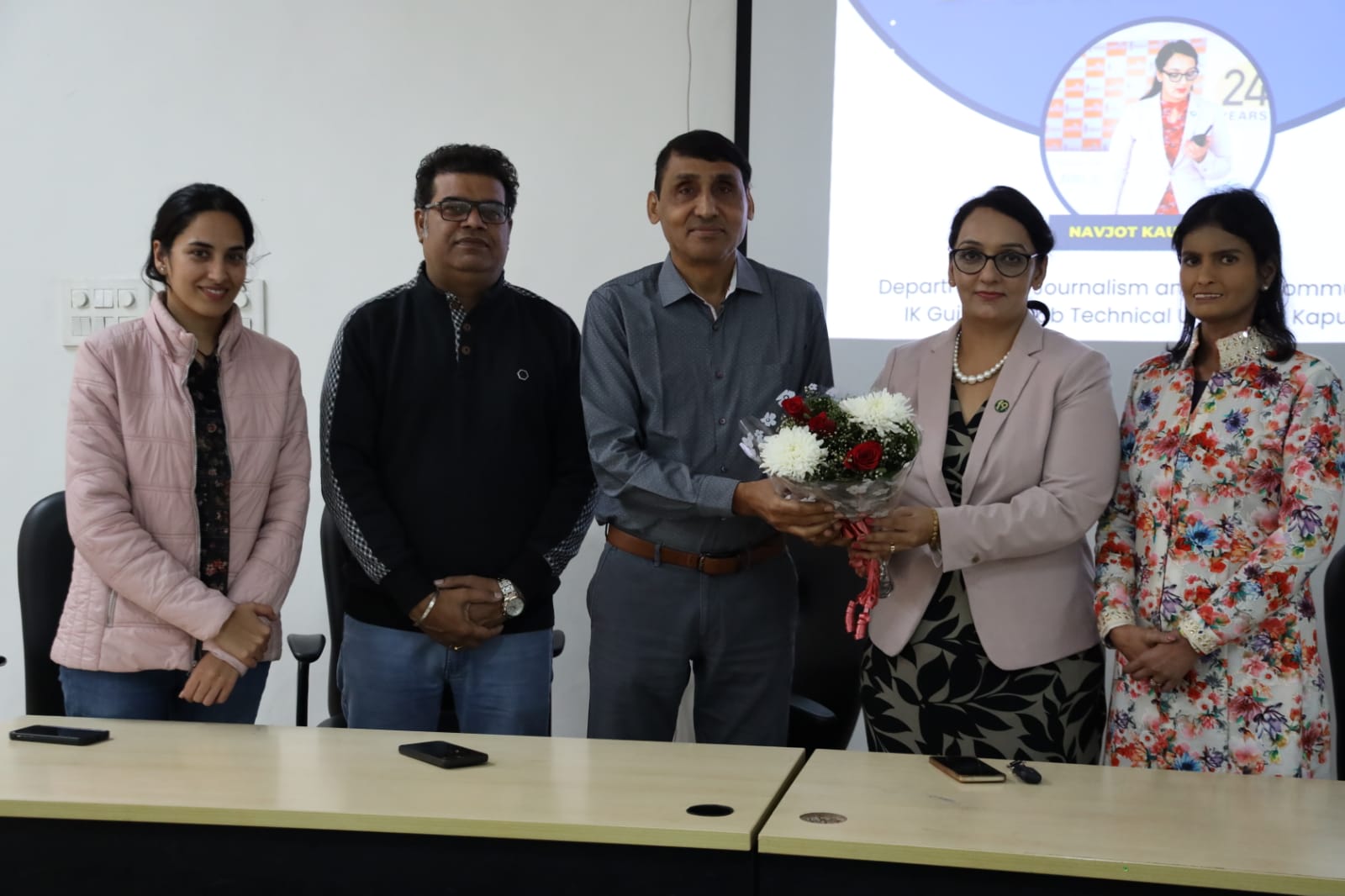 IKG PTU Department of Journalism and Mass Communication organized an expert lecture on "National Press Day"
– Vice Chancellor Dr. Susheel Mittal, Registrar Dr. S.K. Misra congratulated the budding journalists on special day
– Success in journalism depends on the curiosity, book reading habit and a commitment towards pen: Expert Navjot Kaur
– DPRO Jalandhar office invited students to support in training
Jalandhar/Kapurthala The Department of Journalism of Mass Communication of I.K. Gujral Punjab Technical University (IKGPTU) organized a guest lecture for the students on the occasion of National Press Day. Ms Navjot Kaur Sidhu, from F9 Media, a digital media company, joined as the resource person for the expert lecture. University Vice Chancellor Dr. Susheel Mittal and Registrar Dr. S.K. Misra congratulated the future budding journalists on "National Press Day". District Public Relations Officer (DPRO) Jalandhar Subeg Singh invited the students of the Journalism and Mass Communication Department of the University for training.
Ms. Rajvir kaur, a student of master's in journalism, welcomed the guests and introduced Expert Ms Navjot Kaur, the speaker of the day. Dr. Ranbir Singh, Head of the Department extended the floral welcome to the Media personality.
Addressing the media students, Ms Navjot Kaur highlighted the scope of digital media & marketing is vast, encompassing various online channels such as social media, search engines, email, and websites. It includes activities like SEO, content marketing, social media management, and online advertising. As businesses increasingly shift online, the demand for digital marketing professionals continues to grow, offering opportunities in analytics, strategy, and creative roles. Staying updated on industry trends and tools is crucial for success in this dynamic field.
She said to thrive in the media industry, cultivating curiosity and actively engaging with literature and books is paramount for personal and professional growth. She shared her personal experiences and delivered some valuable information related to the digital media industry.
Ms. Navjot Kaur offered the opportunity for students to do an internship at her digital media company. The resource person also answered all the queries and cleared the doubts of the students. At the end, Assistant Professor Dr. Ekta Mahajan gave a formal vote of thanks to the speaker and students. While proposing the vote of thanks, she encouraged students to participate in such activities and adopt life changing practices from the lives of exemplary resource persons. Ms. Mangla Sahni, H K Singh and Rajwinder Kaur attended the lecture with all the students.