Glimpses of the various state culture seen at the stage of IKG PTU Cultural Fest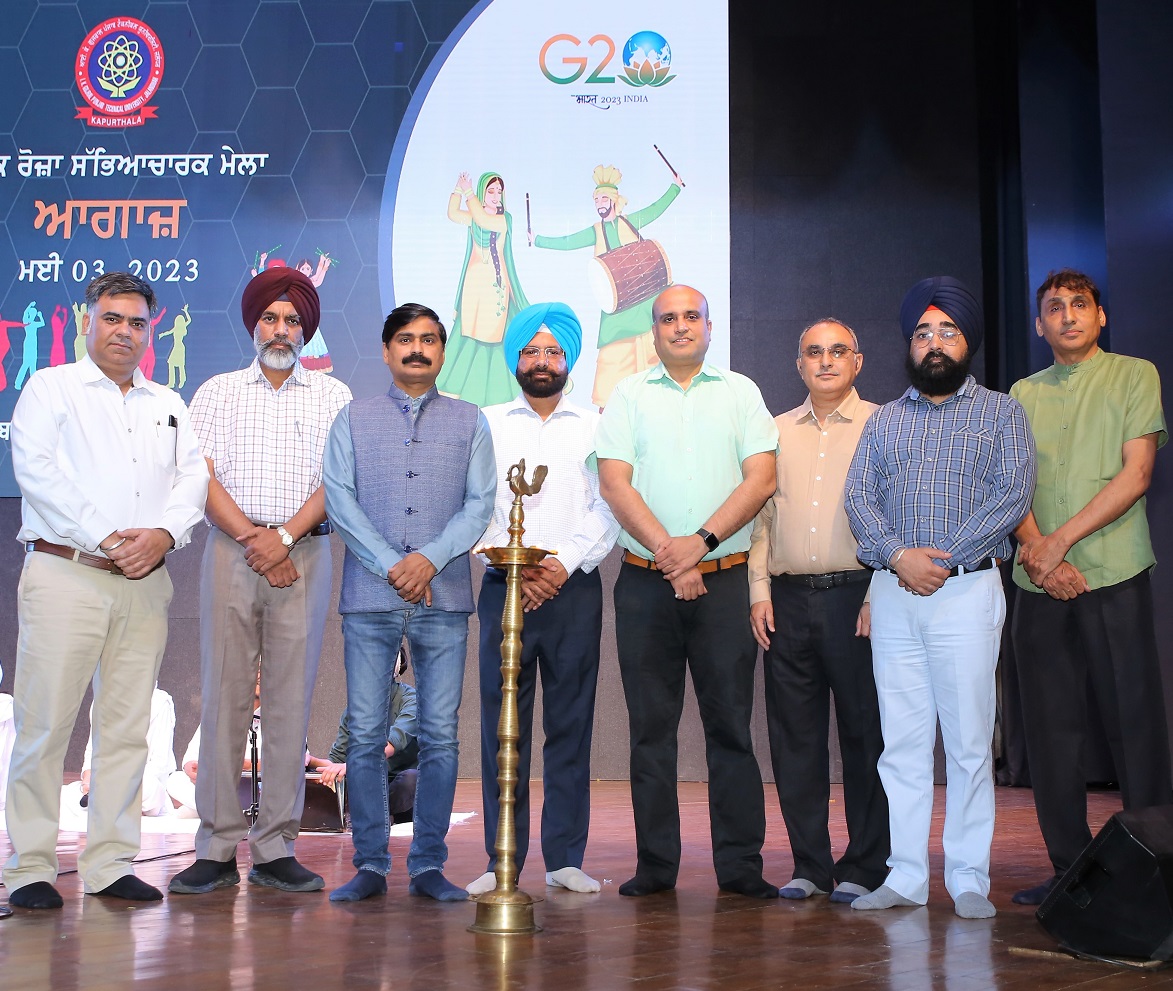 Glimpses of the various state culture seen at the stage of IKG PTU Cultural Fest
– Students of University's Kapurthala, Mohali, Amritsar and Hoshiarpur Campus showcased their perfection in Mega Cultural Fest
– University stage became a symbol of "unity in diversity": Registrar Dr. S.K Misra
Jalandhar/Kapurthala A glimpse of the culture of different states was seen at the stage of I.K.Gujral Punjab Technical University (IKG PTU) on Wednesday. In the Annual Mega Cultural Fest "Aagaz" 2023 organized at Sri Guru Nanak Dev Ji Auditorium. The students of University's main campus Kapurthala and other campuses Mohali, Amritsar and Hoshiarpur showcased their perfection by folk dance, folk song, poetry recitation from different states. The objective of the event was to showcase the talents of the University Inter Campus students.
The Event started with "lighting the lamp". During this, the deans of various departments and University Registrar Dr. S.K. Misra performed the ceremony of lighting the lamp with the worship of Maa Saraswati from the stage. In his address, Registrar Dr. Misra described this program as a symbol of "unity in diversity" and appreciated the efforts of the students. At the beginning of the cultural event, the students of the main campus sang the Shabad "Deh Shiva Var Mohe Hai…". Student Aman Singh recited the poem. State of Assam Folk Dance by Brahmaputra Band of Main Campus gave a wonderful performance. Rudhita and Simran, students of Mohali Campus – 01 performed a dance in praise of Maa Durga. In the group dance of Bihar State too, the main campus students gave a better performance. Alok Singh (Amritsar Campus), Vansh Bhardwaj (Mohali Campus), Taslim, Nitya, Nikhil, Harsh Rajan, Manroz, Pariksha gave remarkable performances in poetry recitation. Bhangra, Skit well done by Hoshiarpur team. Students of Amritsar Campus presented a solo dance, folk song of Punjab! Duet songs, Luddi, Western songs etc were also the center of attraction at the function.
Chairman Cultural Committee cum Director Hoshiarpur Campus Pro (Dr) Yadwinder Singh Brar appreciated the performance from the stage. Dean Academic Prof. (Dr)
Vikas Chawla, Dean Student Welfare Dr. Gaurav Bhargava also appreciated the efforts of the students in his address from the stage. Prof. (Dr.) Sarabjit Singh Mann and Assistant Director Sameer Sharma, Department of Culture and Youth Affairs had played an important contribution in the success of the event.