DAVIET Jalandhar won the overall Trophy of IKGPTU Inter Zonal Youth Festival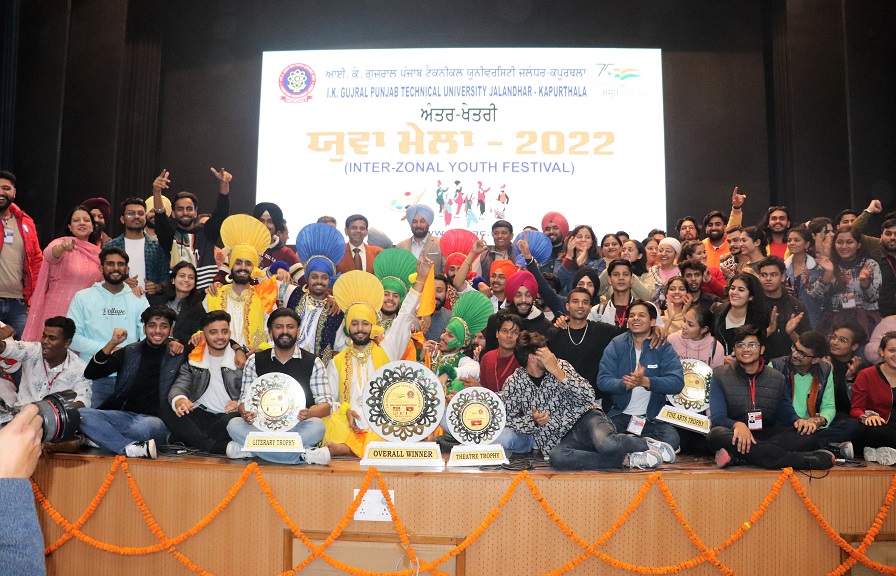 DAVIET Jalandhar won the overall Trophy of IKGPTU Inter Zonal Youth Festival
GNE Ludhiana won the overall first runner-up trophy
The winning teams will Represent IKGPTU in the Punjab State Youth Festival on 10th, 11th & 12th December at Punjabi University, Patiala
Jalandhar/Kapurthala The Overall Trophy of I.K. Gujral Punjab Technical University (IKGPTU) Inter Zonal Youth Festival goes to DAV Institute of Engineering and Technology (DAVIET Jalandhar) and Guru Nanak Dev Engineering College Ludhiana (GNE Ludhiana) won the first runner-up trophy. The results of the Inter-Zonal Youth Festival which ran for three days at Sri Guru Nanak Dev Ji Auditorium in the main campus of IKGPTU Kapurthala was declared late on Friday evening. A huge and enthusiastic gathering of over a thousand students was present in the auditorium when the results were declared. As soon as the results were announced, the auditorium erupted with cheers, whistles and drum beats. The atmosphere was as if a month's worth of hard work had come to fruition today. The participants, their mentors and teams were emotional and tears of joy and enthusiastic voices were part of the result ceremony. University Dean R&D Dr. Hitesh Sharma and other officials presented trophies to the winning teams.
CT Institute of Engineering, Management and Technology Shahpur (Code Lotus) was the winner of the music competitions among the rest of the overall event wise results. GNE Ludhiana (Code Gulbahar) was the winner in Dance competitions. DAVIET Jalandhar is honored to be the winner for Theatre, Fine Art and Literature. University Registrar Dr. S.K Misra, Dean College Development Dr. Balkar Singh, Dean Academic Dr. Vikas Chawla, Dean Student Welfare Dr. Gaurav Bhargava, Dean R&D Dr. Hitesh Sharma felicitated the winning teams and all the participating teams & congratulate all for well maintained the Ethical definition of competitions.
Youth Festival Coordinator Assistant Director Samir Sharma said that the winning students of this stage will represent IKGPTU in the Punjab State Youth Fair at Punjabi University Patiala on December 10, 11 and 12. Bhangra was judged by Daljit Singh Khakh, DSP Punjab Police, Yogesh Pankaj Nehru Yuva Kendra Chandigarh and Professor (Retd.) Harjit Singh.